Donald Trump Says If He Doesn't Run in 2024, His 'Base Is Going to Be Very Angry'
Republican former President Donald Trump has said that if he doesn't re-run for president in 2024, "I think my base is going to be very angry."
Trump made his comments in a Wednesday installment of The Hugh Hewitt Show, a podcast broadcast hosted by the conservative political pundit.
Hewitt asked Trump which candidate his base would support if he decides not to run in 2024.
"If I do decide that, I think my base is going to be very angry," Trump responded.
Trump then said that he is mostly focused on making endorsements leading into the 2022 midterm elections. He added, "I'll discuss that subject right after the midterms," when asked who he'd endorse for president if he decides not to run.
Hewitt then mentioned that conservative pundit John Solomon had suggested that Trump should "stay king and just reign as sort of the guy in the back and the head of state of the Republican Party."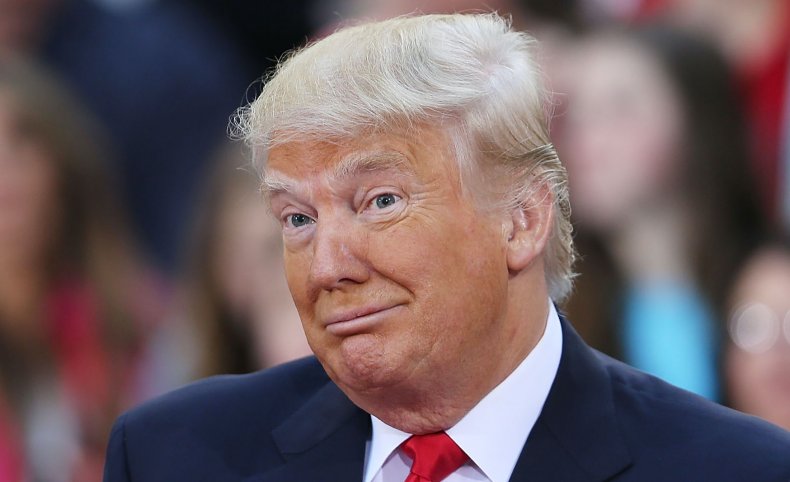 Trump has yet to publicly reveal whether he will run for president in 2024, though he has hinted at it as a possibility.
In June, Trump told Fox News host Sean Hannity that he had made up his mind about whether he will run for president again in 2024.
"I have to ask, where are you in the process of," Hannity began before finally asking, "Without giving the answer what the answer is, have you made up your mind?"
"Yes," Trump responded.
"It's not that I want to," Trump later clarified. "The country needs it. We have to take care of this country. It isn't fun, fighting constantly, fighting always."
In May, Trump told conservative pundit Candace Owens that he was "absolutely enthused" about "doing an announcement at the right time" on whether or not he would run.
"As you know, it's very early. But I think people are going to be very, very happy when I make a certain announcement," Trump told Owens. "You know for campaign finance reasons, you really can't do it too early because it becomes a whole different thing."
He repeated in mid-November his belief that people will be "very happy" with his decision. In late November, he said that if he runs again, he believes he will clinch the Republican nomination "easily."
Behind the scenes, some Republicans worry that if Trump runs, he may potentially harm moderate Republican candidates running in state races or reignite discussions around his role in the January 6 Capitol riots.
In late September, Trump told The Water Cooler's David Brody that he wouldn't run if he got a "bad call from a doctor or something." Some interpreted his comment as stating his intention to run, if his health permits.
Trump has repeatedly and baselessly claimed that he actually won the 2020 election despite losing by over 7 million popular votes. However, Trump alleges that the election was "stolen" from him through an unprecedented nationwide conspiracy of voter fraud that only occurred in the states he lost.
Trump's former attorney general, his former head of U.S. cybersecurity infrastructure, over 60 court cases filed by Republicans, as well as numerous statewide audits have all concluded that there's no real evidence that the 2020 election was stolen.