Former President Donald Trump was denounced by his niece Mary Trump on Sunday for supplying commentary for a boxing match on the 20th anniversary of 9/11;
Donald Trump and his son Donald Trump Jr. provided "alternate commentary" for an event featuring 58-year-old former heavyweight boxing champion Evander Holyfield against 44-year-old mixed martial artist Vitor Belfort on Saturday evening.
Mary Trump blasted the ex-president's participation in the event during an interview with CNN's Jim Acosta on Sunday.
The former president's niece lamented a lack of "pushback" against Donald Trump's behavior and said that her uncle choosing to do something to "line his own pockets" on the anniversary of the deadly terrorist attack, which killed nearly 3,000 people and led to many more deaths in wars overseas, was "entirely in keeping" with his character.
"Last I checked, nobody pushed back on the fact that on the 20th anniversary of the worst tragedy to hit this country, he was commentating a boxing match to line his own pockets," Mary Trump said. "It's entirely in keeping in what Donald always does. He doesn't understand dignity. He doesn't understand tragedy. He doesn't understand anything that doesn't pertain directly to him."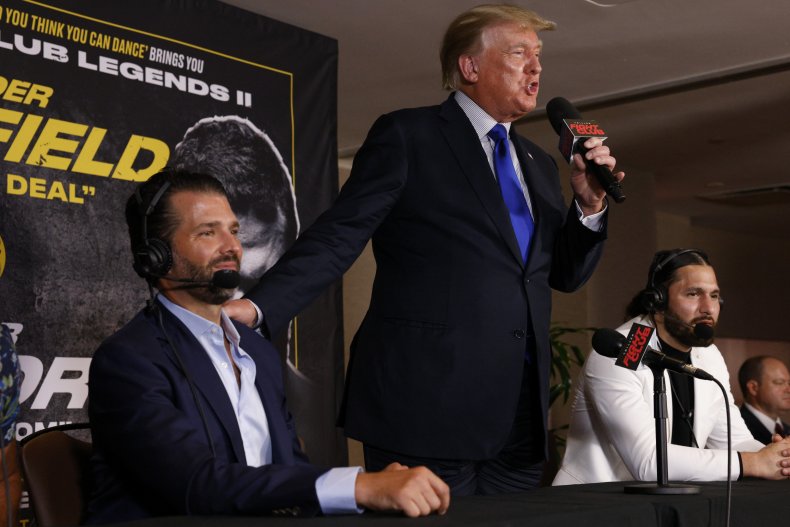 "And he will always push the envelope as long as he's allowed to," she added. "And this is the problem here: He's always allowed to. He's always allowed to get away with it. So, you and I might think it's bizarre behavior because it is for any decent human being. But one: He's not a decent human being. And, two: Where's the pushback?"
Donald Trump did not participate in a 9/11 memorial but made stops at a New York City police station and firehouse before heading off to Florida for the boxing event on Saturday. President Joe Biden, along with former Presidents Barack Obama and Bill Clinton, all attended a 9/11 memorial ceremony at the site where the former World Trade Center fell in 2001. Former President George W. Bush and Vice President Kamala Harris delivered memorial speeches in Shanksville, Pennsylvania, near the crash site of United Flight 93.
Trump was previously involved in boxing due to his casinos in Atlantic City, New Jersey, hosting many high-profile fights in the 1980s and 1990s. Saturday's $49.99 pay-per-view fight card was more of a novelty event, featuring a variety of fighters who were either retired or well past their prime. The main event ended when Holyfield, who had not fought for over a decade, suffered a first round technical knockout at the hands of Belfort.
At a Thursday press conference, the former president suggested that he would like to participate in a boxing match against Biden, predicting that the matchup would be his "easiest fight" and that Biden would "go down within the first few seconds." Trump has continued to falsely claim that he defeated Biden in the 2020 presidential election, although he lost by 74 Electoral College votes and over 7 million popular votes.
Mary Trump is a psychologist and an outspoken critic of her uncle, having repeatedly criticized him in the media after authoring the 2020 book Too Much and Never Enough, as well as this year's The Reckoning: Our Nation's Trauma and Finding a Way to Heal.
Newsweek reached out to Donald Trump's representatives for comment.