From the Archives: 'Mary Tyler Moore and Her All-Star Team'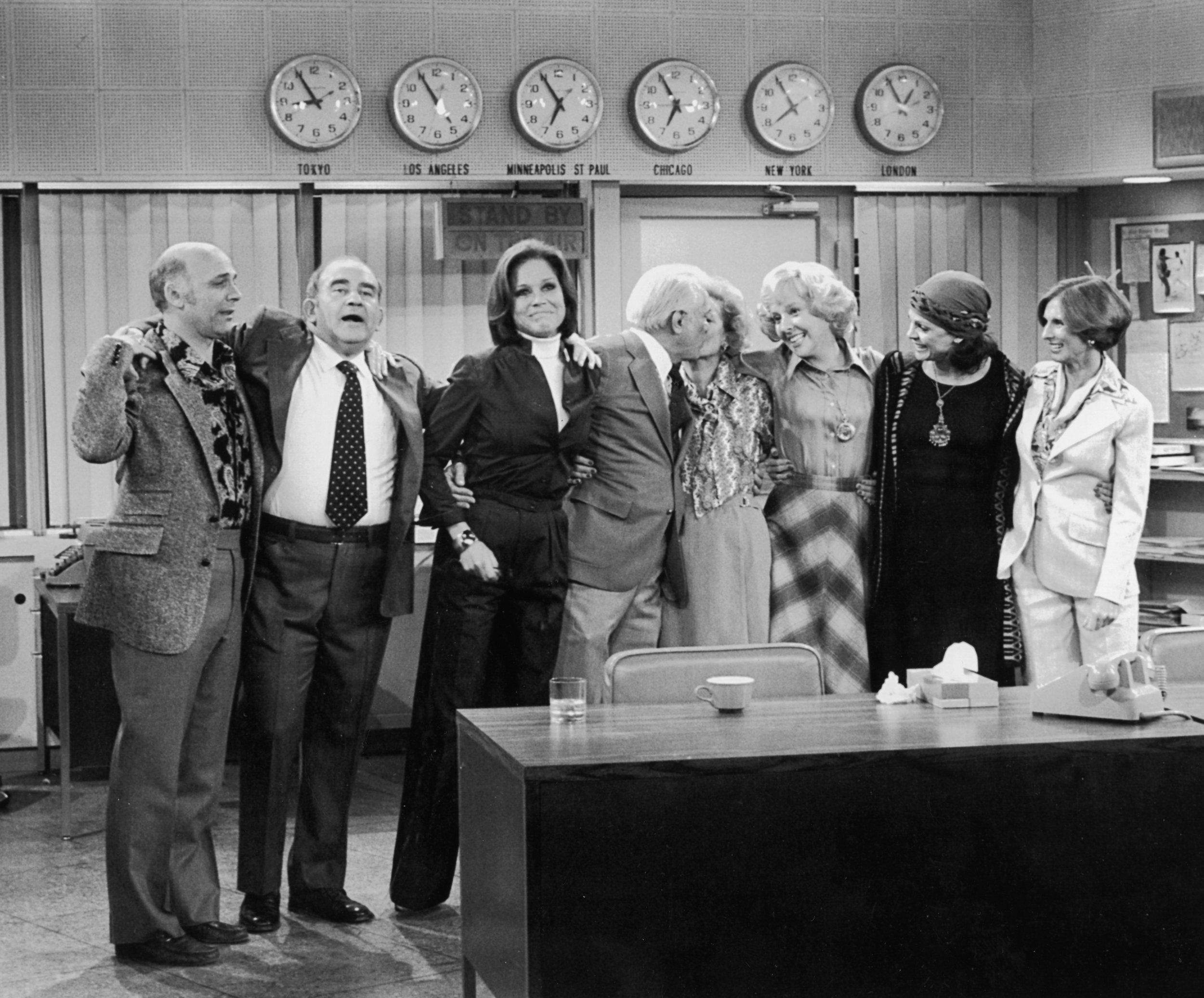 Mary Tyler Moore has died at the age of 80, her publicist said Wednesday. Nearly half a century ago, in 1970, she became the star of her eponymous television sitcom The Mary Tyler Moore Show. The situational comedy was a hit and ran through 1977, with spinoffs such as Rhoda and Phyllis. Three seasons into the original series, Newsweek's Malcolm MacPherson interviewed the cast of the show for a story published in our magazine's January 29, 1973 issue. Read the piece from our archives below.
Related: Actress Mary Tyler Moore dies at age 80
"MTM and Her All-Star Team"
For three seasons now, "The Mary Tyler Moore Show" on CBS has been one of television's most successful situation comedies. It has never dropped below fifteenth place in the national Nielsen ratings, and in its first two years it won seven Emmy awards. To find out what makes one good sitcom click Newsweek's Malcolm MacPherson interviewed the cast and filed this appreciation:
Many situation comedies—particularly those with the star's name in the title—add up to little more than a camera-hogging kingpin supported by a cast of cardboard characters. Not so on "The MTM Show." Mary herself is a capable comedienne, an engaging Goody Two-shoes who knows her business and looks good while she's doing it. But the cast doesn't stop there. Mary is buttressed on each slender flank by a thoroughly professional troupe that is deeper than most all-star teams. Hers is perhaps the only series on television in which an Oscar winner (Cloris Leachman) can play a relatively minor role without looking like she has an idiot for an agent.
"My forte," says Moore, "is not being funny, but reacting in a funny way to those around me. Women's lib would kill me for saying this, but 95 per cent of the women who have had to carry the load on their own shows have not succeeded. So we decided to make me a straight woman." The actors to whom Mary plays Ms. Bones are not just unusually skilled; their roles are believably, lovably well-rounded—and well-written. The setting is simple enough. Spinster Mary Richards, 32, works as an assistant producer in a television news studio, peopled by a gruff boss (played by Edward Asner), an addlepated anchorman (Ted Knight) and a pixie scriptwriter (Gavin MacLeod). She lives in a suburban Minneapolis apartment building, complete with a pushy landlady (Leachman) and a good-naturedly neurotic upstairs neighbor from the Bronx (Valerie Harper).
All of these characters are strong enough to carry an episode single-handed, and often they do. "As long as it's a good show, I don't care who the star is," vows Moore. "Sure, I get itchy if I'm not featured after four or five segments, but when one character at a time is featured, the audience gets to know him and care for him."
Jokes: No matter who stars, someone else is always available to pick up the pace if necessary. In one show, Mary is given the assignment of converting the 6 o'clock news to a "happy talk" format. Her torment starts when the bumbling Baxter ventures disastrously into an impromptu Polish joke. The character of anchorman Baxter is a writer's revenge on all those glamour boys who earn $100,000 a year for reading news stories they don't even understand. Handed a late-breaking news item on Albania, Baxter confidently identifies the place as the capital of New York State. In another segment, he begins his newscast clad in a trench coat and declares in a pompous baritone: "I just this minute returned from our nation's capital—Washington—where all went well with my talks with our nation's leaders. There was, however, one sorry exception, one nationally known political figure who steadfastly refused to see me even when I stopped by his house." An accusing pause. "Something to hide, Richard Nixon?"
Back at the apartment house, Valerie Harper's character—Rhoda Morgenstern—is a brassy contrast to the squarer, slightly uptight Mary Richards. Rhoda is desperately but unabashedly single. She describes one particularly hopeless swain as "a real zero. He could walk through an electric eye door and it wouldn't open." She confesses that "when we used to play Mommy and Daddy when I was a kid, I always played Mommy's unmarried sister." Rhoda displays her hangups like trophies. Looking through Mary's family album, she asks brightly: "Could I have it? I'd like to leave it in my apartment and have people think it was my life."
Bombs: There is a small temptation to conclude that "The Mary Tyler Moore Show" owes little of its success to Mary Tyler Moore. Mary's first big hit was the role of Laura Petrie in the old "Dick Van Dyke Show," and that series was a lot funnier than the "new" Moore-less Van Dyke program that now afflicts the airwaves. But when Mary tried to cash in on her TV fame, the results were disastrous. On the stage, she starred in "Breakfast at Tiffany's," which closed in previews. Her movies, including "Thoroughly Modern Millie," were, by her own account,"bombs."
It may be that Moore is a limited actress. It also may be that her other vehicles did not make as good use of her talents as CBS does. Despite that big smile and those lithe-gawky gestures, her humor is private and subtle. After fending off a boy friend's doorstep proposition, she bids him good night and then reacts for two minutes in a display of anguished mime that has you feeling for her. "If Mary was in a French movie and you didn't speak French," says executive producer Jim Brooks, "you'd laugh at her." Often enough, reactions like these are what tell the story. One deft bit of business even gives us a glimpse of Mary Richards's discreet sex life. During a visit by her parents, Mary is preparing to give dinner to her father while her mother goes out for the evening. As the mother leaves, she reminds her husband: "Don't forget to take your pill." Mary looks up distractedly. Father and daughter answer at the same instant: "I won't." That's teamwork.
From the Archives: 'Mary Tyler Moore and Her All-Star Team' | Culture