Maryland Schools Align With Hogan to Remove Masks as Counties Hold Fast
Maryland's Board of Education on Tuesday voted overwhelmingly to lift the statewide mask mandate that was imposed for schools in 2021.
In a 12–2 vote, members rescinded the mandate, citing lower COVID-19 cases, hospitalizations and fatalities in the state, as well as nationwide, along with an increase in treatments for the virus and the availability of vaccines.
It's the latest move in a battle between state and county authorities over masks as Maryland's education board aligned with Governor Larry Hogan on the matter while Montgomery County Executive Marc Elrich acknowledged the move but said he'll continue to recommend masks for students.
The mandate will remain in place until the General Assembly's Joint Committee on Administrative, Executive & Legislative Review holds a hearing on Friday to finalize the vote.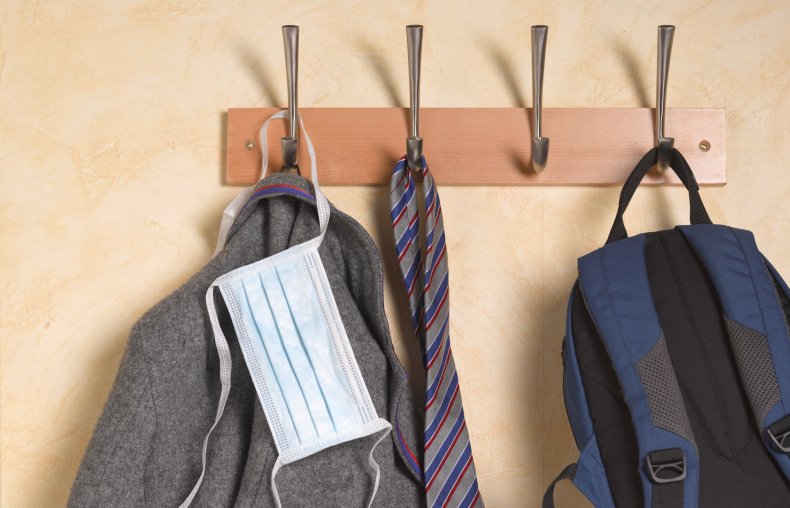 "I want to thank the State Board of Education for heeding our call to rescind its school mask policy," said Hogan in a statement, noting the action aligned with the data and the science, the recommendation of the State Superintendent of Schools, and the guidance of medical professionals across the country.
"I also want to express my sincere appreciation to all the parents who have spoken out in recent weeks. At a time when Maryland has the lowest COVID-19 metrics in the country, this is a major step for normalcy and the well-being of our students."
For his part, Elrich told Newsweek that he wasn't certain how other counties would react but that he would continue to wear a mask and encourage others to do the same.
"Everybody is wresting with this—when do we move on this? Elrich said, telling Newsweek during his weekly media briefing that it may change distancing or quarantine requirements and make things more complex. "[I]'m a big believer in figuring out how do you maximize people's safety and I think everybody is trying to wrestle with the same questions," he said.
Noting that per 100,000 residents, the county remained in the "substantial transmission" category according to the Centers for Disease Control and Prevention, Elrich said he does expect Montgomery County to get to a point where masks can more safely be optional sooner rather than later. Still, he said with so many school children still unvaccinated, in his mind it's not there yet.
Some board members also expressed apprehension and recommended waiting a couple more weeks when it comes to allowing school kids to go maskless.
"Both the statewide and County test positivity rate is higher today than it was last fall when the masking of students was a critical part of ensuring that our schools remain open for in-person learning while reducing the risk of outbreaks in classrooms," said Elrich in an earlier statement. "Removing the mask requirement throughout our school buildings at this point would be premature unless the County was clearly at or below a 'moderate rate' of transmission and masks were still highly encouraged, even if optional to the students."
It was on February 10 that Hogan sent a letter to the Maryland State Board of Education asking it to rescind its mask mandate policy in the state's schools. For his part, Elrich continued to push for the mandate to stay in place until COVID transmissions reached the "moderate" level, noting his concern regarding the Omicron variant and its high transmission rate.
Montgomery County as a whole is one of the most-vaccinated counties in the nation, with nearly 85 percent of its residents fully vaccinated.
Last May the state ended its indoor mask mandate for other public places while some jurisdictions have maintained local authority when it comes to their policy-making decisions. The requirement for masks in the classroom has been instituted since December, with the rise of Omicron variant cases.
Effective Tuesday, the requirement for masks and face coverings to be worn in state buildings was lifted.
"The General Assembly must now act swiftly to ratify the State Board's decision," added Hogan.
During Tuesday's indoor meeting, members of the board were wearing masks while others weren't.
"I think lifting the mandate is a first step to normalcy as long as common sense prevails," said Pastor Shannon Wright of the Urban Engagement Initiative, a non-profit working to bring attention and solutions to Maryland's urban problems. Wright had previously told Newsweek that no parent wants their child to be unsafe but that the ability for parents to have the final decision about how to keep their kids safe is crucial.