Mask Mandate Protesters Hold 'SHEEP' Signs, Taunt Tennessee Students on Way Into Class
Students in Tennessee have been taunted by protestors on their way into class this week after a federal judge ruled the school district must impose a mask mandate.
A group has gathered outside of some Knox County Schools since Tuesday morning holding signs reading "honk for freedom," "parents know best," and "good little sheep wear their masks" in protest of a new rule that requires everyone inside the school to wear a mask.
Connie Matell, the grandparent of a Farragut Intermediate School student, told Knoxville TV station WBIR that she didn't think the group looked violent when she dropped the child off, but for the students, it's "scary."
Tuesday was the first day of school with the mandate since it was issued on Friday, September 24 by U.S. District Judge Ronnie Greer. The district announced on Sunday it would close Monday to prepare for enforcing the ruling.
The mandate came after a group of parents filed a lawsuit in court claiming the school's voluntary mask policy put certain children at risk.
"We recognize that this is a sensitive topic and that there are a wide variety of strongly held feelings about COVID-19 mitigation measures. At the same time, I want to make very clear that we are required to implement this order," Knox County School Superintendent Bob Thomas said in a statement on Friday.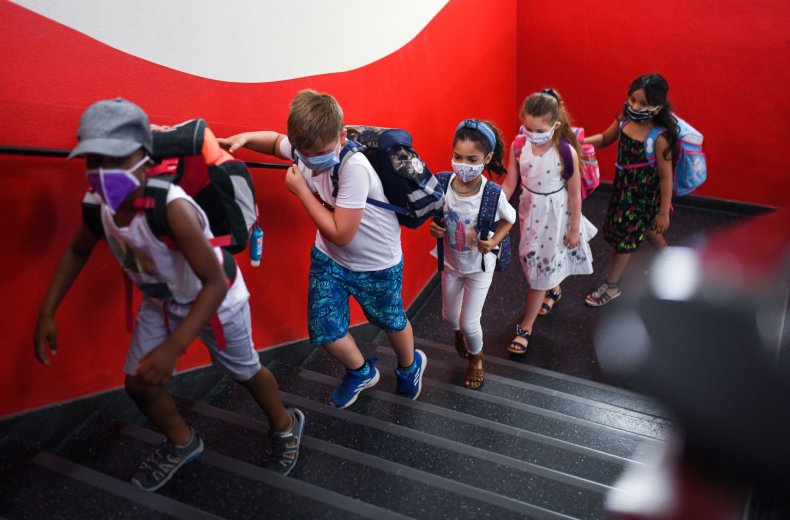 Some who oppose the ruling created a Facebook group the same day called Knox County Parents Against Mandates. It has more than 4,000 members and is dedicated to "parents of children in the Knox County school system that want to stand up to mandates and stand up for our children."
Alleged screenshots from the group show parents discussing how their children are being "held in concentration camps" because of the mandate and compared children breathing in masks to the death of George Floyd.
Knox County Schools Chief Public Affairs Officer Carly Harrington told WBIR that the district anticipated a challenging day ahead of school due to the community's division.
As a precaution, some Knoxville Police Department officers were monitoring the protests but did not have to intervene.
"By all appearances, it was business as usual according to our folks in the field," said Scott Erland, the KPD communications manager.
Out of 60,000 students enrolled in the district a little more than 1 percent, or 772, were placed in an "alternative setting" for not wearing a mask on Tuesday. WBIR reported that 207 were elementary students, 235 were middle school students and 280 were in high school. The school's attendance rate was over 90 percent for both students and staff.
Students who violate the mask mandate are given a verbal warning for their first and second offenses. After the third time, they are removed from class. A fourth violation requires the student to be picked up from school.
Thomas said in a video statement posted on Twitter that the district was given a short amount of time to comply with the order but asked parents and students to do all they can to help.
"A little kindness and grace to our staff will go a long way in ensuring a good start to the school day," he said.
Harrington told Newsweek Thursday that "protests and activities that disrupt school are not allowed on campuses," but that she would not comment further because of pending litigation.
Updated 09/30/2021, 2:23 p.m. ET: This article has been updated to include comments from Knox County Schools.