'The Masked Singer' Season 4 Episode 2 Live Blog and Results Including 'Huge Reveal'
Episode 2 of The Masked Singer Season 4 premieres Wednesday night at 8 p.m. ET. We'll be liveblogging the show below, in case you aren't watching (or you just want to know what we think.)
The Masked Singer viewers are in for a treat Wednesday night if judge Robin Thicke has anything to say about it. The "Blurred Lines" singer claimed the second episode of the season will host a "huge reveal," one that could be the biggest in Masked Singer history, according to Entertainment Tonight.
The episode will premiere at 8 p.m. ET on Fox Wednesday night with a whole new cast of masked singers. Group B will take the stage in some truly wild costumes, and fan theories are likely to spark equally wild conversations online throughout the show. The round of secret celebrities includes all-new disguises called Baby Alien, Whatchamacallit, Crocodile, Serpent, Seahorse and Gremlin.
Last week, The Dragon was sent home and unmasked as the first elimination for Season 4. It turned out to be Busta Rhymes. If you missed that reveal, you can read our recap here.
So what does tonight hold? We'll keep you updated with all of the details in Newsweek's Week 2 live blog below.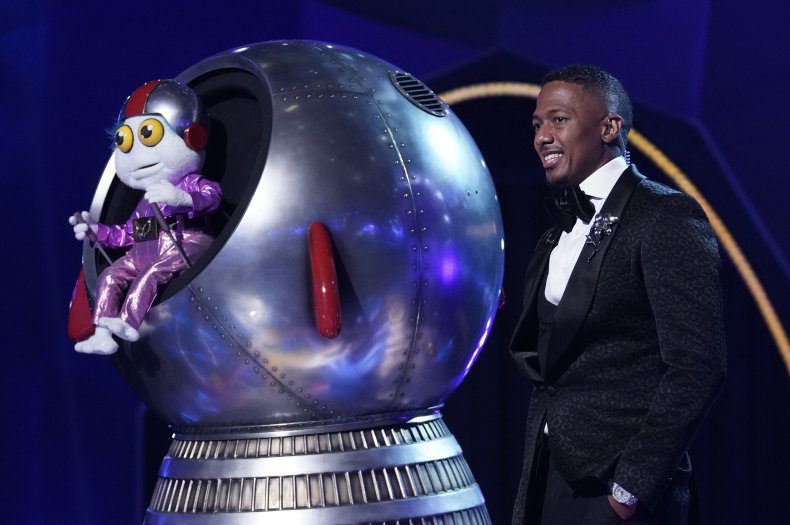 The Masked Singer Episode 2 Season 4 Live Blog
8:00 p.m. ET
Buckle up, Masked Singer fans. Group B is about to take the stage. In tonight's hour-long episode, we'll meet six new faces. The introduction of the night has already caught our attention. Apparently, there's a "toddler" on this season? Called "Baby Alien?" Alright.
Here comes our host, Nick Cannon, with his classic mask and cape. After a fair joke about Robin Thicke's shirt, we're welcoming the Crocodile to the stage. The Masked Singer wastes no time, and we appreciate that.
Clues claim our Crocodile has "thick skin" and is "quick to snap." Dressed in all pink, sequins and everything shiny now is a better time than ever to guess Paris Hilton just took the stage.
This clue package says Crocodile is from "lover's lagoon" and we're going to "swoon." We'll see. More clues seem to frame Crocodile as a swimmer, or someone who is "happiest in water." They also "grew up in Hollywood." An Italian flag is also featured.
Time for the singing. Crocodile makes a splash with "It's My Life" by Bon Jovi. We can definitely say, this isn't Paris Hilton. Judge Jenny McCarthy says maybe it "is Bon Jovi," but we're pretty certain it's not him either (even though Twitter saw the similarities.)
The judges' guesses? Ken Jeong thinks Crocodile is actor John Hamm. Nicole Scherzinger named former 98 Degrees singer Nick Lachey. Robin claimed it's Jenny's husband, Donnie Wahlberg and Jenny didn't disagree.
The jury's still out on this one, but some of the best Twitter guesses simply give clues, not guesses.
Commercial time.
8:11 p.m.
We don't have to wait any longer for the toddler to take the stage. Baby Alien is here with their own clue package. The costume is truly odd, featuring a tiny alien helmet and a long skirt beneath.
Baby Alien claims they've been "stuck in second gear for a while," which Nicole pointed out is a line from the Friends theme song. They've also been on stage at the Tony Awards. Since, they've found other passions, though. Balloons and roses are featured on the screen.
When Baby Alien opens their tiny mouth, very nice sounds come out. "Faith" by George Michael is the song of choice and it's another performance by a masked celebrity who really can sing.
Judges have some interesting guesses this time, too. Jenny guessed Ralph Macchio, who replaced Matthew Broderick on broadway once, after possible Ferris Bueller's Day Off clues. Nicole pointed to Friends star Matthew LeBlanc, or even David Schwimmer, who "has his own theater company." Ken went with Freddie Prinze Jr.
The best guesses from the Twitter-sphere this time revolved heavily around the clues.
Another commercial! Quick! Make your popcorn!
8:20 p.m.
Nick claims the show is "too tough for the FBI" but we think it's just too tough for the judges. Here comes Seahorse.
This clue package is particularly odd, with the colorful seahorse embracing apparent southern roots, and hosting a tea party with two poodles and other stuffed animals. There's a "hog" with "warts" that seems, to Robin, to point to a possible Harry Potter connection. Seahorse calls themselves a "dauntless diva." Many of the statements have to do with feeling "lost" and emotion.
Seahorse begins to sing "Only Girl (In The World)" by Rihanna. Another impressive vocal performance. Nick calls Seahorse a "pop princess" and judges even guess she may win the whole season.
Jenny guessed Halsey was under the Seahorse mask. Nicole went with Hailee Steinfeld and Robin went with Bebe Rexha.
Alright here comes another. It's time for the USA-colored, hairy Whatchamacallit to take the stage. Clues say the monster is considered "shy" and lets "others absorb [their] spotlight." They claimed to "dance with the stars" and "swing from keys." The monster begins to sing "I Wish" by Skee-Lo. After an entertaining performance that also thrilled the judges, their guesses claimed Whatchamacallit may even be a professional musician.
Nicole said Whatchamacallit may be Swizz Beatz. True to the song, Ken guessed a baller—NBA player Damian Lillard while Robin claimed Tyler, the Creator was under the mask.
For Seahorse, Twitter mentioned a voice like Britney Spears or Ariana Grande, the later because of the "yuh" noises Seahorse added. Guesses for Whatchamacalit were scarce immediately after the performance.
8:37 p.m.
Back from another commercial break, and we've got two more stars to get through. Time for the Serpent. Clues claimed Serpent is a "troublemaker" and there's a book featured about how to "dig" out of debt. Apparently, the Serpent was on a bad road in life until their father swept them into a new direction.
Serpent presented a haunting rendition of "I'm Gonna Be (500 Miles)" by The Proclaimers. This one truly shocked us with some gorgeous, unexpected vocals. He was met with praise from the judges, again, who swept in with some wild guesses. Jenny wondered if John Legend was under the serpent mask. Ken, though, guessed Daveed Diggs. Nicole went with Leslie Odom Jr.
This was another one Twitter claimed was familiar, but no true conclusion could be reached.
8:49 p.m.
Time for the final singer of Group B: Gremlin. The monster apparently has a "checkered history" and is a "bit combative." But Gremlin has a heart of gold, they claim. Gremlin is an animal lover who loves to cook.
When Gremlin begins to sing, their robust voice is shocking. It's "Stand By Me" by Ben E. King. The judges didn't seem to be thrilled with Gremlin's performance, though. Jenny responded: "Is he like 100 years old?" to which Robin said, "I don't know."
Robin claimed to know the voice, but couldn't figure it out. He guessed Jerry Lee Lewis. Jenny thought Gremlin could be Mickey Rourke. Ken went with Stone Cold Steve Austin, the retired wrestler.
Episode 2 proved to be tough for both judges and fans to wrap their heads around. Gremlin, again, didn't have many confident guesses online.
In a wild turn of events, Gremlin decided to take his mask off because he got "too hot." That means, there wasn't a vote to eliminate anyone. The masked celebrity just quit, it seems.
And we cut to commercial before we know who Gremlin is. One overly shocked audience member's pure surprise brings us to advertisements as Nick screams: "It's the Gremlin show!"
8:59 p.m.
Okay, with ONE MINUTE left in air time, it's time to find out who Gremlin is. The judges seem truly concerned about the breach of show protocol when we return from commercial. And off comes the mask!
Judges and audience members are shocked to find Mickey Rourke is under the mask on Wednesday night. Some Twitter users, and Jenny, did guess correctly. Rourke is a 68-year-old Oscar-winning actor best known for The Wrestler and so much more.
When asked why he decided to come on The Masked Singer, he responded "I was in the neighborhood."