'The Masked Singer' Season 5: All the Clues About Black Swan's Identity and Who Fans Think It Is
The Masked Singer Season 5 is in full swing on Fox, with eight contestants currently battling it out. Among the front runners is the Black Swan, whose sultry voice has impressed the judges. The panel's guesses for Black Swan's identity so far have included Lindsay Lohan, Demi Lovato and Hannah Montana star Emily Osment.
Fans have been interpreting the clues and think the Masked Singer judges may be wide of the mark. Here are all the clues and what fans think some of them mean.
All the clues to Black Swan's identity on The Masked Singer
The first clues
"Black swans, like me, are incredibly rare," she says.
We see a poster reading: "Wanted World's Rarest Bird." The poster offers a "reward voucher" with the letters R and V emphasised.
"I was caught up, hypnotized by a Hollywood deal I couldn't resist," she says, as a number five appears in front of her. We also see a red chess piece (a bishop), a diamond ring, a castle and white doves.
She says: "There was a steep price. I fell under its spell, worried I'd never see the light again," as she walks to a red X on the floor.
She mentions a "faithful flock" who "flew to my rescue and set me free."
She holds up a red card.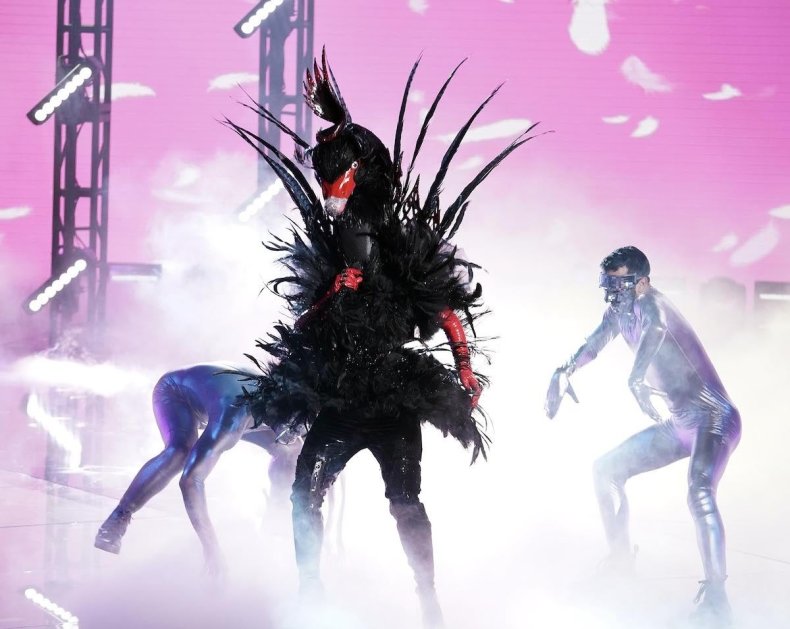 Second clues package
She said she was "terrified" during her first performance, and noted how it made her want to put into words how thankful she is to the person who gave her life and the confidence it took to take this journey.
Speaking of her life and career, she says it has not always been an "easy road" and that the higher she flew, the harder it became to keep up.
She mentions having to let of someone close, but adds: "Eventually, we were able to fly back into each other's lives just like birds of a feather do. I'm thankful we never gave up on each other."
Items seen in the second clues package: scales with one black swan and one white swan, a heart, a rowboat, a photo frame, a penny and nickel, a globe and a letter that says "Thank you" with a lipstick mark on it
Third clues package
"All this anonymity brings me back to my beginnings," she says, before explaining that she used to send audition tapes without her face showing. "I wasn't quite what they were expecting," she adds.
She mentions taking a "leap of faith," saying: "So I dove headfirst, and now that I'm anonymous again as the Black Swan, I'm learning that life isn't about how others perceive me but always staying true to myself."
She is seen declining a backpack that has a "Montana" patch sewn on it.
We also see a man with headphones, a mailbox featuring three 10s, a letter addressed to Hollywood from an anonymous person with Cupid on it, a black cat, some red and gold leaves, plus the word "spot" next to a purple dinosaur.
Songs performed so far
First performance: "Barracuda" by Heart
Second performance: "In My Blood" by Shawn Mendes
Third performance: "How Will I Know" by Whitney Houston
Other clues
Cluedle-Doo's clue: "Black Swan has covered a monster"
First crush clue: Black Swan chose soul singer D'Angelo as her first crush, saying: "His voice and talent, he plays like every instrument … He's just the one for me."
Meaningful object clue: a unicorn. She said: "This is to commemorate one of my best friends, an incredible singer who passed away and is no longer with us. This friend really taught me how to be myself. She really was one of a kind and this is one of my most treasured possessions."
Who fans think Black Swan is
Masked Singer fans have read the clues to mean that Black Swan is the singer JoJo, famed for hits such as "Leave (Get Out)" and "Too Little Too Late."
As fans will know, "covered a monster" seems likely to be a reference to Monster, the winner of the first season, who was revealed to be rapper T-Pain. JoJo released a cover of T-Pain's "Can't Believe It" in 2008.
As for declining the Montana backpack, JoJo revealed in 2008 that she had been the original choice to play Hannah Montana, but turned down the role before it went to Miley Cyrus. She told Extra TV at the time: "No regrets. No regrets at all. Yeah, they [Disney] offered me the role … [But] it's not really what I see for myself."
The R and V on the Wanted poster seem to be a reference to RV, the Robin Williams movie in which JoJo starred in 2006. Her walking towards the X, meanwhile, may be a hint about her time as an X Factor judge.
The Masked Singer Season 5 airs on Wednesdays at 8 p.m. ET / 7 p.m. CT on Fox.