Massachusetts Hospitals Say COVID Has Greatly Affected the 'Stability of the System'
Hospitals in Massachusetts warned that the health care system is "gasping for air" as the highly contagious Omicron variant spreads, and the number of people hospitalized with COVID has greatly increased in recent weeks.
In a statement on Friday, hospital leaders with the Massachusetts Health & Hospital Association, which represents hospitals throughout the state, issued "their most urgent message to the public yet, as the stability of the system hangs in the balance."
"Every corner of our healthcare system is gasping for air. Every unit and hallway is full, procedures are being cancelled, and patients are waiting in ERs for hours on end for the care they need," the association stated.
"We have never been more fearful for what is to come if things aren't turned around quickly," it added.
Dr. Eric Dickson, the president and CEO of UMass Memorial Healthcare said that the current surge "is different."
"As scary as things may have been for providers in the early days of COVID, things are now much worse," Dickson said in a statement.
"COVID-19 admissions have spiked by almost 250 percent since Thanksgiving, the ranks of the healthcare workforce have been depleted, and beds are filled with patients who are sicker than before," he continued.
The association urged members of the community to take action by masking "at all times" in public, getting vaccinated, and avoiding emergency rooms for mild COVID symptoms and testing.
"This is what it will take for Massachusetts hospitals to avoid the worst possible scenarios in the very near future," Michael Dandorph, President and CEO of Wellforce, a Massachusetts health system, said in a statement.
"Providers and state leaders continue to work as one and to do everything in their power to be here when you need us. But these measures are simply not sustainable if they are not supported by public action," he said.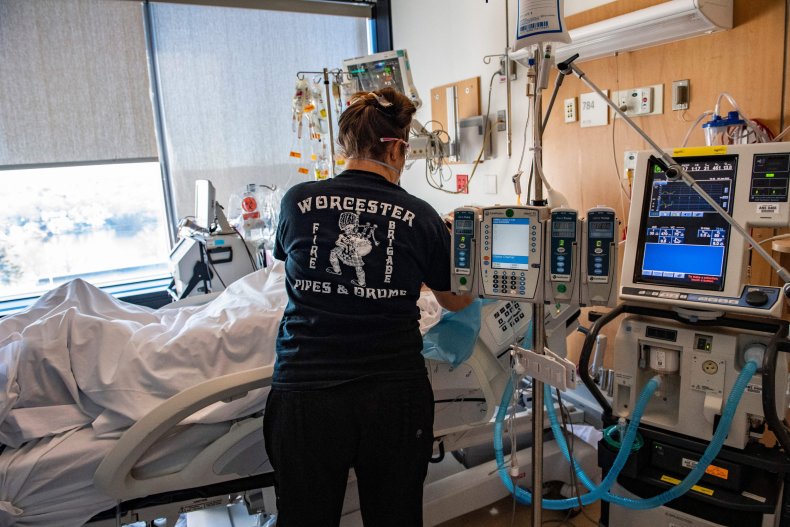 According to data from the Massachusetts Department of Public Health, there are currently 3,223 patients hospitalized with COVID-19 in the state including 460 patients who are being treated in intensive care units (ICUs) and 279 patients who are intubated.
The state's positivity rate for COVID-19 testing is currently about 20 percent, and there were 12,864 new infections reported on Thursday.
Earlier this month, Massachusetts hospital officials warned about ICU bed availability dropping amid the spread of the Omicron variant. As of last week, ICU beds across the state were nearing capacity as Massachusetts' positivity rate nearly doubled to nearly 21 percent.