National Guard deployment and training started in Massachusetts on Monday, with about 27 members at UMass Memorial Health and Baystate Health hospitals. The rest of the troops, who are expected to be deployed throughout the week, will be used to help in non-clinical roles, such as transportation and security.
Last week, Governor Charlie Baker activated around 500 National Guard members to be deployed across 55 hospitals.
Massachusetts is not the only state that has called for the help of its National Guard. About 1,000 members of Ohio's National Guard were deployed around the state to assist hospitals with rising hospitalizations attributed to COVID-19.
In early December, Maine deployed 75 members of its National Guard to provide support for nursing homes and critical care units. Minnesota had 400 troops trained to be nursing assistants and aides in order to assist two hospitals in November.
"If there's one thing that we know about this virus, it's that we never know what it's going to do next," said Dr. Shira Doron, an infectious disease physician at Tufts Medical Center in Boston. "But, if I were a betting girl, I would say that we are headed for a period of very, very high cases and then potentially, that will turn around quickly."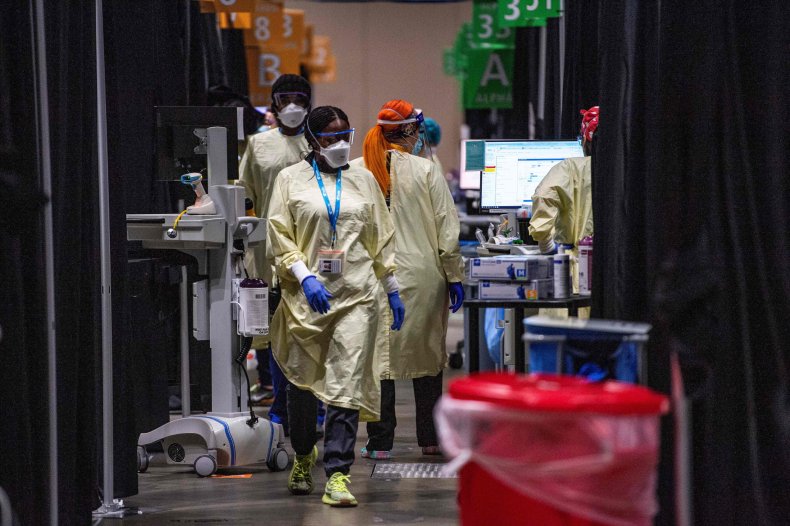 The initial deployment is are scheduled to help some of the state's largest and most acclaimed medical facilities, including Beth Israel Deaconess Medical Center and Massachusetts General Hospital in Boston, to regional facilities such as Addison Gilbert Hospital in Gloucester and Milford Regional Medical Center, according to a list provided by the state Executive Office of Health and Human Services.
Another directive from state health officials originally announced last week—the postponement or cancellation of all nonessential elective procedures likely to result in admission—also took effect Monday.
New confirmed coronavirus cases driven by the omicron variant surged to a pandemic high of more than 10,000 per day three days last week, while nearly 1,600 people were in the hospital with the disease, according to the latest data from the state Department of Public Health.
The state's health care system faces a staffing shortage that has contributed to the loss of about 500 medical/surgical and ICU hospital beds this year, state officials have said.
The Associated Press contributed to this report.