A man from Massachusetts has pleaded guilty to federal charges of sending threatening letters filled with white powder to Erick Trump, Donald Trump Jr. and a Democratic U.S. Senator on Wednesday in Boston federal court.
Daniel Frisiello, 25, from Beverly, Massachusetts, was arrested earlier this year after he had reportedly sent a letter packed with white power to Donald Trump Jr. in February, The Boston Globe reported.
Assistant U.S. Attorney Scott Garland said during the hearing that the 25-year-old mailed letters with white powder to Eric Trump in March 2016 and Donald Trump Jr. in February 2018, according to The Boston Globe. In his letter in 2016, Frisiello demanded that Trump Sr. to drop out of the presidential race and threatened that the next note "won't be fake," Garland said, according to The Boston Globe.
Frisiello's note to Trump Jr. read, "You are an awful, awful person, I am surprised that your father lets you speak on TV. You make the family idiot, Eric, look smart. This is the reason why people hate you, so you are getting what you deserve. So shut the [expletive] UP!," The Boston Globe reported. Although the white powder was deemed not hazardous, Trump Jr.'s estranged wife, Vanessa Trump, was taken to the hospital after being exposed to the powder.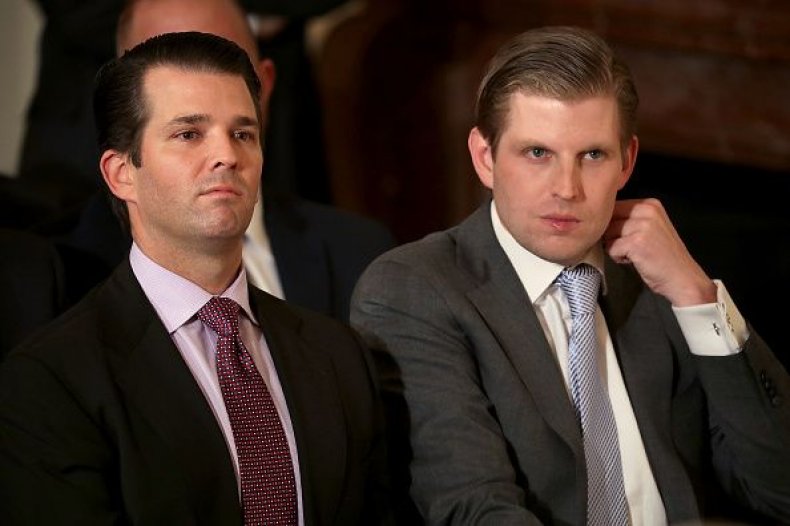 Garland added that Frisiello was previously reprimanded by U.S. Marshals for sending letters into a judge presiding over the Dzhokhar Tsarnaev case in 2014, who was convicted of planting pressure cooker bombs at the Boston Marathon on April 15, 2013, The Boston Globe reported. In the letters, Garland said Frisiello used "strong language" to discuss his opinions on the death penalty, according to The Boston Globe.
Trump's son, Eric, claimed that every member of his immediate family has had white powder mailed to their homes during an interview with Sean Hannity in August. During the interview, Eric told Hannity that his father and the rest of the Trump family had experienced hypocrisy while being covered in the media. While speaking to the Fox News host, Hannity asked if he or anyone in his immediate family has ever been threatened.
"I've been threatened, our family's been threatened. All of us. We've all had white powder show up at our house…there's no moral outrage about that," Eric said during the interview at the time.
During the 2016 presidential campaign, Trump Tower was also sent non-harmful white powder on two different occasions.