Massive 14-Foot Python Found on New York State Road
A giant 14-foot python was found last month on the side of a road in New York's Suffolk County.
On February 14, environmental conservation police officers (ECOs) were alerted to a "large snake, approximately 12 feet in length, on the side of the road in the town of Medford," the state Department of Environmental Conservation said this week in a press release.
"The Officers arrived and observed the reptile curled up in a ball. A closer look revealed it to be deceased. The ECOs removed the snake from the roadway to appropriately dispose of it," the press release said. "The reticulated python measured 14 feet in length."
The discovery of the huge snake on Long Island comes shortly after an alligator was found last month in another part of the state, Brooklyn's Prospect Park.
The Department of Environmental Conservation told Newsweek an investigation into the python and its possible owner is ongoing. It said that it is illegal to own "these types of snakes as pets in New York." Residents must have a state Dangerous Animal License to legally own a python.
The department said that penalties for illegally owning this type of snake include a fine of up to $500 for an initial offense. A fine of no more than $1,000 would be levied for individuals found in violation for a second time and for each subsequent offense.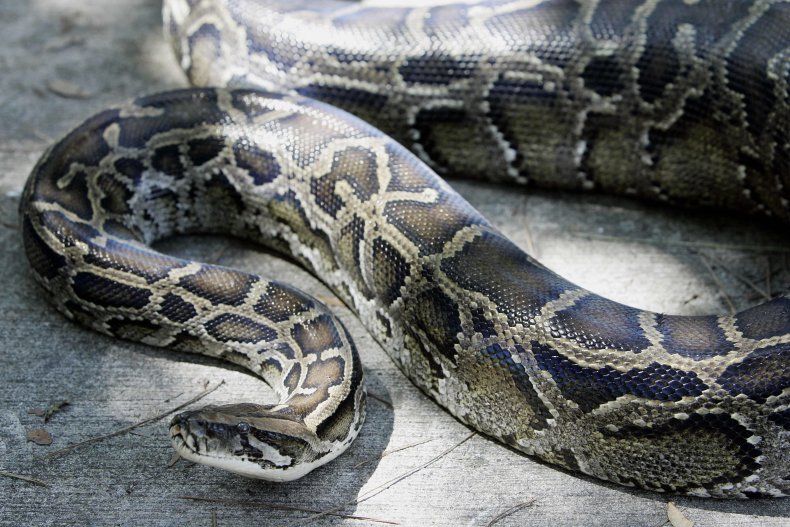 Last month, the Bronx Zoo in New York issued a statement on the discovery of the alligator in Prospect Park.
"The American alligator recovered from a lake in Prospect Park on February 19 is undergoing medical evaluation at the Bronx Zoo by veterinarians and animal care staff. The alligator, which was lethargic and suffering from exposure to cold temperatures, is extremely emaciated," the zoo said.
It continued: "After arriving at the Bronx Zoo, the animal was slowly warmed to an appropriate ambient temperature and received supportive care. Too weak and unresponsive to eat on its own, the alligator, a female, is being tube-fed to provide her with nutrients as well as fluids, Vitamin B, antibiotics and an antifungal medication."
The alligator was around 5 feet long and weighed only about 15 pounds. Other alligators of the same length usually weigh "between 30-35 pounds," the zoo said.
"Radiographs of the alligator, which is estimated to be between 5 and 6 years of age, show that she had ingested an approximately 4-inch wide bathtub stopper," the statement said.
In 2020, a large black snake was seen slithering across a subway platform in New York City.
A video of the snake was first posted to Twitter by a transit worker. The Metropolitan Transportation Authority (MTA) eventually posted a tweet saying, "If you sssee sssomething, sssay sssomething."
"But seriously, this is a new one for us and we are investigating. If you see a snake or any other suspicious reptiles, please immediately contact an MTA employee," the MTA said.