'Relaxed' 6.5ft Alligator Seen Strolling Across Florida School Sports Field
Lacrosse practice at a high school in Florida was brought to an unexpected halt when a 6.5-foot alligator decided to stroll across the pitch.
Students Calvin Silva and Trevor Palm, from the Ravens lacrosse team at Tampa's Alonso High School, had been practicing shots when they went to collect up their balls and spotted the scaly intruder.
"We immediately called the principal and asked him what his gator wrestling skills were because we could use some help," Eric Klaus, the team's coach, told Newsweek.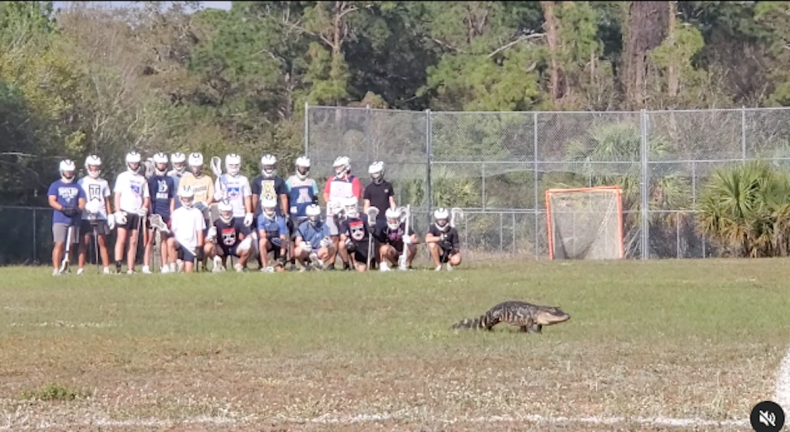 "[The] gator was completely relaxed and casually strolled across the field, occasionally stopping to just lay down and chill a bit."
In total, Klaus said that the alligator was on the school premises for about 40 minutes. It emerged from behind the backstop and sauntered about 150 yards across the field, and another 150 yards along the visitors side of the school's main game field, before finding a hole in the fence and disappearing off the property.
"We had a Gator Trapper on the way to remove him, but he left the premises and we canceled the trapper," Klaus said.
American alligators can be found from eastern Texas to North Carolina, and the Florida Fish and Wildlife Conservation Commission estimates that there are 1.3 million members of this species in Florida alone.
The average size for an American alligator, as estimated by the Smithsonian's National Zoo, is 8.2 feet for the females and 11.2 feet for the males. Any gator over 4 feet can pose a threat to people, pets and property.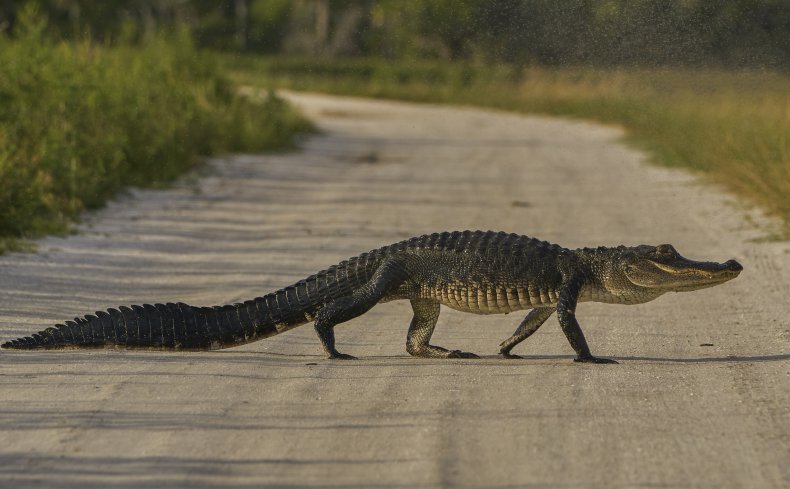 On February 20, an 85-year-old woman was killed by a 10-foot alligator while walking her dog at a retirement community in Fort Pierce. However, alligator bites are rare— around 10 on average in Florida between 2017 and 2021. There were two fatalities recorded during that period.
Alligators can be found in all of Florida's 67 counties, and they are often found in residential and recreational areas where there is access to a water source. Golf courses, for example, are a regular haunt, and alligators are often filmed strutting across the greens.
It is less common to see one in a school. "It's Florida, there are gators everywhere, but we hadn't seen any near the school before, so for us, in that area, [it is] not that common," Klaus said.
Luckily, nobody was hurt during the incident. "Everyone found it pretty cool—nobody was in any danger at any point and there wasn't really any concern about safety—just kept distance and enjoyed watching nature do its thing," Klaus said.
"Overall, a fun little lighthearted moment for the boys."
Do you have an animal or nature story to share with Newsweek? Do you have a question about alligators? Let us know via science@newsweek.com.