Florida Woman Killed by Alligator at Retirement Community While Walking Dog
An 85-year-old woman was killed Monday by a 10-foot alligator while she was walking her dog at a retirement community in Fort Pierce, Florida, according to wildlife officials.
Investigators responded to a report about an alligator bite at the Spanish Lakes Fairways community, Florida Fish and Wildlife Conservation Commission (FWC) said on Monday, according to CBS 12 News.
The alligator initially grabbed the woman's dog, then attacked her after she tried to save her pet, CNN affiliate WPTV reported. The dog survived the attack but no details were revealed about the severity of its injuries.
The woman's body was recovered and alligator trappers captured the reptile, which was loaded into a truck, according to CBS 12 News. The FWC launched a joint investigation with the St. Lucie County Sheriff's Office.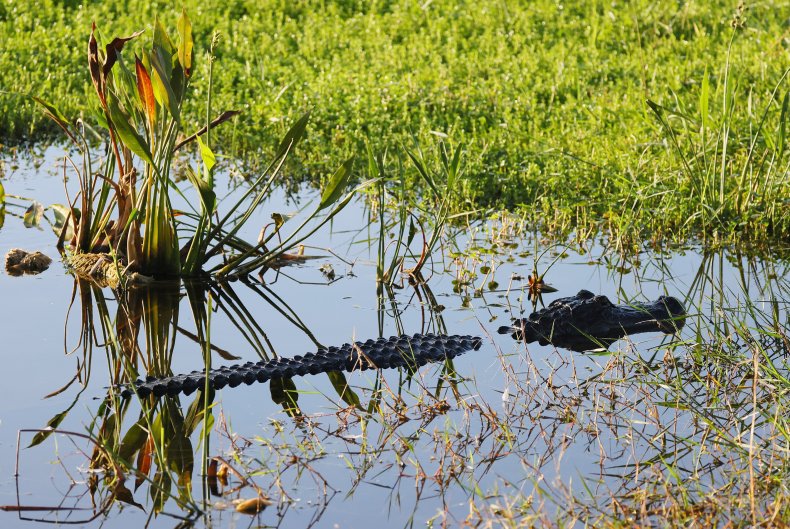 Newsweek has reached out to the FWC and media office at the St. Lucie sheriff's office for comment.
Though experts say it is rare for unprovoked alligators to attack humans, recent bites have been reported, including in Florida, where around 1.3 million gators live across all 67 counties. A 7-foot alligator bit a man who was walking around a motel in June.
Additionally, a man was killed by an alligator in Horry County, South Carolina, last year. According to police, the gator "took ahold of a neighbor who was near the edge of a retention pond and retreated" into the water. Authorities removed the gator from the pond and decided it should be euthanized.
The FWC stated that 442 people were victims of unprovoked alligator attacks, including 26 fatalities, from 1948 to 2021.
Alligators are "opportunistic feeders," according to the FWC, and usually prey on easily accessible species such as small animals, birds, fish and snakes.
A 9-foot alligator attacked and ate a dog that was playing fetch with its owner during the summer in Florida. Josh Wells watched Toby, his 40-pound black Labrador retriever mix, get eaten by an alligator that jumped out of the water and grabbed the dog by its head.
"Boom, the water just sort of exploded," Wells said. "He never barked. He never saw it," the Tallahassee Democrat reported.
"Dogs are more susceptible to being bitten than humans because dogs resemble the natural prey of alligators," the FWC said. "The sound of dogs barking and playing may draw an alligator to the area."