Massive Snakes 'on the Loose' in Small Town Worry Residents
After reports of some giant snakes on the loose, a massive Burmese python was captured slithering around Greenock, Scotland. While this one is off the streets, it seems there are many more to be concerned about.
The 14-foot snake was captured and taken to a local vet, where it later died—the BBC reported this was due to cold temperatures in Scotland, as Burmese pythons typically thrive in warm climates.
Unfortunately for frightened locals, there appears to be proof that this Burmese was just one of a few currently making their way through a few Scottish towns. Two similar, giant snakes were spotted in Inverclyde on Tuesday, The Scottish Sun reported.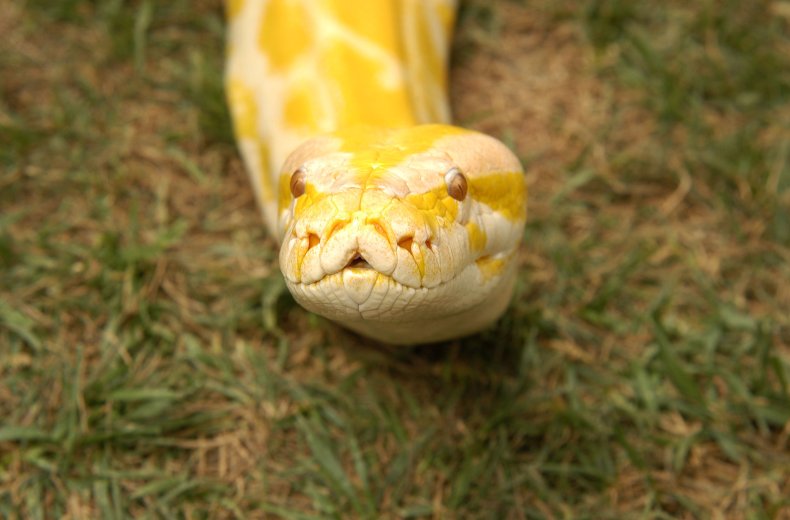 One, very odd occurrence also points to at least one snake on the loose in another area. Three pythons and a cat were found dead in the Lanarkshire woods.
Where the Burmese pythons came from is still unknown, but it's not uncommon for the giant creatures to become unwanted predators in local environments. The Florida Everglades has a massive Burmese python issue, so dangerous for wildlife that Florida citizens can get paid for capturing the snakes.
Burmese pythons are native to Southeast Asia, and appear to have assimilated into other climates when snake owners let their pets free in nature.
So what does this mean for Scottish locals? Snakes appear to be on the loose, and experts are urging humans to stay far away from the creatures. "Officers are currently dealing with the reports of a number of sightings of large snakes in the Greenock and Gourock area," Inspector Paul Thompson from the Greenock Police Station told the Sun.
While the investigation continues, Thompson urges anyone who spots a snake to call the police and keep their distance: "I would urge anyone who may come across a snake not to approach it, but to call police reporting its position. At this stage we are carrying out local enquiries in order to establish if anyone is missing any snakes."
There is a little bit of good news in this scenario. Burmese pythons can be aggressive, but it's rare they attack humans. Especially if they aren't being provoked, there's a good chance anyone who comes in contact with the giant snakes will be left unscathed from the encounter. Of course, that doesn't mean it has never happened. The reptiles are more than capable of swallowing a human whole, so something to consider next time you run into one.