Matt Damon's Controversial Sexual Harassment Comments Get Him Canceled on Twitter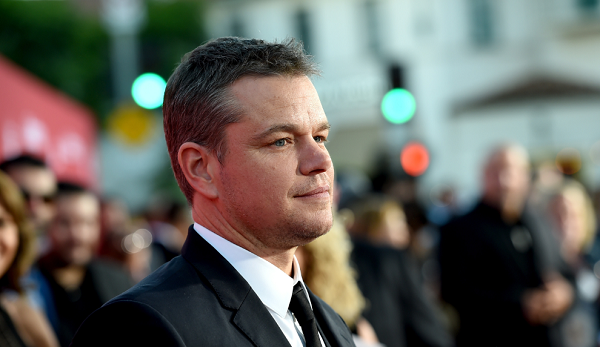 Actor Matt Damon is facing serious backlash after making a few controversial comments regarding sexual harassment.
While appearing on Popcorn with Peter Travers on Wednesday, Damon suggested all sexual misconduct allegations shouldn't be treated with the same ferocity. Damon made the statement while referencing the harassment and assault allegations that have recently been made against Hollywood heavy hitters like Harvey Weinstein, Kevin Spacey and Louis C.K, as well as Senator Al Franken.
"I think it's wonderful that women are feeling empowered to tell their stories and it's totally necessary," Damon said. "I do believe there's a spectrum of behavior…You know, there's a difference between, you know, patting someone on the butt and rape or child molestation, right? Both of those behaviors need to be confronted and eradicated without question, but they shouldn't be conflated."
"We see somebody like Al Franken, right? I personally would have preferred if they had an ethics committee investigation, you know what I mean?" he continued. "It's like at what point—you know, we're so energized to kind of get retribution, I think."
Damon had some thoughts on punishment, too. He said there's a "continuum" of bad behavior, and there should be a range of penalties, too.
"On this end of the continuum where you have rape and child molestation or whatever, you know, that's prison. Right? And that's what needs to happen," he said. "And then we can talk about rehabilitation and everything else. That's criminal behavior, and it needs to be dealt with that way. The other stuff is just kind of shameful and gross."
Damon also suggested the public should consider sincerity of apologies—like the one released by Louis C.K.—when ostracizing those facing sexual misconduct allegations.
"I don't know Louis C.K. I've never met him. I'm a fan of his, but I don't imagine he's going to do those things again," Damon said. "I imagine the price that he's paid at this point is so beyond anything."
Whatever the actor hoped to accomplish with his comments, the internet wasn't interested.
The social media response to Damon's comments was sheer outrage, with a number of people on Twitter requesting the actor refrain from sharing his opinions on sexual misconduct and alleged perpetrators.
This isn't the first time Damon has received backlash over his comments on social media.
Back in September, the 47-year-old was in the Twitter hot seat after he appeared on HBO's Project Greenlight and rudely interrupted black filmmaker Effie Brown as she was speaking about Hollywood's lack of diversity.