Matt Damon Speaks Out on Ben Affleck Reuniting With Jennifer Lopez: 'I'm So Happy For Him'
Matt Damon has said that he is "glad for both" Ben Affleck and Jennifer Lopez after they recently rekindled their romance.
Affleck, who was engaged to Lopez from the end of 2002 until the start of 2004, recently made things Instagram official, when he was seen sharing a kiss with his on-again partner as she celebrated her 52nd birthday over the weekend.
And, as fans the world over celebrate the dawn of Bennifer 2.0, Damon—who has known Affleck since they were young children growing up in Massachusetts—has gushed about the romantic reunion.
"I'm just so happy for him," Damon told Extra. "He's the best. He deserves every happiness in the world. I'm glad for both of them."
Damon, who scooped the Best Original Screenplay Academy Award alongside Affleck for their 1997 film Good Will Hunting, is also enjoying a reunion of sorts with the actor, as they've teamed up for their next movie, The Last Duel.
"It was a lot of fun," Damon said of working again with his best friend. "We actually kind of figured out how to write a lot more efficiently this time."
Comparing the experience to Good Will Hunting, Damon added: "We didn't know what we were doing... but we learned a thing or two in the last 30 years... It was a lot more professional process this time around."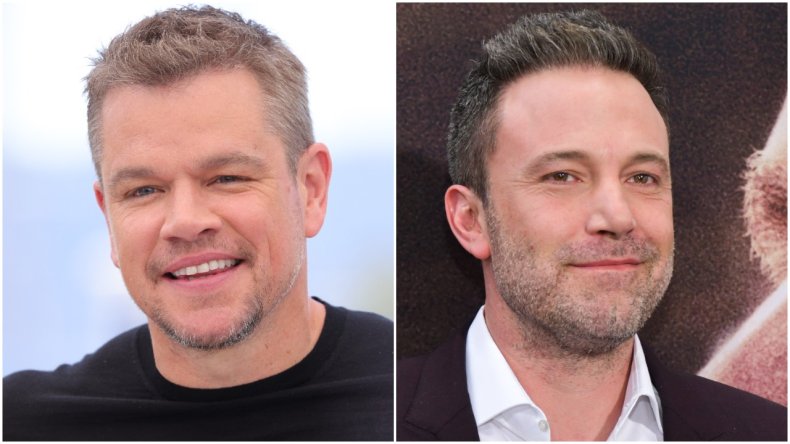 On Sunday, Affleck made his latest debut on Lopez's Instagram account, when the singer and actress shared a photo of the couple kissing during her birthday celebrations aboard a yacht on the French Riviera.
Days earlier, Lopez's friend, The King of Queens star Leah Remini, posted an image of the pair embracing at her birthday party.
Lopez showed further commitment to her Gigli co-star, when she sported a dazzling necklace emblazoned with the name "BEN" while shopping in Monaco this week.
Earlier this month, Lopez discussed the "amazing things" happening in her life, though she didn't directly mention Affleck.
"I'm super happy," she ​​said in an interview with Zane Lowe on Apple Music 1. "I know people are always wondering. How are you? What's going on? Are you okay? This is it. I've never been better.
"And I want my people who care about me because I care about them so much, to know that I've really gotten to a place in my life where I'm great on my own.
"And I think once you get to that place, then amazing things happen to you that you never imagine in your life happening again. And so that is where I'm at. And I love all the love that's coming my way right now and all of the, the good wishes. And I just want everybody to know that it's the best time. It's the best time of my life."
Lopez, who shares two children with ex-husband Marc Anthony, announced her split from fiancé Alex Rodriguez in April.
Affleck, whose split from actress Ana de Armas was revealed in January, has three children with Jennifer Garner, to whom he was married to from 2005 until their split in 2015. Their divorced was finalized in 2018.