Matt Damon: Water Crisis is the 'Great Global Challenge'
Matt Damon gets how off-putting it is when privileged celebrities attach their names to a cause they don't really care about. He appreciates how it "trigger(s) your gag reflex" when you hear about "the celebrity (who) goes to Africa and resolves to change the world."
But after filming The Bourne Ultimatum 16 years ago Damon did in fact go to Africa. And he not only resolved to change the world after his first visit there, but is actually doing so alongside his business partner and one of the world's foremost water and sanitization experts and engineers, Gary White.
The unlikely duo aren't making a difference by tackling well-known causes such as climate change, the AIDS crisis, educational disparities, or racial equality. Instead, they're addressing the most basic of human needs: the alarming lack of access to safe drinking water and sanitization that impacts millions of people across the world today.
In an exclusive interview with Newsweek, Damon called the water crisis the "great global challenge" of our day. And he's got the statistics to back it up. Every year, nearly a million people die from water, sanitation, and hygiene-related diseases — a child dying every 2 minutes. Millions more suffer from waterborne illnesses that forever stunt their mental and physical growth.
Today, 771 million people worldwide still lack access to safe water and an estimated 282 million of them — usually females — travel significant distances every time they need to fill a pail of water from a well.
1.7 billion people — nearly 1 in every 4 of us — lacks access to a toilet, causing 494 million individuals to defecate out in the open. This is something both personally demoralizing and bad for the environment. (Human waste releases methane — a greenhouse gas with a warming effect on the ozone layer — at least 28 times stronger than Co2; meaning, as Damon and White put it, that human waste generates more greenhouse gases every year than every car in the United States combined.)
What's more, many women are attacked or sexually assaulted when they venture away from their homes to relieve themselves; causing some women to avoid eating or drinking for days on end to prevent having to go to the bathroom.
Such statistics are, in part, why last year the World Economic Forum declared lack of access to water and sanitization the fifth most impactful global risk crisis today.
The formation of Water.org
But Damon knew none of that two decades ago, nor had he been involved in many causes beforehand. He explained to Newsweek that ever since he was a child his mother had lit a fire of activism and humanitarianism beneath him both through example and her teachings, but "a lot of time...passed between having those conversations with my mom and applying those lessons myself," Damon said.
"They were years in which, for a while, I was living out of a duffel bag, going from friends' couches to acting jobs and back to friends' couches; years in which engaging with the world, to be honest, took a back seat to getting bigger and better roles and steady work."
All that changed though when U2's lead singer, Bono, "pestered" Damon into travelling with him to the African country of Zambia in 2006. During that visit, Damon witnessed the impact of the water crisis firsthand. He also met a 14-year-old girl who spent her afternoons walking to a well far outside her village to fill a yellow can with drinking water for her family.
As he made that walk alongside her one day and attempted to help her pump the well once they arrived, he realized how much she struggled to obtain even a small amount of a substance he had in such abundance back home. He also soon learned that the girl's situation wasn't unique and that other girls and women throughout the world spend at least 200 million hours every day collecting and transferring water ("doing the work of (water) pipes," as one United Nations executive put it,) — time they can't spend working, caring for family members, or attending school.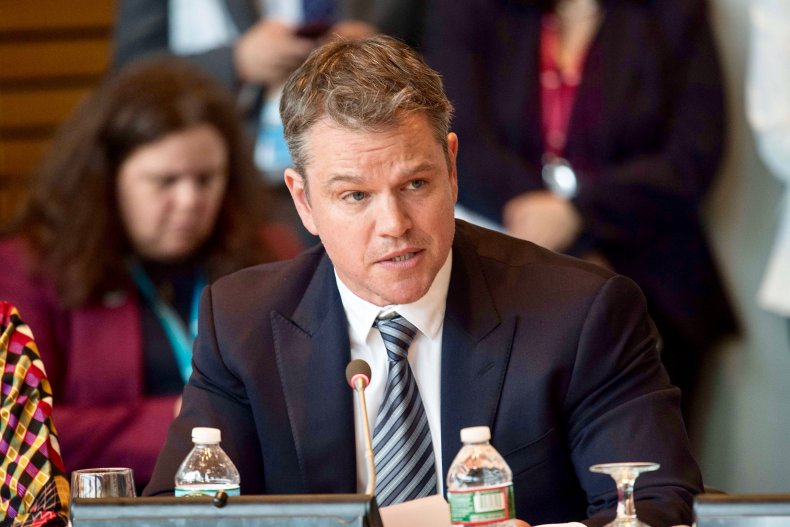 He decided to respond to the crisis by creating H2O Africa, an organization he didn't run for long before recognizing that he was "attacking the problem in the wrong way," and that drastic changes were needed. "Before long, I had reached a point where I looked at the scale of the problem and I looked at my efforts, and I knew I had two choices: give up or start over," he explained to Newsweek.
From there he turned to someone he'd been connected to through former president Bill Clinton, Gary White. He explained that he "approached Gary with my hat in my hand and said I wanted to help and that I felt I could do more." White was the founder of WaterPartners and already had an incredible track record of success tackling the water crisis. "I realized pretty quickly that if we joined forces we could do so much more together, than separately," Damon said.
White agreed and the two organizations merged in 2009 under the name Water.org.
Beyond charity
Since that time, Damon and White have endeavored to connect powerful and influential people with their on-the-ground community partners throughout Africa, Asia, and Latin America.
Water.org teaches impoverished communities about safe water, sanitization, and hygiene practices, in addition to offering charitable contributions that affect millions. But Damon and White soon recognized that philanthropy alone could never solve the water crisis because the people impacted needed long-term solutions to address their water and sanitization needs, not a handout.
"Ending the water crisis is, at its core, a funding problem," White told Newsweek. "We will continue to see children dying of completely preventable diseases if we do not address the funding gap." He explained that he and Damon realized that they could remedy a "giant market failure" by empowering the very people impacted by the crisis with a meaningful solution.
"The people in need of water and sanitation already put enough resources into the system to solve the crisis," White explained. Water.org just needed to help them redirect those resources to more fruitful outcomes.
White said that most people affected by the crisis expended their resources on "short-term, dead-end solutions" such as buying contaminated water from water truck vendors or paying a fee every time they wanted to use a toilet. He and Damon learned that such people could "afford one or two dollars a day to meet their immediate needs, but they cannot afford the upfront cost of tying into an existing system or installing their own," he said.
To remedy the problem, Water.org began connecting such people with investors willing to offer "microloans," which allowed them to have water taps and toilets installed in their very own homes.
The results were astonishing. One woman, for instance, secured a loan of $167 through Water.org to have her local water utility install a water tap outsider her front door. The tap gave her back an extra 8 days a month that she had previously spent walking up and down a steep hill to fetch water and to do her family's laundry. The lost days of wages she had previously been missing out on, "earned her twice the cost of the repaying her loan," White explained.
Another woman was able to get a micro-loan to have a water tap installed at her home. The repayment of that loan plus the utility payment, cost her less than $10 a month, where she had previously been spending $60 a month to buy water from a local vendor. White said she now had "clean, safe water and $50 a month more to support her family."
A third woman borrowed $275 and with it had a water pump and storage tank installed in her home. That allowed her to grow vegetables to feed her family and raise pigs. She also used the water to make bricks out of clay that she's been able to sell and use to make some extra rooms to rent out as a source of income. After all that she still has enough water to spare to sell the surplus to her neighbors.
Countless women like these, Damon said, "are not just investing in clean water and toilets, they are buying back time so that they can spend it caring for family members, going to school, and earning more money."
Investors were skeptical at first that people living in impoverished conditions would pay back microloans and questioned why charitable donations weren't a better solution. They soon learned, however, that a dollar went much further when invested instead of given and that 99 percent of Water.org's microloans were paid back in full.
"For the very poorest, a philanthropic approach makes sense," White explained to Newsweek, "but as we've found, there are many millions of people in poverty who can pay back a microloan."
Indeed, through such investing and philanthropy, Water.org has mobilized 3.5 billion in capital, facilitated 9.5 million microloans, and helped 43.7 million people (finally!) gain access to safe water and sanitization. "The people affected by the water crisis are the very same people who can lead the solution," Damon said.
"The biggest breakthrough we had at Water.org was simply to invest in them. They are breaking the cycle of poverty, lifting up entire communities, and making economies more resilient to global shocks like pandemics and climate change."
The Worth of Water book
Damon and White have documented many success stories and spelled out the scope of the problem — and the solution — in a book they co-authored and released last month, The Worth of Water: Our Story of Chasing Solutions to the World's Greatest Challenge.
"The people we've met and gotten to work with around the world inspired us to write this book," Damon explained to Newsweek. "This work has been an exciting journey, and the book will bring readers along with us — as we take big steps forward, as we stumble, as we have lightbulb moments, and as we work in partnership with some wonderful, inspirational people."
Damon explained that even though he and White are the authors of the book, "it's not our story." He said credit goes to the women and girls who shoulder the water burden and that they are the real heroes of this endeavor. "Each day, they show that the global water crisis can be solved by resilient people and innovative ideas. We want the world to see how that happens."
Beyond championing such people, Damon and White want readers to know that the water and sanitization crisis doesn't have to continue indefinitely. Anyone can donate to the cause at water.org/donate or help spread the word about the problem and the solution through social media and beyond.
"I think a lot of people think problems like the water crisis are so big that they're permanent parts of life on this planet," Damon said. "But the single most important thing we want people to take away from this book is that the crisis is solvable. Not 'hopefully, eventually, theoretically' solvable, but right here, right now."
The Worth of Water is now available from Penguin Random House and anywhere books are sold.