Matt Gaetz Challenged by TV Anchor After Saying Trump Won 2020 Election
A television news anchor in Pensacola, Florida, challenged Representative Matt Gaetz on Friday over his claims that former President Donald Trump won the 2020 presidential election.
Gaetz, a Florida Republican, has been among the GOP figures who promoted the unproven claims that President Joe Biden only won in 2020 due to widespread voter fraud. "I believe that Donald Trump won the 2020 election," he said on local news station WEAR-TV after anchor Bob Solarski asked if he still buys into the theory of a stolen election.
Solarski responded: "You can't say that without saying that there was a gigantic conspiracy across this country and supervisor of election offices everywhere to make this happen, and we haven't still seen any evidence that proves that."
The confrontation came during a discussion about former Attorney General William Barr's remarks dismissing efforts that were made to change the election results.
"The objection process has become almost commonplace. It certainly has with Republicans when they get elected," the representative said, who has long voiced skepticism that Biden rightfully won the election.
On the presidential level, there have only been three instances of electoral college objections—in 1969, 2005 and 2021. All were rejected by Congress.
In October of last year, Representative Jamie Raskin, a Maryland Democrat, pressed Gaetz on whether or not he accepts the results of the 2020 election.
"I think that our election was uniquely polluted by these indiscriminate mail-in ballots," Gaetz responded at the time. "I think this was the first time in America's history where the mailbox beat the ballot box."
Some Republicans sought to overturn the 2020 election results by citing widespread voter fraud—even though no significant evidence has been provided to back up those claims. On January 6, 2021, congressional Republicans challenged the electoral college certification while Capitol rioters engaged in a violent protest to pressure Congress to overturn the results.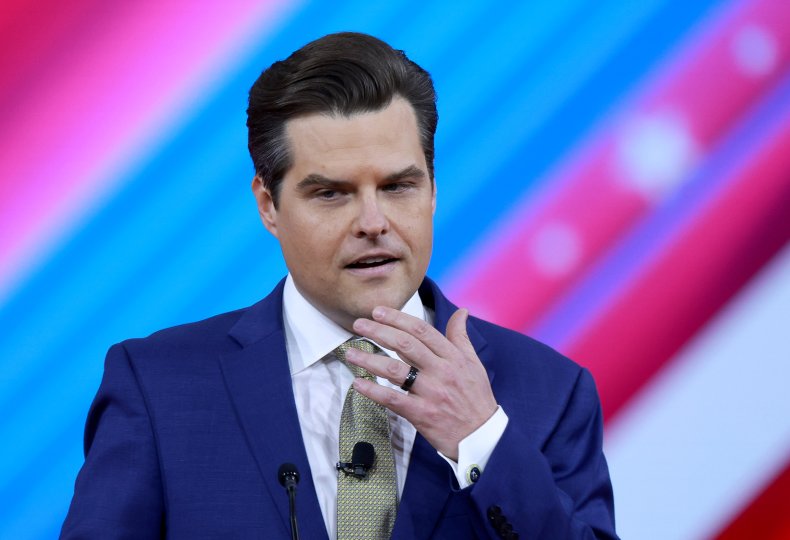 In the months following the election, Republicans in several states including Arizona and Wisconsin pushed for audits of the election, but every audit upheld the results.
Gaetz, meanwhile, has continued to ally himself with Trump, saying that they have discussed the possibility of the former president becoming the next Speaker of the House if Republicans retake a majority in Congress.
"I told him you don't even have to be speaker for the whole day," he said while appearing on Sebastian Gorka's American First. "You could do it for like three or four hours, give us a great speech, make a few structural reforms to the institution and then you could resign and we could have another election for speaker."
Newsweek reached out to Gaetz's office for comment Saturday morning. This story will be updated with any response.
Correction (3/7/22, 5:10 EST): This article has been updated to correct a misspelling of Gaetz's name.