Matt Gaetz Confronted at State of the Union by Activist He Body-Shamed
An abortion rights activist says she confronted Rep. Matt Gaetz (R-FL) at the State of the Union after being body-shamed by the congressman in 2022.
Olivia Julianna, the 20-year-old director of politics and government affairs for Gen-Z for Change, tweeted late on Tuesday night: "Just want everyone to know I just shook @mattgaetz hand and thanked him for helping me raise two million dollars.
"His response was to say 'heard you had trouble spending it.' And to quickly walk away in the opposite direction. What a loser lol."
She told Newsweek early Wednesday: "Matt Gaetz's character is similar to his handshake and legislative record—weak."
A spokesperson for Gaetz have been contacted for comment.
The encounter came after Julianna turned an insult from Gaetz into a triumph by launching a fundraising campaign for abortion funds that ultimately raised more than $2 million in the summer of 2022.
It kicked off after Gaetz, a Republican from Florida, made fat-phobic and misogynistic comments about abortion-rights activists at an event in July.
When Julianna criticized those remarks, Gaetz responded by tweeting her photo next to a news story with a headline describing his comments as a "rant sure to raise dander of his political opponents."
"Dander raised..." he wrote alongside her photo.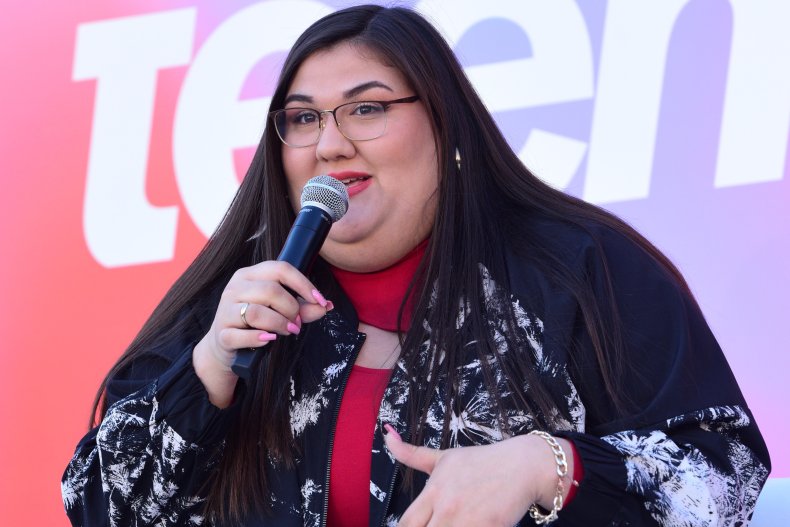 "A sitting congressman decided that body shaming a teenager was appropriate. That is despicable," she told Newsweek at the time, also bringing up the sex-trafficking allegations against Gaetz.
"If I was Matt Gaetz I'd worry more about potential investigations into sexual misconduct and less about teenage activists."
She was referring to the Department of Justice's investigation into the congressman's alleged relationship with a 17-year-old girl. He has denied the allegations and previously said they were part of an extortion plot.
Julianna has also previously thanked Gaetz for helping her raise money for abortion funds, saying he "handed me a national platform on a silver platter." She also pledged to launch a massive fundraising effort for Democrats if Gaetz ever ran for president.
On Tuesday, Julianna also thanked Rep. Nanette Barragán, a California Democrat, for inviting her to the State of the Union.
"Words cannot express the eternal gratitude I have for @RepBarragan for inviting me as her guest to the SOTU," she wrote.
"I'm proud to be a Latina from rural Texas, and tonight Congresswoman Barragán helped make part of my American Dream come true. Truly truly grateful."
"Was awesome to highlight you and your amazing work! You inspire us. Thank you," Barragán tweeted.
In an earlier tweet announcing Julianna as her guest, she called her a "strong Latina leader who represents the next generation and is an inspiration to young people everywhere. I'm proud to have her join me on Tuesday."
Update 2/8/23, 4:40 a.m. ET: This article has been updated to add further comment from Olivia Julianna.