GOP Florida Congressman Matt Gaetz said he's not seeking Wyoming Congresswoman Liz Cheney's leadership position, amid uproar among a number of Republicans over her recent vote to impeach former President Donald Trump.
"I do not want her job. I unequivocally am not seeking a position in House Leadership," said Gaetz in a Saturday tweet.
"I also know Wyoming can do better," he continued.
The Florida representative is scheduled to hold an event on Thursday in Wyoming, Cheney's home state. It caught the attention of Donald Trump Jr. who said on Twitter Friday that he "can't join in person," but asked if he could "skype or call in."
Gaetz's tweet was in response to attorney Ron Filipkowski questioning the event.
"Why is Matt Gaetz going to Wyoming this week? To host an event denouncing Liz Cheney in her own state," asked Filipkowski on Saturday. "A GOP Congressman traveling out west to campaign against the #3 person in the House from his own party. Why?"
"He wants her job. The GOP civil war continues," he added.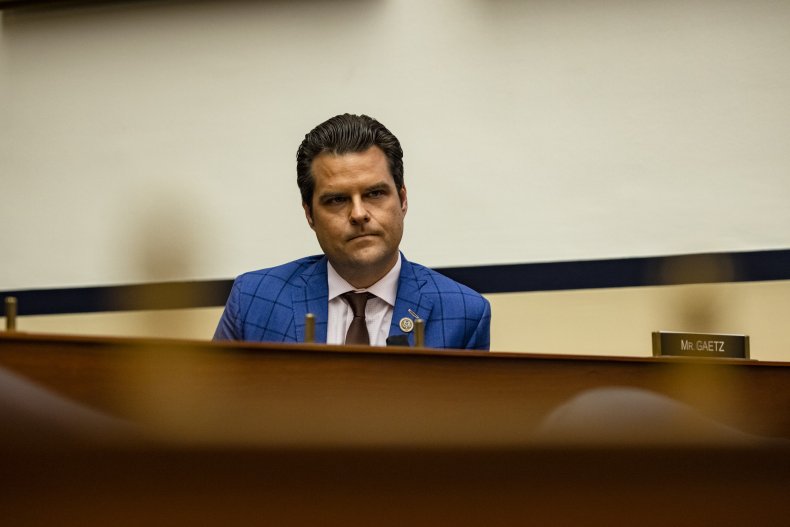 In a second tweet posted later Saturday, Gaetz urged his followers to call their representative and ask if they favor of removing Cheney.
"Call you member of Congress. Ask them if they're one of the people joining Representatives Jim Jordan, Andy Biggs and others in calling for the removal of Representative Liz Cheney as conference chair," said Gaetz.
"We can't have leaders who would rather let America decline than embrace the America First agenda," the Florida congressman continued.
Cheney, who holds the third-highest position in the House Republican leadership, was one of 10 GOPers from the lower chamber who voted to impeach the former president.
According to CBS News, more than 115 of the 211 House Republicans support Cheney's removal, including Representative Matt Rosendale of Montana and Andy Biggs of Arizona, among others.
House Minority Leader Kevin McCarthy also expressed concerns over Cheney's decision to break with Republican leadership and vote to impeach the former president, but also backed her.
"Look, I support her, but I also have concerns," McCarthy said to journalist Greta Van Susteren in an interview set to air on Sunday.
McCarthy added that Cheney would have to explain to House Republicans why she decided to join other GOP members in voting to impeach Trump for inciting the Capitol mob riot on January 6.
"She can have a difference of opinion, but one thing if we're going to lead within the conference, we should work together on that as a whole conference because we're representative of that conference," McCarthy said. "I do think she has a lot of questions she has to answer to the conference."
Newsweek reached out to Gaetz and Cheney's offices, but didn't hear back in time for publication.