Matt Gaetz Defends Kristi Noem As South Dakota Governor Faces Travel Scrutiny
Congressman Matt Gaetz defended South Dakota Governor Kristi Noem on Monday night as she faced scrutiny over reports that she used state aircraft to travel to political events at the expense of the taxpayer.
Posting on social media, Rep. Gaetz claimed to have met Noem at "several" of the events she attended, and had discussed the goals of the South Dakota state government, and the national COVID-19 response.
According to flight logs seen by Raw Story, Gov. Noem flew to out-of-state events held by the conservative group Turning Point USA, and the National Rifle Association in state-owned aircraft funded by taxpayer dollars.
The news website also reported that Noem had been picked up in a state airplane from Custer State Park, where she was helping her daughter prepare for her wedding day in 2019, and later dropped back off at the destination after attending to official business.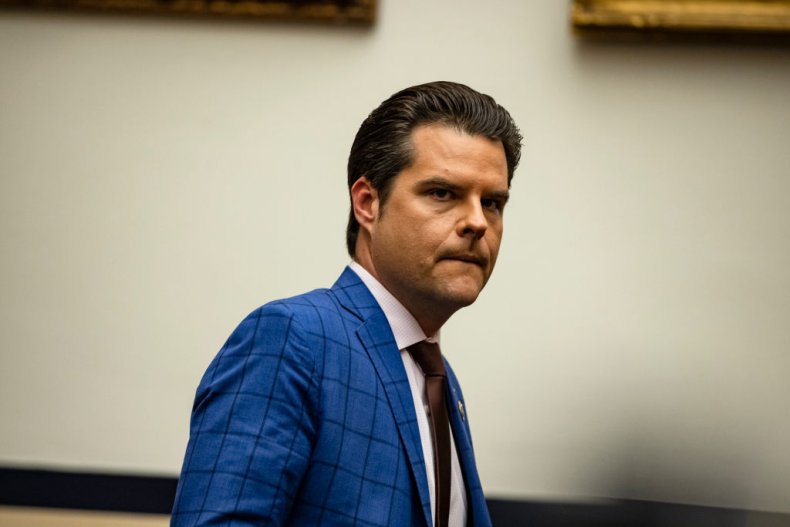 "I met with Governor Noem at several of these events," Rep. Gaetz tweeted on Monday. "We discussed the interests and goals of state governments, including Florida and South Dakota, in the COVID Response."
Newsweek contacted the South Dakota governor's office for comment. This article will be updated with any response.
"Governor Noem follows the law when weighing whether it is appropriate to use state aircraft," a spokesman for Gov. Noem told Raw Story. "One of Governor Noem's primary roles as Governor is to be South Dakota's top ambassador to the rest of the nation. She has made this a big part of her governorship, advertising to attract businesses to our state, to drive tourism to our state, and to appeal to particular industries."
State law dictates that state-owned vehicles and aircraft should only be used for state business, and threatens a fine of $1,000m plus 10 times the cost incurred for "misuse" of state aircraft, as a penalty for rule breaches.
However, transport between a state employees permanent home or temporary residence and their "work station" is permitted under the local rules.
As scrutiny over her use of taxpayer-funded aircraft mounts, Gov. Noem's office has requested $5 million for a new state-owned airplane, the Sioux Falls Argus Leader reported earlier this week. Funds from the planned sales of other aircraft in the state fleet are also expected to go towards the purchase of a new plane.
The Republican state leader told reporters that she would not be deciding which aircraft to purchase herself, but relying on experts to pick out the best option for South Dakota's needs.