Is Matt Gaetz Exonerated? What Happens to Sex-Trafficking Accusations Now
Matt Gaetz was informed on Wednesday by the Department of Justice (DOJ) that he will not face federal sex-trafficking charges, according to his lawyers.
The House Republican had been under federal investigation over allegations, which he strongly denies, that he was involved in recruiting women online for sex, including a 17-year-old girl who had her travel expenses paid. He was accused of then attempting to obstruct the course of justice.
In a statement, Gaetz's lawyers, Marc Mukasey and Isabelle Kirshner said: "We have just spoken with the DOJ and have been informed that they have concluded their investigation into Congressman Gaetz and allegations related to sex trafficking and obstruction of justice and they have determined not to bring any charges against him."
Speaking to Newsweek, a spokesperson for Gaetz said: "Congressman Gaetz is a happy warrior. His opponents lied plenty, and voters rejected those lies in the primary and general elections by 40 and 38 percentage points, respectively."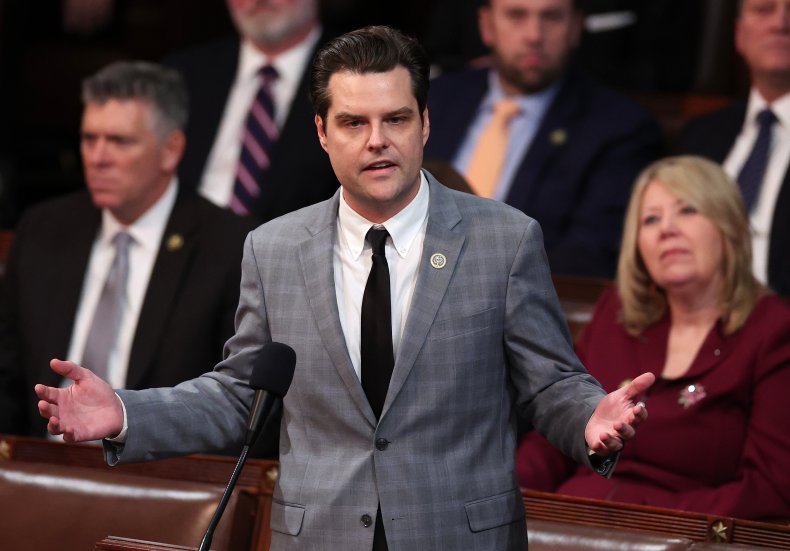 The Department of Justice declined to comment on the case when contacted by Newsweek.
Responding to the news on Twitter, Gaetz shared a clip of himself being interviewed about the case on Laura Ingraham's Fox News show: "The Fake News media endlessly propagandized my life and told lies about me because I'm effective at impacting legislation.
"They always come for the fighters. We all have to watch our back because that's where the target is," the tweet read.
During the interview, broadcast on Wednesday, the Florida Republican said: "For the last two years, I've been fighting for my constituents, and the mainstream media largely has been like a refuge for scoundrels and weirdos."
Speaking to The New York Times, an insider said the decision not to prosecute Gaetz appeared to be partially motivated by concerns that "some witnesses likely to testify against Mr. Gaetz might not have stood up well under cross-examination."
Reacting to the news, House Republican Lauren Boebert, a close ally of Gaetz, tweeted: "It's time for many in the mainstream media, late-night comedy and many more to apologize to Matt Gaetz. Exoneration!"
Technically, Gaetz wasn't exonerated. The allegations weren't rejected in a court of law, but prosecutors did say they were unlikely to achieve a conviction. He is innocent in the eyes of the law.
Gaetz's former confidant Joel Greenberg, an ex-Florida tax inspector, was sentenced to 11 years in prison by a federal judge in December. The charges included trafficking a 17-year-old girl.
Judge Gregory A. Presnell, who presided over that case, said: "In 22 years, I've never experienced a case like this. I have never seen a defendant who has committed so many different types of crimes in such a short period."
Greenberg had provided "substantial cooperation" with federal authorities, according to the judge, in the hope of getting a lighter sentence.
Gaetz was one of the ringleaders of an unsuccessful attempt by Republican rebels to stop Kevin McCarthy from becoming House speaker, a position he finally won after 15 rounds of voting.
However, McCarthy was forced to make concessions to more conservative factions in the House. Gaetz joked that he had nearly run out of "stuff to ask for."
Addressing the House Committee investigating the January 6 2021 storming of Congress, former Donald Trump aide Johnny McEntee said Gaetz had sought a pardon from the then-president. It would have covered the now-discarded federal allegations.
Update 2/16/23, 9:45 a.m. ET: This article was updated with a response from the Department of Justice.
Updated 2/17/23, 2.45 a.m. ET: This article was updated with a response from a spokesperson for Gaetz.