Florida Republican Representative Matt Gaetz has said that investigations into sex trafficking investigation against him are part of a government operation against him and other like-minded Republicans.
In March 2021, Gaetz was named as the focus of an FBI sex trafficking investigation involving his alleged transporting of a 17-year-old girl across state lines to have sex with her. Gaetz has denied wrongdoing and hasn't been charged with a crime.
Gaetz made his comment about the investigations while speaking on a recent installment of War Room, the show hosted by Steve Bannon, the former White House Chief Strategist under former President Donald Trump. The broadcast airs on the right-wing media outlet Real America's Voice.
Gaetz told Bannon that he was the target of a "cut-out," a government-directed action taken against an individual or group. He said cut-outs had been taken against Trump in the form of investigations examining his alleged collusion with Russia in the 2016 elections, as well as the impeachment proceedings against Trump following his July 25, 2019 phone call with Ukrainian President Volodymyr Zelensky. In the phone call, Trump pressured Zelensky to start a corruption investigation against Trump's political rival, now-President Joe Biden.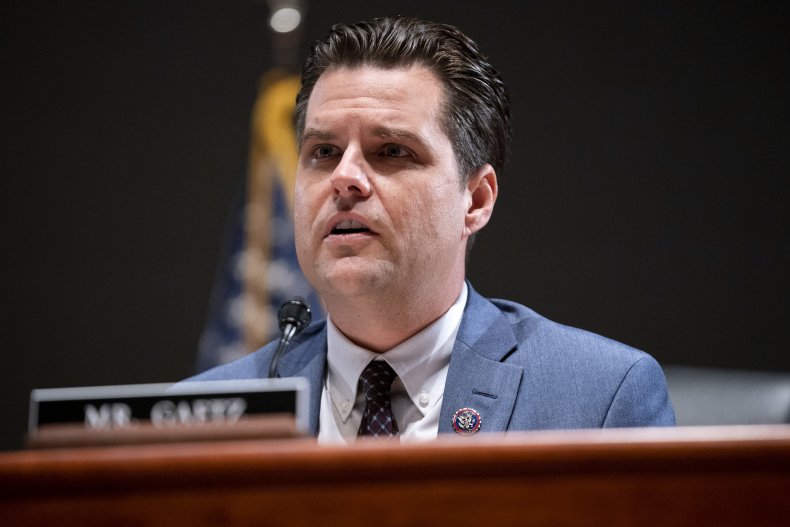 "You have these gray operators that are adjacent to the intelligence community, former intelligence community people, folks who have that access to the network, and then they go and activate other people to see to lie or engage in an activity that then gives the national security apparatus the authority to do something that they wouldn't otherwise be able to do," Gaetz told Bannon, explaining the idea of a cut-out.
As proof of the alleged cut-out against him, Gaetz pointed to the August 2021 arrest of Steve Walford. Walford is a Florida land developer who, along with former Air Force intelligence analyst Bob Kent, allegedly attempted to extort $25 million from Gaetz and his father sometime between March 17 and April 7, 2021, Gaetz said.
In exchange for the money, Walford and Kent allegedly offered to help Gaetz secure a presidential pardon for any federal charges he might face in the sex trafficking investigation. The offer was allegedly made at a time when the claims against Gaetz weren't publicly known.
It is not clear how the men knew about the FBI investigation into his actions. Kent denied being part of an extortion attempt, The New York Times reported, and the FBI has since opened a probe into the alleged extortion attempt.
Mentioning Walford and Kent, Gaetz said the duo had a former official from the Department of Justice (DOJ) involved in their extortion attempt, as well. Gaetz likely meant former Florida federal prosecutor David McGee.
McGee spent years as a federal prosecutor, working on the organized crime task force for the DOJ. Gaetz previously accused McGee of being involved in the extortion attempt.
McGee said he spoke to Gaetz and his father about the congressman's potential legal difficulties. However, McGee said that Gaetz only named him as a potential extortionist as "a blatant attempt to distract from the fact that he's under investigation for sex trafficking of minors."
Speaking with Bannon, Gaetz referred to the DOJ as "the enforcement wing of the Democratic Party" and said the federal agency had "gone totally off the rails."
"You know, we need honest, fair, real application of the laws in our country. We're not getting that now and frankly, weren't really getting it at the DOJ under President Trump," Gaetz said. He added that congressional Republicans when voted back into power after the 2022 midterm elections, will issue subpoenas to investigate the DOJ, Trump's baseless claims of election fraud, and the Wuhan Institute of Virology in China as a possible source of the COVID-19 pandemic.
"There's a lot of swamp left to be drained, and I can't wait to get the gavels in our hands to get the subpoenas ready to go and to get these answers for the American people."
This isn't the first time that Gaetz has claimed that the allegations against him are part of a government plot. In early May 2021, he called himself a "wanted man by the deep state."
Trump pardoned Bannon from federal charges of conspiracy to commit mail fraud and money laundering in January 2021. The charges stemmed from the We Build the Wall campaign, a $25 million GoFundMe crowdfunding campaign to help Trump construct a border wall between the U.S. and Mexico. Trump had originally vowed that the Mexican government would entirely pay for the wall.
Bannon himself was alleged to have used over $1 million from the campaign for his own personal benefit. He was arrested for the charges in August 2020 and pleaded not guilty.