Congressman Matt Gaetz compared Dr. Anthony Fauci to a bad weatherman and claimed he had eroded trust in public health officials on Fox News last night.
The Florida Republican hit out at the National Institute for Allergy and Infectious Diseases (NIAID) director after the expert said political divisions and "mixed messages" were partly to blame for the COVID-19 death toll being high.
The Quote
Speaking to Fox News, Rep. Gaetz said: "When I was talking to [Florida] Governor Ron De Santis, he lamented that the problems that the CDC and Fauci have had really erode the trust between the people and any public health officials.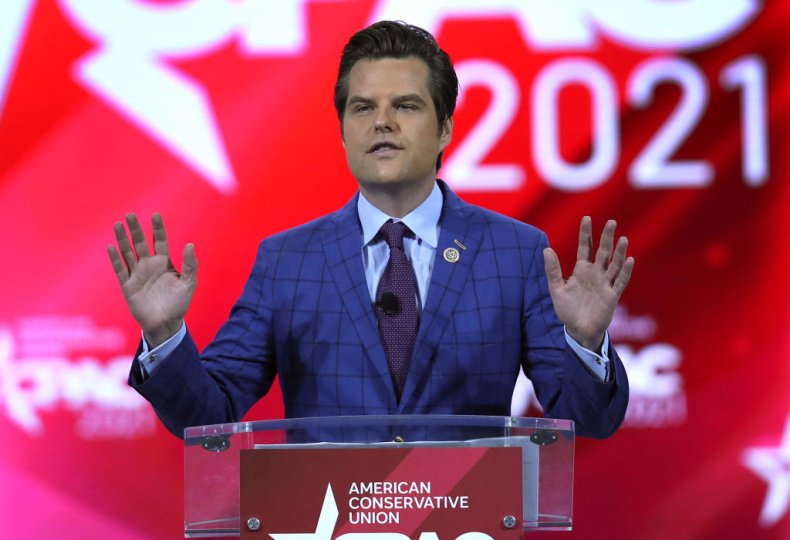 "Think about it. Any relationship that you're in, if someone is constantly changing the rules, you trust them less. And you see Fauci and CDC time and again moving the goalposts, and the American people are fed up with it.
"Dr. Fauci sort of reminds me of every bad weatherman: frequently wrong, but never in doubt."
Why it Matters
The Republican lawmaker hit out at Dr. Fauci after former White House Chief of Staff Mark Meadows said the NIAID director had been inconsistent on the issue of face mask efficacy and the delivery of a COVID-19 vaccine.
Speaking to Fox News, the ex-Trump administration official said "the only thing consistent" about the top infectious disease expert was his supposed inconsistency.
"Dr. Fauci is the same one that said every recommendation he made to President Trump, President Trump followed," Meadows told The Ingraham Angle. "Now we have a new administration, we have a new Dr. Fauci that seems to forget some of the conversations that he and I had."
Counterpoint
The former White House chief of staff lashed out at Fauci after the NIAID director told NBC News' Today show that he would have been "shocked" if someone had told him what the U.S. COVID-19 death toll would be in the early days of the pandemic.
Asked why he believed the death toll had managed to climb so high, Dr. Fauci said: "One of the things I keep harkening back to, that you can't run away from, is that we had such divisiveness in our country that even simple common-sense public health measures took on a political connotation."
He later added: "It wasn't a pure public health approach—it was really, very much influenced by the divisiveness we had in this country. And mixed messages were coming from Washington, that's for sure."
Newsweek has contacted the NIAID for further comment.