Matt Gaetz Says Florida Should Change Its Welcome Signs to 'There's No Age You Can't Be Sexy'
Republican Congressman Matt Gaetz received criticism by Twitter users on Monday after saying his state, Florida, should change its welcome signs to what American signer Bebe Rexha tweeted earlier in the day: "There's no age that you can't be sexy."
Gaetz quote tweeted Rexha and wrote, "I say we change Florida's welcome signs to this," with an emoji of a finger pointing down at her post.
Rexha tweeted the message after posting a photo of herself in a bra and panty, along with a note stating that she had a male "music executive tell me that I was getting too old and that my brand was 'confusing.' Because... I'm a songwriter and I post sexy pics on my Instagram and that's not what female songwriters are supposed to do, especially for my age. I'm 29."
Gaetz, 37, was mocked for his proposal by Twitter users who alluded to his past relationship with a 21-year-old. They also noted his defense of a South Florida prosecutor who gave the late Jeffrey Epstein a plea deal for sex offenses.
Gaetz's relationship with a 21-year-old was confirmed by Mother Jones reporter Matt Fuller, who said he met with the woman. They reportedly dated when she was a 21-year-old college student and Gaetz was a congressman. "I sat across from the intern and had her lie to me for 45 minutes at a Pret A Manger, before she sent me an email later that night confirming the story," Fuller wrote.
Another Twitter user replied to Gaetz, "Did you get that one from Epstein?"
Epstein, a financier who was accused of trafficking underage girls for sex, was found unresponsive after committing suicide at the Metropolitan Correctional Center in New York City on Saturday morning. After Epstein's death, Gaetz said, "I'm deeply troubled by Mr. Epstein's actions, I think that he certainly should have faced a far stiffer consequence than he did," but opposed reexamining how then-U.S. attorney for South Florida Alex Acosta handled Epstein's case.
"Having tried cases I know that it's hard to go back and sort of second-guess the risk analysis that goes into putting witnesses before a jury and subjecting them to cross-examination," Gaetz said.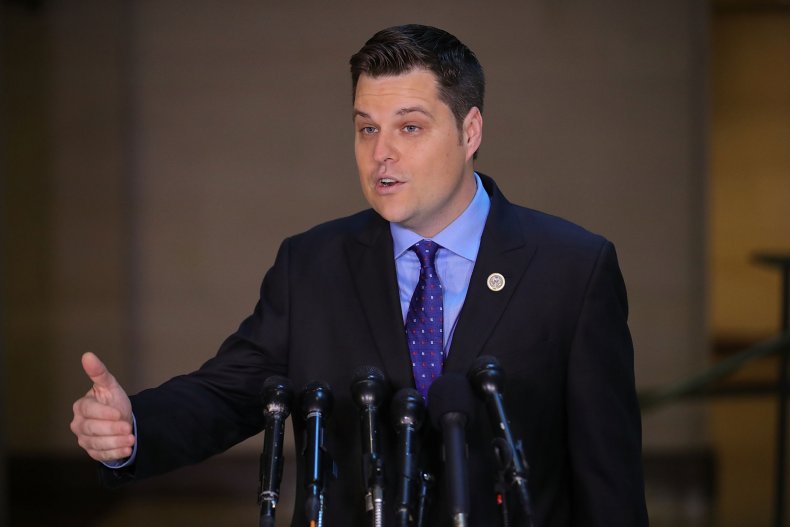 Before Epstein died by suicide, Gaetz argued on Fox News that the internet was elevating Epstein's connections to President Donald Trump, who he was close to.
"If you look on the internet, all of the references to Bill Clinton and Jeffrey Epstein are suppressed, and people are trying to elevate some connection between Epstein and President Trump," Gaetz tweeted on July 19.
A Twitter user on Monday night replied to Gaetz's wish to change Florida's welcome signs to a message that there's no age that you can't be sexy with, "Looks like Trump and Epstein symbolically beat you to it."
Gaetz has represented Florida's 1st congressional district since 2017.