A tweet from Florida Representative Matt Gaetz calling a racist conspiracy pushed by Tucker Carlson "correct" has reemerged in the wake of the mass shooting in Buffalo, New York.
The September tweet from Gaetz, in which the congressman praises Carlson for explaining "what is happening to America," has been reshared online after the "Great Replacement Theory" was cited as an apparent motive for an 18-year-old gunman to kill 10 people and wound three others at the Tops supermarket on Saturday.
Gaetz, along with a number of other GOP lawmakers and Carlson, has been widely criticized for helping push the far-right claim that white Americans are purposely being replaced as the dominant race in the country by minorities and immigrants for political gain.
"Tucker Carlson is CORRECT about Replacement Theory as he explains what is happening to America," Gaetz tweeted while sharing a Guardian article about the Anti-Defamation League calling for the Fox News host to be fired for discussing the claim on his prime time show.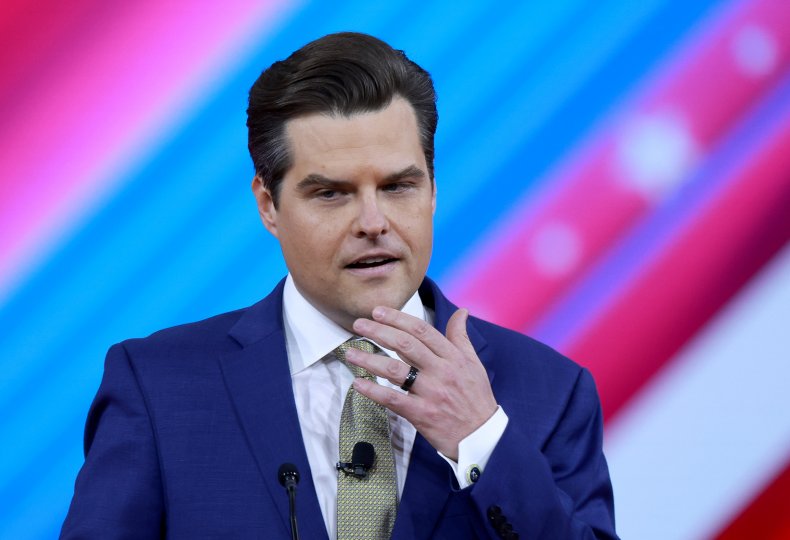 "The ADL is a racist organization," Gaetz added.
Gaetz's tweet has reemerged as people accused him of inflaming racial tensions following Saturday's shooting, in which almost all of the victims were Black.
While retweeting the original post, SiriusXM radio host and columnist Dean Obeidallah said: "Here's Matt Gaetz in WRITING helping radicalize the Buffalo Terrorist. Others in GOP also helped radicalize the terrorist EXACTLY like ISIS recruiters do with repeating of lies over and over with the goal being action."
Canadian political journalist and author Stephen Maher accused Gaetz, as well as Carlson and other GOP members, of having "blood on their hands" for pushing the great replacement theory.
"This is a white-supremacist conspiracy theory, with its roots in 19th century antisemitism, an old, dangerous cancer that is growing worryingly strong because it is increasingly in the mainstream," Maher tweeted, adding that the "dominant" wing of the GOP and the most popular cable news show in the country are "promoting this poison."
Andrew Weinstein, chair of the Democratic Lawyers Council, said: "Don't forget that the Republican National Committee censured Adam Kinzinger for being anti-Trump but did nothing when Matt Gaetz promoted Replacement Theory."
Political commentator Brian Tyler Cohen tweeted: "Here's Matt Gaetz applauding Tucker Carlson for championing White Replacement Theory, which today inspired a mass shooting."
Comedian Mike Drucker added: "Congratulations to Matt Gaetz on getting exactly what he wanted to happen."
In a statement to Newsweek, Gaetz said that he has "consistently rejected ethno-nationalism."
"I've never spoken of replacement theory in terms of race. I was speaking in race-neutral political terms about how Democrats in many urban cities have failed their voters of all color and kind," Gaetz said. "Thus, I charge that Democrats seek unchecked immigration to replace the people who have relied on them most to their detriment."
Congresswoman Elise Stefanik, the third-ranking Republican House member, was also criticized in the wake of the Buffalo shooting for previously promoting the great replacement theory via Facebook advertisements.
In a statement to Newsweek, Stefanik's senior adviser, Alex deGrasse, said that any implication or attempt to "blame the heinous shooting" on the congresswoman is a "new disgusting low for the Left, their Never Trump allies, and the sycophant stenographers in the media."
"The shooting was an act of evil and the criminal should be prosecuted to the fullest extent of the law," DeGrasse said. "Despite sickening and false reporting, Congresswoman [Stefanik] has never advocated for any racist position or made a racist statement."
On Sunday, MSNBC host Mehdi Hasan posted a video on Twitter that compiled several examples of Carlson discussing the "Great Replacement Theory" on his show, adding people should "Watch/share/be disgusted."
A recent investigation from The New York Times found that Carlson promoted the claim that a "cabal of elites want to force demographic change through immigration" more than 400 times on his show.
Update 05/16/22, 9:45 a.m. ET: This article was updated with a statement from Matt Gaetz.