New York Rep. Elise Stefanik is facing a fresh backlash over Facebook ads that critics say invoked the racist "Great Replacement" conspiracy theory following the deadly mass shooting in Buffalo.
A gunman opened fire at a supermarket, killing 10 people in what authorities said was "racially motivated violent extremism." Eleven of the 13 people who were shot were Black, while the others were white.
The suspect, a white 18-year-old identified as Payton Grendon, reportedly wrote an 180-page manifesto that detailed racist, anti-immigrant and anti-Semitic beliefs.
The document, which circulated widely online, repeatedly cited the racist "Great Replacement" theory that is often pushed by white supremacists and claims that white Americans are being replaced by people of color.
In a statement, Stefanik said: "Our nation is heartbroken and saddened to hear the tragic news of the horrific loss of life in Buffalo, NY. As a New Yorker, I am praying for the entire community and loved ones. It is a tragic reminder as we begin National Police Week, that we must particularly thank and honor our law enforcement and first responders who continue to face skyrocketing violent crimes across the nation."
"Very saddened to hear the tragic news of fellow NYers in Buffalo," Stefanik added in a tweet. "We are praying for the entire community and law enforcement at this time."
Her tweet was met with criticism, with some accusing the congresswoman of invoking the conspiracy theory in her campaign ads last year.
"Did you know: @EliseStefanik pushes white replacement theory? The #3 in the house GOP. @Liz_Cheney got removed for demanding truth. @GOPLeader should be asked about this," tweeted GOP Rep. Adam Kinzinger, along with a link to a Newsweek article about a scathing editorial published by Stefanik's hometown newspaper in response to the ads.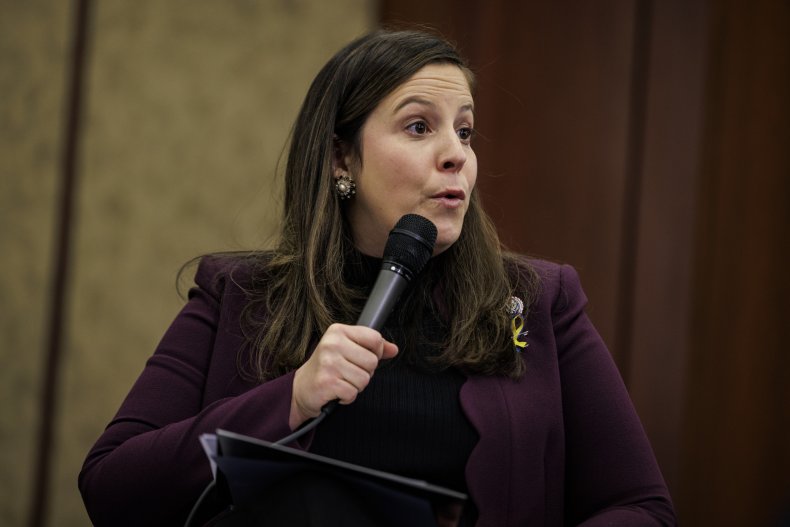 In September last year, the Times Union editorial—titled "How low, Ms. Stefanik?"—warned of the dangers of mainstream politicians adopting such rhetoric. "If there's anything that needs replacing in this country — and in the Republican party — it's the hateful rhetoric that Ms. Stefanik and far too many of her colleagues so shamelessly spew," it said.
Author Don Winslow was among those calling for Stefanik to face consequences following the Buffalo shooting, writing in a tweet: "Hey New York - remember consequences? @EliseStefanik bought Facebook ads pushing 'great replacement theory' claiming white people are intentionally being replaced by migrants.
"IMO, her words encouraged hate and division and the type of violence we witnessed in Buffalo today."
California Rep. Ted Lieu, a Democrat, added: "What MAGA Republicans like @EliseStefanik don't understand is that America is great because we don't judge you based on your bloodline. At the end of the day, we are all Americans.
"I call on Rep Stefanik to not run ads promoting replacement theory, used by the Buffalo murderer."
In a statement to Newsweek, Stefanik's senior advisor Alex DeGrasse said: "Any implication or attempt to blame the heinous shooting in Buffalo on the Congresswoman is a new disgusting low for the Left, their Never Trump allies, and the sycophant stenographers in the media. The shooting was an act of evil and the criminal should be prosecuted to the fullest extent of the law.
"Despite sickening and false reporting, Congresswoman has never advocated for any racist position or made a racist statement. She opposes mass amnesty for illegal immigrants and Joe Biden's wide open border."
Stefanik, whose loyalty to former president Donald Trump won her a leadership position in the House Republican caucus last year, was also blasted over the weekend for a tweet where she blamed "The White House, House Dems, & usual pedo grifters" for the worsening baby formula shortage.
Update 5/16/22, 2:10 a.m. ET: This article has been updated with a statement from Alex DeGrasse.