What We Know About Payton Gendron, Buffalo Supermarket Shooting Suspect
On Saturday afternoon, a gunman entered a Tops Friendly Market in Buffalo, New York, and opened fire, killing 10 people and injuring three others.
Police have identified the suspect as 18-year-old Payton Gendron, who was arraigned on a murder charge Saturday. His family's home in Conklin, New York, was surrounded by law enforcement officials after the attack.
Gendron allegedly livestreamed the shooting on the social media platform Twitch. The company told the Associated Press in a statement that it stopped the video stream "less than two minutes" after the attack began.
A 'Racially Motivated Hate Crime'
Gendron drove over 200 miles to carry out the attack, which marks the deadliest mass shooting in Buffalo's history. A manifesto believed to have been posted by him has since emerged online, riddled with white supremacist, anti-immigrant views. In it, Gendron said the shooting was motivated by a racist ideology known as replacement theory, which claims that white Americans are at risk of being replaced by people of color. The New York Times reported Sunday that in the manifesto, Gendron wrote that he chose the neighborhood to attack because it has a high percentage of Black residents.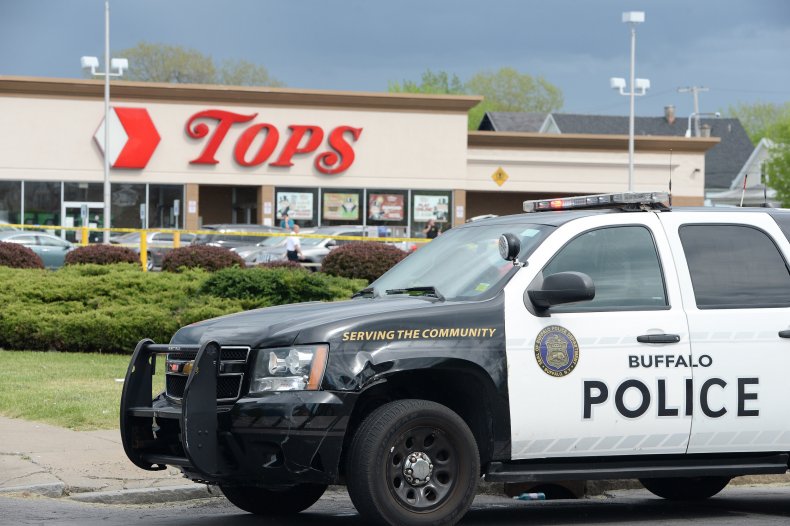 Eleven of the people who were shot at the supermarket are Black.
"This was pure evil," Erie County Sheriff John Garcia said during a news briefing on Saturday after the deadly attack. "It was [a] straight up racially motivated hate crime from somebody outside of our community...coming into our community and trying to inflict that evil upon us."
Previously Investigated for Threats
In June of 2021, Gendron was investigated after he allegedly threatened students at a high school, The Buffalo News reported Saturday.
"A school official reported that this very troubled young man had made statements indicating that he wanted to do a shooting, either at a graduation ceremony, or sometime after," a government official familiar with the case, who was not identified, told the newspaper.
State police investigated, and The Buffalo News reported that Gendron was referred for a mental health evaluation and counseling.
In response to a request for comment from Newsweek, a spokesperson for the New York State Police said in an email: "On June 8, 2021, State Police responded to Susquehanna High School in Conklin, NY, to investigate a report that a 17-year-old student had made a threatening statement. The student was taken into custody under NYS Mental Health Law section 9.41 and transported to the hospital for a mental health evaluation. As a matter of policy, for privacy reasons, State Police do not reveal the identity of people who are taken into custody under the mental health law and are not charged criminally."
Gendron was also previously a student at SUNY Broome Community College, in Broome County, New York. "I have confirmed that we have a former student by that name. They are no longer enrolled," a spokesperson for the college told the newspaper.
Shooting Condemned
Leaders across the country spoke out in condemnation of the shooting.
"Tonight, the country mourns the victims of a senseless, horrific shooting in Buffalo, New York," Attorney General Merrick Garland said in a statement Saturday. "The Justice Department is investigating this matter as a hate crime and an act of racially-motivated violent extremism."
The organization March For Our Lives criticized U.S. leaders for failing to take action on gun control in the wake of the attack.
"If early reports are true then we must not mince our words: this was an act of white supremacist violence, enabled by loose gun laws and a gun culture that empowers white supremacy," March For Our Lives said in a statement to Newsweek.
Update 5/15/22, 12:45 p.m. ET: This story has been updated with comment from the New York State Police.