March for Our Lives Slams Leaders After Buffalo Shooting—'Shameful Choice'
March for Our Lives has slammed U.S. leaders for failing to take action on gun control after 10 people were killed in a mass shooting in Buffalo that authorities have called a hate crime.
The group, formed by students following the 2018 shooting at Marjory Stoneman Douglas High School in Parkland, Florida, said in a tweet that reported details suggest the gunman had "targeted innocent Black shoppers in a racist attack."
The tweet added: "Our country should have done everything in its power long before today to prevent guns from getting into the wrong hands. Instead, U.S. gun worship empowers this white supremacist violence."
A follow-up tweet added that the victims of the shooting "deserved a society that truly values their lives." It said: "Allowing this endless violence to go unchecked is a choice—a shameful choice that our country makes every day. May all those who lost their life rest in eternal peace."
In a statement to Newsweek, March for Our Lives said: "If early reports are true then we must not mince our words: this was an act of white supremacist violence, enabled by loose gun laws and a gun culture that empowers white supremacy.
The statement added: "The simple fact is that our leaders failed Buffalo. This unfathomable tragedy should have never happened… America's young people know the bitter truth. This act of violence was only a matter of time and unless our leaders take drastic action, it is only a matter of time until the next senseless mass shooting."
Fred Guttenberg, who lost his 14-year-old daughter Jaime in the Parkland shooting, tweeted: "18 years old. An AR 15. Body armor. Don't act shocked.
"It is all easily accessible to the next person who wants to do this. We have a gun problem in America. We have a White Supremacy problem in America. Sadly, we currently have Governors, Senators, & Congressman who have embraced the White Supremacy that motivated this killer and who share imagery that leads troubled youth to think this is Ok."
Guttenberg added that as he heard about Saturday's shooting, he "could not stop thinking" about a holiday photo of Kentucky Rep. Thomas Massie and his family wielding guns. "There are consequences," Guttenberg said.
Massie's office has been contacted for comment.
Authorities said the gunman, armed with an assault-style rifle, drove to Tops Friendly Market to launch an attack that was livestreamed on Twitch, a live-streaming video site.
Police said 11 of the 13 people shot were Black, while the others were white. Ten people were killed in the attack—the deadliest mass shooting in the U.S. this year, according to the Gun Violence Archive.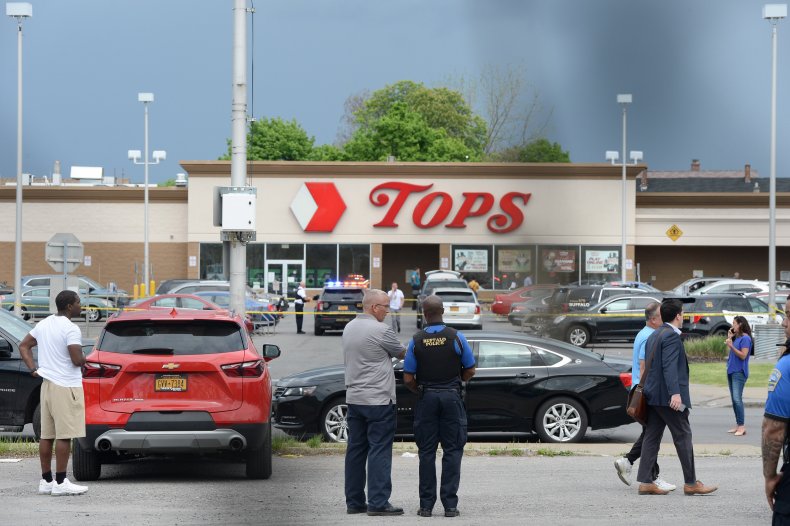 The suspect was identified as Payton Gendron, a white 18-year-old from Conklin, New York. He was arraigned on a murder charge on Saturday evening, while law enforcement surrounded his family's home.
The suspect reportedly posted a 180-page manifesto online that outlined racist, anti-immigrant and anti-Semitic beliefs,
Including the idea that white Americans are at risk of being replaced by people of color.
Stephen Belongia, the FBI special agent in charge of the bureau's Buffalo office, said the shooting would be investigated both as a hate crime and as an act of "racially motivated violent extremism" under federal law, The Buffalo News reported.
"This was pure evil," Erie County Sheriff John Garcia said during a news briefing. "It was (a) straight up racially motivated hate crime from somebody outside of our community... coming into our community and trying to inflict that evil upon us."
Update 5/15/22, 9:30 a.m. ET: This article has been updated to add a statement from March for Our Lives.