GOP Representative Adam Kinzinger of Illinois took aim at House Republican Conference Chair Representative Elise Stefanik, warning that "politics is failing" after she accused Democrats of being pedophiles.
Kinzinger, who is not seeking reelection this year, has grown increasingly critical of fellow Republicans over the past year and a half following former President Donald Trump's efforts to overturn the 2020 election results. While most GOP lawmakers have aligned themselves with the former president, the Illinois Republican has strongly pushed back against Trump's false claims and efforts to undermine the democratic process.
Stefanik, who represents New York, was elected by fellow GOP House members to the conference chair role after Representive Liz Cheney, a Wyoming Republican, was ousted from the position last May over her opposition to Trump. In a Friday tweet, the GOP lawmaker from New York took aim at President Joe Biden and Democrats, making a baseless accusation that they are sexually attracted to children.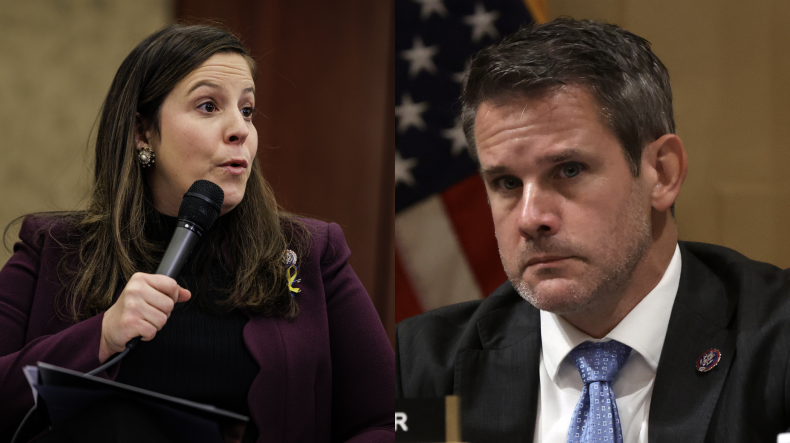 "The White House, House Dems, & usual pedo grifters are so out of touch with the American people that rather than present ANY PLAN or urgency to address the nationwide baby formula crisis, they double down on sending pallets of formula to the southern border. Joe Biden has NO PLAN," the No. 3 House Republican tweeted. "Pedo" is regularly used as a shortened version of the word pedophile.
"Ok. What? You used to be the bridge builder in politics, now you are calling people PEDOPHILES. America, you deserve better than this. We deserve leaders that inspire. Politics is failing," Kinzinger said in a Twitter post, sharing Stefanik's post.
A couple hours later, the Illinois Republican posted another response to Stefanik's baseless accusation.
"Interesting: @Liz_Cheney loses here job as Conference chair because people 'wanted her to move on' from the insurrection. @EliseStefanik calls the Democrats 'pedophiles' and she is in good standing. Every GOP member needs to address this difference," Kinzinger tweeted.
Stefanik's communications director Palmer Brigham in a Saturday email to Newsweek accused Kinzinger, as well as Cheney, of accepting "support from their Never Trump allies and surrogates" at the anti-Trump group the Lincoln Project. Palmer said the group is "widely recognized as a scam PAC that protects known pedophiles who preyed on minors."
"While Elise is going to continue to demand action and address the baby formula crisis, Adam Kinzinger and Liz Cheney choose to say and do nothing about the baby formula crisis and instead embrace the pedo grifters of the Lincoln Project," Brigham said.
An investigation by The New York Times published in January 2021 detailed sexual misconduct allegations from more than 20 men, each of whom reportedly received unsolicited messages from Lincoln Project co-founder John Weaver, over text or other digital interfaces, containing provocative or explicitly sexual advances. Some of the men were reportedly minors when the alleged harassment took place, and in several instances, Weaver's sexual propositions reportedly offered career opportunities in exchange.
The Lincoln Project cut ties with Weaver and condemned his actions.
"John Weaver led a secret life that was built on a foundation of deception at every level. He is a predator, a liar, and an abuser. We extend our deepest sympathies to those who were targeted by his deplorable and predatory behavior," the group said in a statement at the time the allegations were reported. "We are disgusted and outraged that someone in a position of power and trust would use it for these means."
Republicans have hit Biden and Democrats, who control both chambers of Congress, hard over the baby formula shortage. The shortage started in late 2021 as supply chain disruptions resulting from the COVID-19 pandemic wreaked havoc around the globe. The situation with baby formula was exacerbated further when Abbott Nutrition recalled several major brands and shut down its Sturgis, Michigan, factory. Abbott's recall came after the FDA warned that several babies were hospitalized and two infants died of a rare bacterial infection that was linked to products manufactured by the company.
GOP lawmakers have accused Biden of sending baby formula to the border to be used by undocumented migrants detained there instead of allowing it to fill the shortage across the country. While immigration detention centers do have supplies of baby formula for the babies of undocumented migrants, they are required by law to provide adequate nutrition to minors in custody. This law has been in place since the late 1990s.
Although migrant detention centers are still be stocked with a supply of baby formula, there was not a specific White House effort to transfer supplies to the facilities instead of stores where shelves are empty. FDA Commissioner Dr. Robert Califf also said his agency is "working around the clock" to get more formula to store shelves, adding that the FDA will announce plans next week to streamline imports of baby formula, CNN reported.
Update 5/14/22, 12:48 p.m. ET: This story has been updated with comment from Stefanik's spokesperson, as well as with additional background to explain her remarks.