Republicans are accusing President Joe Biden of sending pallets of baby formula to warehouses at the U.S.-Mexico border for immigrants who crossed into the U.S. despite a nationwide shortage that is leaving many Americans increasingly desperate.
Representative Kat Cammack, a Republican lawmaker from Florida, said in a Facebook Live video posted Wednesday that a border patrol agent in Texas informed her that he had taken in pallets of baby formula for immigrants. She said that the children receiving the formula were not at fault but expressed anger over what she described as "another example of the 'America last' agenda."
Representative Marjorie Taylor Greene also referenced "emerging" pictures from the border that she said showed that the Biden administration was sending pallets of baby formula there, according to a tweet from ABC reporter Ben Siegel.
Newsweek was not able to independently confirm the information in Cammack's video by publication time. Cammack also posted photos on social media that she said showed pallets of baby formula at a border processing facility in McAllen, Texas, commonly known as Ursula, but a worker at the facility told Newsweek that there were no pallets of baby formula there and that only single adults are currently housed at the facility.
A February recall of powdered infant formula from an Abbott Nutrition facility in Sturgis, Michigan, that was linked to several infant hospitalizations and deaths, as well as ongoing supply chain disruptions have contributed to a nationwide baby formula shortage that has left many frustrated or in fear. As the Michigan facility remains shuttered and families continue to struggle to find sufficient supplies, the Biden administration has faced significant backlash and calls to take action to remedy the issue.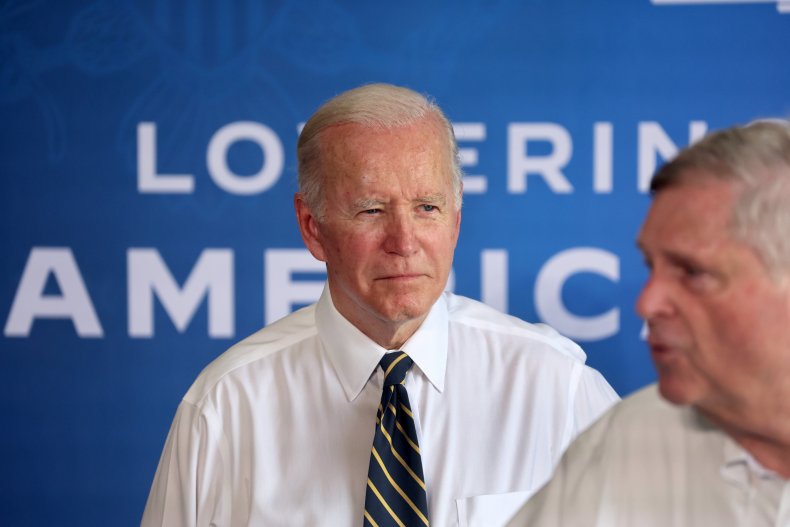 In addition to her Facebook video, Cammack also posted a photo on Twitter Wednesday that she said came from the Ursula facility. The photo showed a shelf with containers of Advantage baby formula in between two shelves of what appeared to be apple sauce.
Alongside it, she posted a photo that she said showed grocery store shelves, which were sparsely stocked with baby formula.
"The first photo is from this morning at the Ursula Processing Center at the U.S. border. Shelves and pallets packed with baby formula," Cammack wrote. "The second is from a shelf right here at home. Formula is scarce."
"This is what America last looks like," she added.
Cammack did not specify who took either of the photos.
The U.S. Food and Drug Administration (FDA) outlined several actions it said it was taking to fix the shortage in a news release issued Tuesday. These measures included monitoring the state of baby formula supply and holding meetings with baby formula manufacturers to "better understand their capacity to increase production," the FDA said.
"We recognize that many consumers have been unable to access infant formula and critical medical foods they are accustomed to using and are frustrated by their inability to do so. We are doing everything in our power to ensure there is adequate product available where and when they need it," FDA Commissioner Dr. Robert M. Califf said in a statement.
"Ensuring the availability of safe, sole-source nutrition products like infant formula is of the utmost importance to the FDA. Our teams have been working tirelessly to address and alleviate supply issues and will continue doing everything within our authority to ensure the production of safe infant formula products," he added.
Newsweek reached out Cammack for more information and comment, as well as to the Rio Grande Valley Border Patrol Sector of U.S. Customs and Border Protection and the White House for comment and confirmation of baby formula being sent to the border for immigrants.