Several brands of baby formula have suffered recalls following health concerns about the products while baby formula is currently difficult to find in the United States.
In late February, the U.S. Food and Drug Administration (FDA) announced a voluntary recall for some Similac, Alimentum and EleCare powdered formulas. According to the FDA, the brands are owned and manufactured by Abbott Nutrition.
The governmental agency said the move happened after complaints of "bacterial infections in four infants who consumed powdered infant formula produced in Abbott Nutrition's facility in Sturgis, Michigan." The FDA went on to state that the four infants did require hospitalization, while two of the four died.
The recall of the powdered baby formula comes as there is a baby formula shortage across the country. In April, about 40 percent of all baby formula was out of stock in the United States. This has worsened from March, when there was a reported 29 percent out of stock.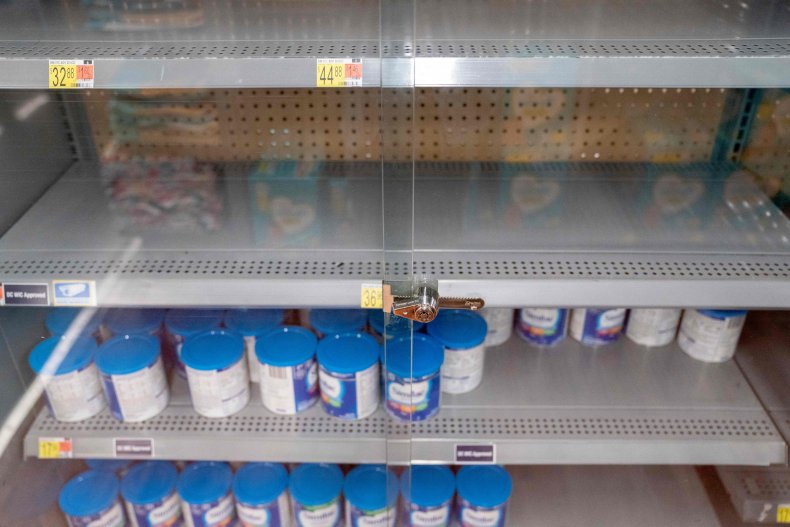 The lack of baby formula has gotten so bad that some stores and other retailers have reportedly started limiting the amount some can purchase at a time.
In a statement posted to its website on Wednesday, Abbott said the voluntary recall, which was issued in February, involved "four complaints of Cronobacter sakazkii—a common environmental bacteria—in infants who consumed infant formulas produced" in the plant in Sturgis.
Abbott, in its statement, also said that "after a thorough review of all available data, there is no evidence to link our formulas to these infant illnesses."
The company went on to list some of what was found during the investigation of the plant in Michigan, including that "in all four cases, the state, FDA and/or CDC tested samples of the Abbott formula that was used by the child" and "in all four cases, all unopened containers tested negative."
Abbott also said that the supply of baby formula is low but that, with FDA approval, could get the plant back up and running within two weeks.
However, "it will take six to eight weeks" before consumers will begin seeing those products available for purchase on shelves, it said.
Also, announced this week, the FDA said Abbott can begin "immediately releasing product to individuals needing urgent, life-sustaining supplies of specialty and metabolic formulas" on a "case-by-case basis" from the plant, which was closed for inspection.
The government agency, in announcing the move, said not getting the formulas to those who really need and depend on the products could result in health problems.
In response to Newsweek, an FDA spokesperson issued the following statement:
"The FDA recognizes that many consumers have been unable to access infant formula and critical medical foods they are accustomed to using and are frustrated by their inability to do so. The agency is doing everything in its power to ensure there is adequate product available where and when they need it.
"This around-the-clock work has already begun to improve supply with most manufacturers, now producing at normal or expanded capacity. The FDA expects that the measures and steps it's taking with infant formula manufacturers will help to increase supply.
"At the same time, it is important that the FDA continue its work to ensure that Abbott can undertake safe resumption of production of infant formula at Abbott Nutrition's Sturgis, Michigan facility, to further alleviate these supply challenges, which remains an important focus. The plant remains closed as the company works to correct findings related to the processes, procedures, and conditions that the FDA observed during its inspection of the facility from January 31—March 18, 2022, which raised concerns that powdered infant formula produced at this facility prior to the FDA's inspection carry a risk of contamination."
Newsweek reached out to Abbott for comment.
Update: 05/12/22 3:34 p.m.: This article was updated with a comment from the FDA.