Baby Formula Shortage: Parents Taking 'Real Risk' on Homemade Recipes
As the baby formula shortage that is sweeping the U.S. continues, desperate parents are being forced to purchase formula that will make their babies ill or create their own.
On 24 April, 40 percent of baby formula was out of stock across the country, according to Datasembly. This was a 29 percent increase from March, with calls for the Biden administration to address the issue.
The shortage has hit 11,000 stores nationwide. To avoid stockpiling, pharmacies and major retailers have resorted to limiting how much formula can be purchased at one time, with low-income families hit hardest by the shortage.
However, creating your own formula can be dangerous, with pregnancy nutritionist and baby-weaning expert Katie Angotti describing it as "a real risk."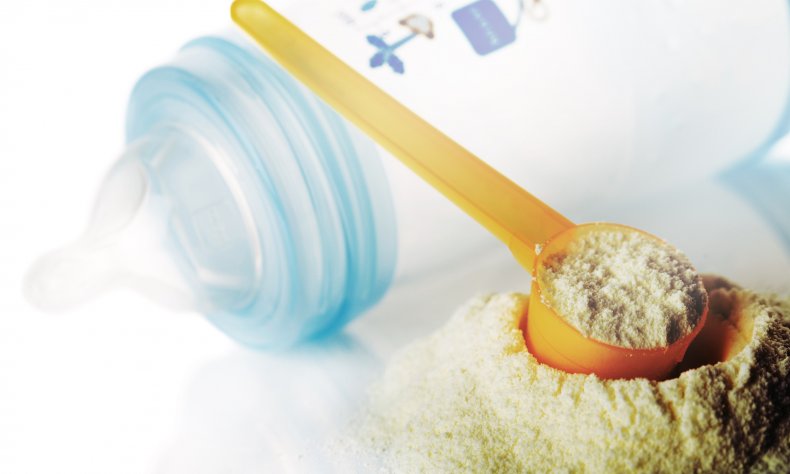 Angotti has provided advice to two of the U.K.'s leading nutrition brands—Cow&Gate and Aptamil—and warns that baby formulas are highly regulated for a reason.
She told Newsweek: "Infant formula is a controlled food created to meet the specific nutritional needs of babies. Trying to get the right balance of all those nutrients at home would be impossible.
"Too much protein could affect a baby's kidneys or too little calcium and vitamin D will affect their bones, for example.
"I'd be really concerned about the level of different salts that could be present, or lacking, meaning that babies could become dehydrated quickly."
The shortage was initially triggered by the shutdown of a crucial production facility owned by Abbott Nutrition. The Sturgis, Michigan location was closed in February, along with a product recall, after an FDA report showed a string of food safety issues at the factory. At least five infants became sick with Cronobacter infections, including two whose deaths are currently being investigated.
Abbott is the owner of top brand Similac, and is also the primary supplier of infant formula to state programs for low-income families. The company has said it is collaborating with regulators to reopen the Sturgis facility, and has been sending additional shipments from its factory in Ireland to help address the shortage.
However, the recall has already disrupted supply chains and led to price hikes, with some eBay sellers selling formula for as much as $120 per can.
Angotti said there are also huge hygiene risks connected with homemade baby formula.
"Factories that make infant formula have incredibly tight controls around hygiene and contamination to ensure the finished product is safe for babies who might have weak immune systems," she explained.
"Having visited infant milk factories myself, there is no way I could replicate that level of hygiene at home."
If your baby doesn't have a specific medical need, Angotti advises using a different formula if you can't get your usual one, as they all have the same nutritional criteria.
However, some parents are resorting to feeding infants with allergies or intolerances non-hypoallergenic formula, despite it making their child unwell, as they have no other option. Others are attempting to ration the supplies they have left by mixing the product with other ingredients, such as milk and additional water, which doctors also caution against.
Fortunately, kind strangers are helping out parents by sending formulas to states that are particularly struggling, with Texas, North Dakota, South Dakota, Tennessee, Iowa and Missouri having less than 50 percent of stock available.