Witness's Lawyer in Matt Gaetz Investigation Skeptical Case Will Be Dropped
The attorney for a witness in the federal investigation of Florida Representative Matt Gaetz expressed skepticism that prosecutors would drop the case, after a report was published in The Washington Post saying that charges in connection with the sex trafficking probe are unlikely for the lawmaker.
Gaetz became a target of the Department of Justice probe as an extension of an investigation into his colleague, former Florida tax collector Joel Greenberg. Greenberg pleaded guilty to sex trafficking charges last May.
The Justice Department is investigating Gaetz over allegations he had a sexual relationship with a 17-year-old girl and paid for her to travel with him, including over state lines.
The Washington Post reported Friday that Gaetz—who has repeatedly denied wrongdoing—will unlikely faces charges because of "credibility" questions with two witnesses involved in the case. The Post cited anonymous sources and also noted that DOJ officials have not made a final decision in the matter.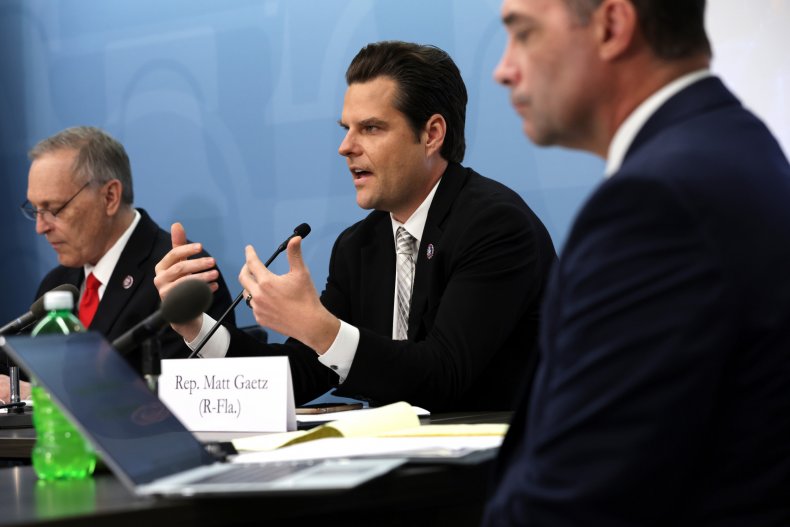 Speaking to the Orlando Sentinel, Greenberg's attorney, Fritz Scheller, said: "I have not received any information from the government regarding its decision to abandon its investigation and prosecution [of Gaetz].
"Nevertheless, based on my knowledge of the evidence, I would be surprised by such a decision," Scheller added.
A lawyer for Gaetz declined to comment to Newsweek on Friday evening. Newsweek has also reached out to Gaetz's legislative press office for comment.
Citing anonymous sources, the Post reported that in examining Greenberg's case, prosecutors began looking into whether Gaetz could have been involved in sex trafficking. It also reported that prosecutors had been examining whether the two shared sexual partners including the 17-year-old girl, and also whether Greenberg paid women to have sex with the congressman.
The newspaper noted, however, that Greenberg may have credibility issues for prosecutors and previously admitted to fabricating allegations against a political opponent, claiming that a teacher running against him to be tax collector had a sexual relationship with a student.
Last week, The Washington Post also reported that Gaetz sought a preemptive pardon in the sex trafficking investigation from former President Donald Trump.
A spokesperson for Gaetz told the newspaper that Gaetz never sought a pardon.
"Congressman Matt Gaetz discussed pardons for many other people publicly and privately at the end of President Donald Trump's first term," the spokesperson said. "As for himself, President Trump addressed this malicious rumor more than a year ago stating, 'Congressman Matt Gaetz has never asked me for a pardon.' Rep. Gaetz continues to stand by President Trump's statement."