Matt Gaetz, Lauren Boebert Head to Mar-a-Lago Fundraising Dinner for Mike Lee
Republican Representatives Matt Gaetz of Florida and Lauren Boebert of Colorado will be at former President Donald Trump's Mar-a-Lago resort on Saturday night for a fundraising dinner to support Utah Senator Mike Lee's 2022 reelection campaign.
The VIP event, which costs $10,600 per couple, started at 7:00 p.m. local time at the Palm Beach resort in Florida, according to an invitation shared by a Politico reporter. Gaetz and Boebert are listed as "special guests" and all funds will go toward the "Mike Lee Victory Fund."
Despite leaving the White House on January 20, Trump said after the conclusion of his impeachment trial that he will still play a role in U.S. politics. "Our historic, patriotic and beautiful movement to Make America Great Again has only just begun," the former president said in a statement following his Senate acquittal. "In the months ahead I have much to share with you, and I look forward to continuing our incredible journey together to achieve American greatness for all of our people."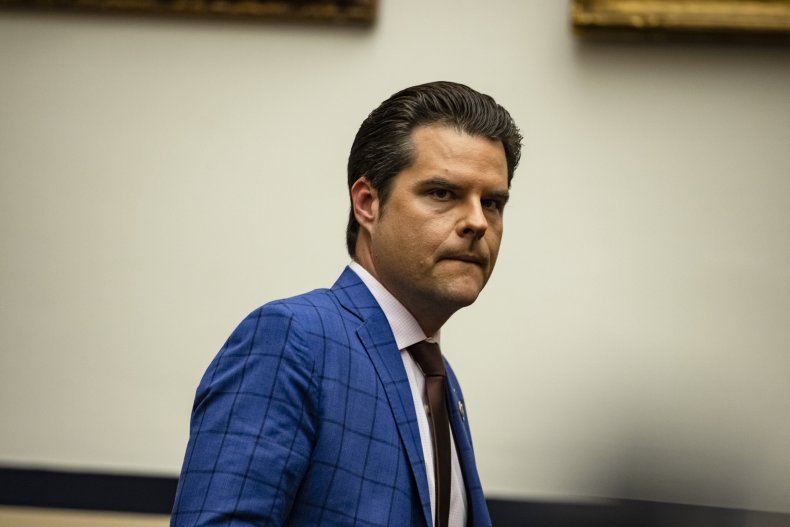 Senate Minority Leader Mitch McConnell acknowledged last Saturday that he could be on a collision course with Trump as he seeks to regain a majority in the upper chamber. Amid reports and speculation of Trump's plan to fill open GOP seats in the 2022 elections with MAGA-approved candidates, McConnell told Politico that he would not hesitate to intervene if the former president pushes for Republicans that will endanger his chances of recapturing control of the Senate.
"My goal is, in every way possible, to have nominees representing the Republican Party who can win in November," McConnell said. "Some of them may be people the former president likes. Some of them may not be. The only thing I care about is electability."
Senior Trump adviser Jason Miller recently said that the former president is "in the process of putting together a more formal schedule for candidates who want to come get his endorsement," according to Politico. Trump is expected to make an appearance at the fundraising event for Lee on Saturday.
Senator Lindsey Graham, a staunch Trump ally, has expressed concern about 2022 amid escalating Republican infighting. "I don't want to eat our own," he told Fox News after Trump released a fiery statement attacking McConnell on Tuesday.
In the statement, Trump said, "Mitch is a dour, sullen, and unsmiling political hack, and if Republican Senators are going to stay with him, they will not win again."
"Where necessary and appropriate, I will back primary rivals who espouse Making America Great Again and our policy of America First. We want brilliant, strong, thoughtful, and compassionate leadership," he added.
Newsweek reached out to Senator Mike Lee's office for comment.