Matt Gaetz Admits 'Many' Republicans Don't Want to Try Impeaching Biden
Florida Representative Matt Gaetz said Monday that "many" of his Republican colleagues would oppose an impeachment inquiry into President Joe Biden, without which he said American voters would feel "betrayed."
During an appearance on former Trump administration official Steve Bannon's War Room podcast, Gaetz said that in addition to many of his GOP colleagues opposing a Biden impeachment inquiry, they also would not support such an inquiry into Homeland Security Secretary Alejandro Mayorkas. The Florida lawmaker alleged that Mayorkas was "purposefully turning our border into a turnstile."
"So the War Room posse needs to be leveled with, that there are current members of the Republican majority, people who will be in the next Congress, who are arguing very, very fervently that they will oppose the use of the 'I' word, impeachment, in any context for any official in the Biden administration," he said. "And I believe that would totally misunderstand the mandate that the American people are giving us."
Several Republican members of Congress have publicly indicated in recent months that if their party is able to secure majorities in both the House and Senate in November's midterm elections, they could initiate impeachment proceedings against Biden. But even if articles of impeachment were introduced against Biden in the future, it is unlikely that Republicans would be able to make him the first president to ever be ousted from office.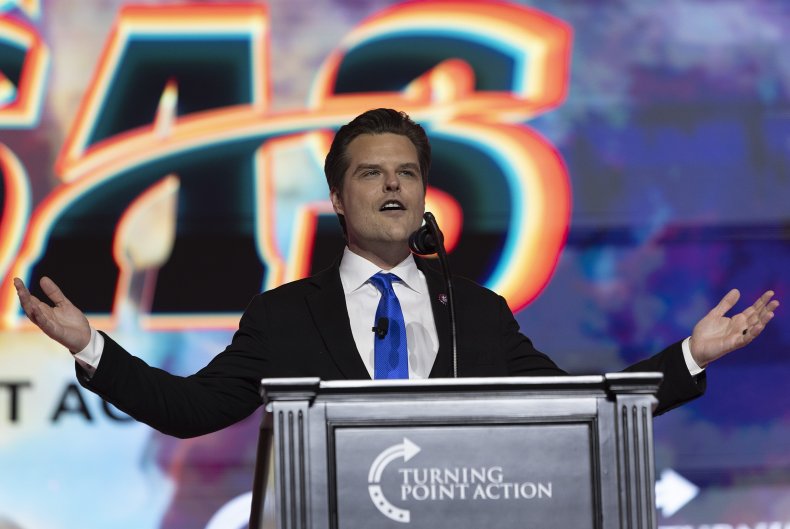 A simple majority can pass articles of impeachment in the House, but a two-thirds majority vote is required in the Senate. A FiveThirtyEight model that simulates the election tens of thousands of times found that Democrats are favored to win the Senate in the upcoming midterms. Even if Republicans are able to defy this projection during the actual election and secure a Senate majority, they still may fall short of the two-thirds majority that would be required in order to pass impeachment articles through the upper chamber of Congress.
Republican grievances against Biden have largely centered on elevated U.S. inflation, supply chain issues and what they describe as his "open" border policies. Texas Senator Ted Cruz said in January that there would be "potentially multiple grounds" for impeaching the president, such as "the utter lawlessness" of his "refusal to enforce the border."
U.S. Border Patrol has been reporting more than three times the number of encounters at the U.S.-Mexico border under the Biden administration in comparison to the Trump administration, though there may be several reasons for the increase, including some that aren't Biden's fault.
Speaking on Bannon's War Room, Gaetz said that Biden administration officials are "destroying our country on purpose" and argued that Democrats had "moved the Overton window" on impeachment. Oxford Languages defines the term "Overton window" as a "spectrum of ideas on public policy and social issues considered acceptable by the general public at a given time."
Former President Donald Trump was the only American president to have been impeached twice, but he was acquitted both times.
"If we don't use the same tools, if we don't engage in impeachment inquiries to get the documents and the testimony and the information we need, then I believe that our voters will feel betrayed, and that likely that could be the biggest win that Democrats could hope for in 2024 when it really matters to be able to vertically integrate our policies into the executive branch and the legislative branches," Gaetz said.
Newsweek reached out to Gaetz's office for further comment.