Controversial Republican Congressman Matt Gaetz said via his new podcast that in some cases his parents getting vaccinated against COVID-19 "makes sense," and for his parents, it was the "smart decision."
The representative from Florida said during a tête-à-tête with Georgia Republican Marjorie Taylor Greene on Thursday's episode of his new podcast, "Firebrand with Matt Gaetz," that he is "not a person who criticizes those who choose to take the vaccine."
"You know, there are people like my own parents," he continued, "who, for them, they're a little older, they've got other complicated medical conditions. And it was the smart decision for them and for people in that circumstance where it makes sense I hope that they avail themselves to the best that modern technology has to offer."
Gaetz volunteered his parents' positive vaccination status after angrily refusing to disclose his own vaccination status just last month. Reportedly, when a CNN reporter asked him to comment whether or not he had gotten his jabs, Gaetz cut the reporter off, saying "That's very nosy of you," then adding, "I think we should be talking more about freeing Britney."
Gaetz has also been active in attempting to block the United States from instituting a "vaccination passport" the way some places, like the European Union, have.
In June, he introduced a House bill called the Digital Health Pass Prevention Act of 2021, which seeks to prevent federal money from funding a vaccination pass and database, saying "The federal government has no business asking Americans for their vaccination status."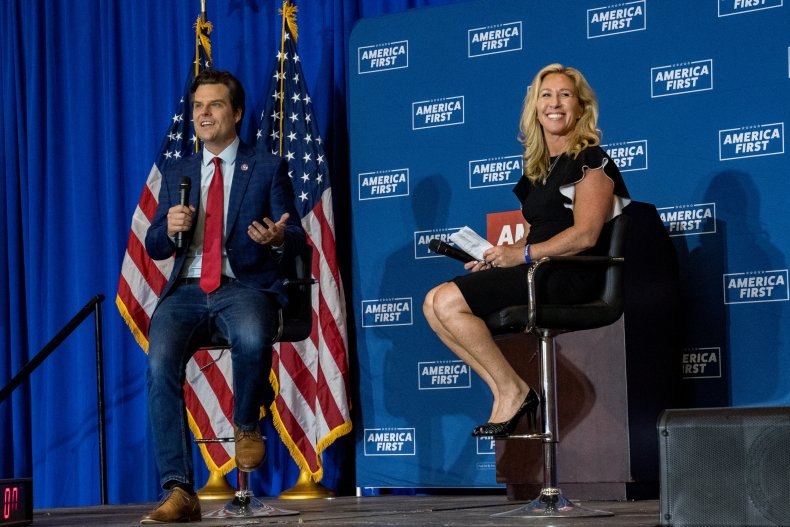 Greene also has a controversial history of demanding privacy around vaccination status. On July 20, a CBS journalist asked Greene whether she had received any COVID-19 vaccination. Greene answered that the question was "in violation of my HIPAA rights. You see with HIPAA rights we don't have to reveal our medical records and that also involves our vaccine records."
A reporter asking about a person's vaccination status is not a violation of the Health Insurance Portability and Accountability Act (HIPAA) of 1996. According to reporting from The New Republic, HIPAA would only protect Greene's vaccination status in this case, if the reporter tried to get the information from Greene's healthcare providers.
Florida recorded its highest-ever, seven-day COVID case average on Wednesday, from throughout the entire pandemic that started nearly 18 months earlier. Georgia is currently far below peak levels, but cases are climbing rapidly.
Newsweek reached out to Rep Gaetz's office for comment but did not immediately hear back.