Matt Gaetz Under Fire for Rant Against Military 'Wokeism'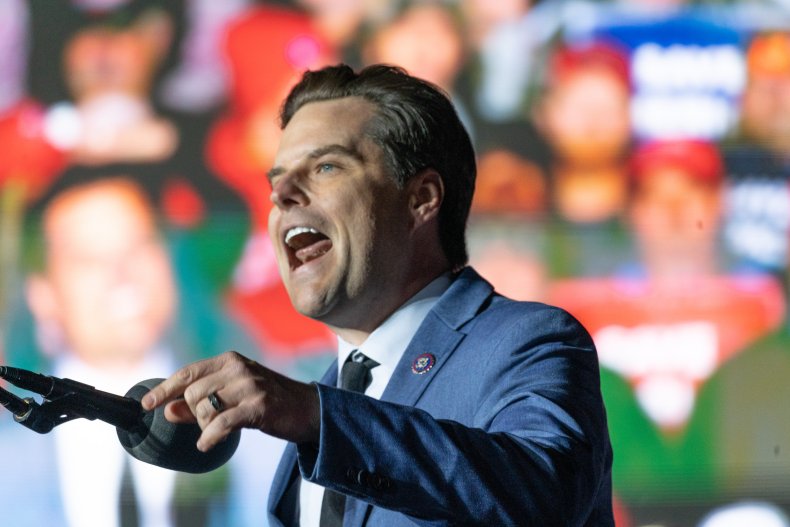 Republican Florida Representative Matt Gaetz is facing backlash after tangling with Secretary of Defense Lloyd Austin over alleged "wokeism" in the military.
Gaetz said that he was "embarrassed" by Austin's leadership while accusing the Department of Defense of promoting socialism, critical race theory and "mandatory pronoun training" during a House Armed Services hearing on Tuesday. The Florida Republican has taken aim at Austin in the past, saying he "might be the stupidest person" to ever serve in a presidential Cabinet during a speech last year.
Tuesday's exchange was followed by a wave of reactions on social media, including many from those slamming Gaetz for criticizing the military or pointing out that he had never served. Some also accused Gaetz of being a "pedophile," apparently in reference to a federal sex trafficking investigation focused on allegations about the congressman and a 17-year-old girl.
"As veterans, we'd like to say that Matt Gaetz is a total clown," tweeted Common Defense, the country's largest progressive group that represents veterans.
"Let's be clear: I don't see @mattgaetz running to enlist," tweeted MSNBC host and legal analyst Katie Phang. "His lack of respect for our Armed Forces and for @SecDef Austin is appalling. GOP talking points don't win battles or defend democracy."
"I think he'd sooner enlist in the Girl Scouts," video game developer Max Hoberman added in a reply to Phang's tweet.
"For everyone that keeps sending me the clip of Matt the Pedophile Gaetz slandering the military and insulting Secretary of Defense, I have seen it and I am about to unleash Ojeda style fury on his ass. Stay tuned," tweeted Democratic politician and retired U.S. Army Major Richard Ojeda.
"What a great stare," former CIA senior operations officer Marc Polymeropoulos tweeted. "Austin looked like he wanted to rip Gaetz's head off. Well, there are those that do real things for the country (Austin, a dedicated honorable officer and public servant), and clownish buffoons who have never done a hard day's work (Gaetz). Ahhh, democracy."
"Matt Gaetz giving military advice is like Mr. Magoo working in an ER," diplomat Alan Eyre tweeted.
"The Ukraine war has been a giant L for people like Gaetz who spit on the U.S. Military and hold up the Russian military as a tough, manly alternative," tweeted writer Noah Smith.
"Matt Gaetz is a traitor who belongs in prison," Scott Dworkin of the Democratic Coalition tweeted. "Have a nice day."
Not all social media responses to Gaetz were negative, however. Some conservatives took to Twitter to praise Gaetz for confronting Austin, while backing his claim of military "wokeism."
"Matt Gaetz just absolutely destroyed Secretary Lloyd Austin on wokeism and failed leadership in the military," actor and "Stop the Steal" organizer Daniel Bostic tweeted.
"Raise your sons to be like Matt Gaetz, not Lloyd Austin," tweeted Nick Adams, an author whose Twitter bio touts an endorsement from former President Donald Trump.
"This exchange gave us all hope that there's real Americans in Congress," conservative filmmaker Amanda Milius wrote in a tweet that was shared by Gaetz. "Well done @mattgaetz."
Austin appeared at Tuesday's hearing to discuss President Joe Biden's 2023 defense budget request. One of the most heated exchanges occurred after Austin accused Gaetz of being "embarrassed" of the military.
"This is the most capable, the most capable combat critical force in the world," Austin told Gaetz. "The fact that you're embarrassed by your country, by your military, I'm sorry for that."
"Oh no, I'm embarrassed for your leadership," a visibly shaken Gaetz responded. "I am not embarrassed for my country ... that is so disgraceful, that you would sit here and conflate your failures with the failures of the uniformed service members."
Newsweek reached out to Gaetz's office for comment.