Matt Gaetz Would Resign to Defend Donald Trump in Impeachment Trial—If The Ex-President Asked
Donald Trump's second impeachment trial will kick off next week and one member of Congress said he would jump at the chance to defend the former president in the Senate.
Representative Matt Gaetz (R-Fla.) told War Room Pandemic, a podcast hosted by Steve Bannon, that he would give up his seat in Congress if Trump requested he be part of his legal defense.
"If the president called me and wanted me to go defend him on the floor of the Senate, that would be the top priority in my life," Gaetz said.
He continued, "I would leave my House seat, I would leave my home, I would do anything I had to do to ensure that the greatest president in my lifetime—one of the greatest presidents our country has ever had, maybe the greatest president our country has ever had—got a full-throated defense that wasn't crouched down, that wasn't in fear of losing some moderate Republican senator but that was worthy of the fight that he gave to the great people of this country for four years."
Trump has been charged by the House of Representatives with "incitement of insurrection" after a mob of his supporters stormed the U.S. Capitol on January 6 to protest the certification of President Joe Biden's win. Five people died in the riot, including one law enforcement officer.
The bipartisan vote, which took place just a week before he left office, made Trump the first president in U.S. history to be impeached twice. In 2019, he was impeached on two charges over his dealings with Ukraine but was ultimately acquitted in the Republican-controlled Senate.
In his first formal response to the "incitement of insurrection" impeachment article, Trump's lawyers denied Tuesday that he was responsible for the Capitol riot or that he intended to interfere with the joint session of Congress. His address to supporters, during which he said "if you don't fight like hell, you're not going to have a country anymore," were protected by the First Amendment right of free speech.
His attorneys also argued that the Constitution did not permit the Senate to try a former president after he had left office, though the chamber has done so for former federal officials in the past.
The House impeachment managers, however, charge that Trump is "singularly responsible" for what took place on January 6 and pushed back on the idea that he cannot be prosecuted because he left office.
"There is no 'January exception' to impeachment or any other provision of the Constitution," the managers wrote in a filing on Tuesday. "A president must answer comprehensively for his conduct in office from his first day in office through his last."
Trump's legal team fell apart when five members quit roughly a week before the February 9 trial date. Now, trial lawyers David Schoen and Bruce L Castor will head up Trump's new defense.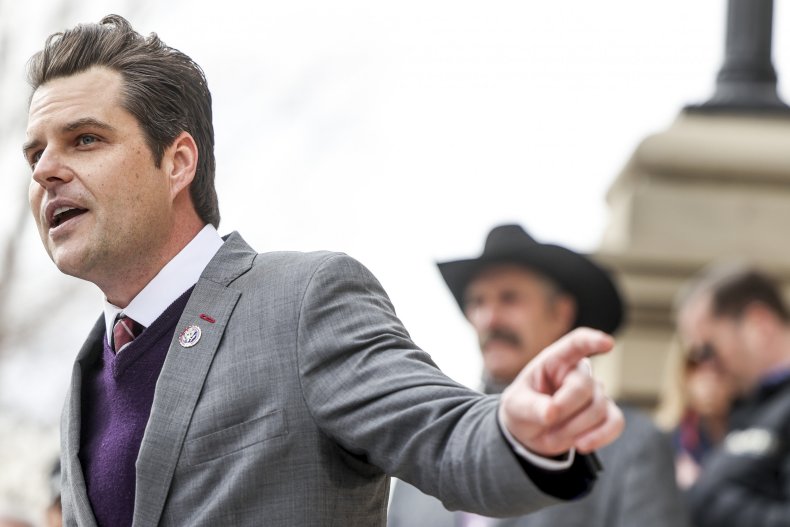 Gaetz said during his appearance on the War Room Pandemicpodcast that there were "a few among us" that checked to see if they were allowed to defend Trump in the impeachment trial but were told no by the House Ethics Committee.
"The President so far has gotten a low-energy defense," Gaetz said.
When news broke about Gaetz's offer to resign in order to defend the president, one of his Democratic colleagues in the House of Representatives said he would encourage the move.
"I strongly support my colleague Matt Gaetz doing this," Representative Brandon Boyle (D-Pa.) wrote on Twitter.
Newsweek has reached out to Gaetz's office and Trump's campaign for additional comment.