Matt Whitaker's 'Evasive' Testimony Prompts Democrats' Skepticism: 'We're Not Going to Take This Witness at His Word'
Emerging from an hours-long testimony with Acting Attorney General Matthew Whitaker before the House Judiciary Committee on Friday, in which he offered wavering or unclear answers while stating he has not influenced the ongoing Russia probe, Democrats showed frustration. And they immediately vowed to further question the Justice Department official at a later date by threatening to issue a subpoena.
Concerns lingered among Democratic lawmakers whether Whitaker, a previously outspoken critic of special counsel Robert Mueller's investigation, hindered the probe or discussed it with the president. These questions remained despite him offering assurances to committee members he did not interfere.
"There has been no event, no decision that has required me to take any action, and I have not interfered in any way in the special counsel's investigation," Whitaker said. "At no time has the White House asked for, nor have I provided, any promises or commitments concerning the special counsel's investigation or any other investigation."
However, he would not discuss "private conversations with the president of the United States," leaving Democrats to wonder whether the DOJ chief spoke to Trump or other officials, either before or after former Attorney General Jeff Sessions' November ousting. Whitaker was named acting attorney general by Trump from his position as Sessions' chief of staff, an unusual promotion.
Whitaker also repeatedly refused to answer questions regarding any ongoing investigations, yet last month he told reporters the ongoing Mueller investigation was "close to being completed."
"He said rather contradictory things," said Democrat Jerry Nadler, committee chairman. "At one point, he said [he did not speak with Trump about Mueller], but then he alluded, I think, to some conversations. But there were other questions he refused to answer."
Nadler will ask Whitaker to return at a later, undecided date to answer further questions, threatening to "use a subpoena if we have to." He believed they still lacked a clear "answer as to whether he interfered with the investigation or whether he communicated with any people from the White House about the investigation."
On Thursday, Nadler was in a back-and-forth dispute with DOJ for also threatening to subpoena Whitaker out of fear he would not show to Friday's hearing or would invoke executive privilege to avoid answering questions. Democrats flexed their newfound investigatory powers at Whitaker's hearing, which acted as a crystal ball into what's likely to come for other Trump-related issues and members of the administration the party plans to investigate.
"This administration is used to evading any questions they want to evade," Nadler said. "We're going to pursue them and we're going to show them that era is over."
Eric Swalwell, Democrat from California who has been mulling over a 2020 presidential run, said he would not take Whitaker at his word until he had corroborating testimony from other witnesses.
"We're not going to take this witness at his word. We're going to test witness accounts to either confirm what they say or seek whether there's contradiction," Swalwell said. "This team, this Trump administration, they're just not worthy of being taken at their word. They've lost that right."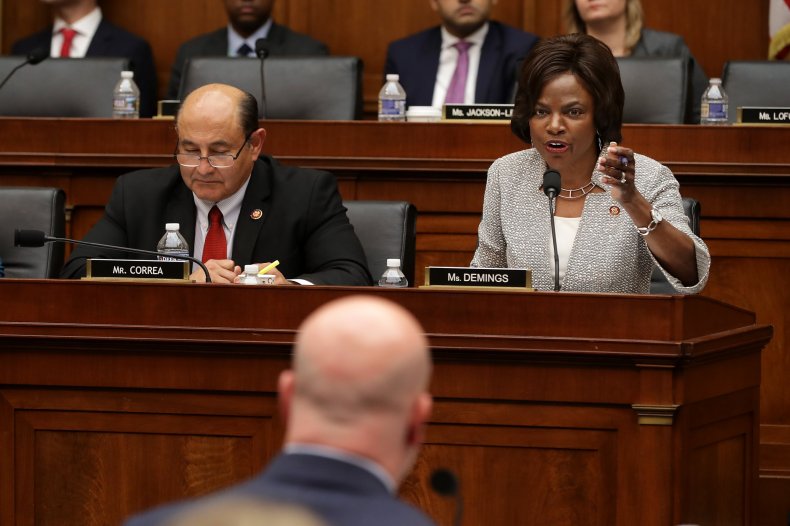 One potential corroborating witness could be Don McGahn, Trump's former White House counsel who reportedly interviewed Whitaker about joining the president's legal team in 2017. "Maybe," Nadler said when asked by reporters if the committee would want to question McGahn.
"When you look at other reporting, it's hard to imagine that he interviewed to have the job to go after the special counsel, yet he never talked about his opinions of the special counsel and that [Trump and the White House] never talked to [Whitaker] about it," Swalwell said.
Democrats' fears of Whitaker discussing the Mueller investigation with Trump stem from the acting attorney general's prior statements about the matter. From national media interviews to CNN op-eds, Whitaker repeatedly bashed the probe before assuming his role and said it was becoming a "witch hunt," the same terminology often used by Trump.
Whitaker's conduct of dodging questions and appearing to stall frustrated Democrats. After refusing to answer her question directly, Democrat Sheila Jackson Lee paused to scold the witness: "Mr. Attorney General, we're not joking here. And your humor is not acceptable."
"He came to bluster, to deflect and certainly to perform in the way he thought was appropriate," she told Newsweek. "I felt it was necessary to remind him of our Article 1 authority… and that we've established this oversight and he needed to respect that. I hope he heard my answer."
It's not clear when Whitaker will answer the committee's remaining questions, whether any answers will be presented in writing or in person, or if said answers will be made public.
"It's a sad day in America when the attorney general doesn't understand the oversight responsibilities of the House of Representatives," Democrat Val Demings of Florida told Newsweek. "His answers were very evasive. His testimony today was extremely disappointing. He'll be back."