Matthew McConaughey Reveals Why He Didn't Run for Texas Governor
Matthew McConaughey has explained his reasons for opting against running for Texas governor, having kept political pundits guessing for several months.
The actor, 52, announced in a video shared on Twitter at the end of November that he would not be throwing his hat into the gubernatorial ring, despite proving hugely popular as a potential candidate with Texan voters.
And during an appearance on The Tonight Show Starring Jimmy Fallon Tuesday, the Dallas Buyers Club star opened up about his reasons for not running.
When asked by titular host Jimmy Fallon about his decision, McConaughey responded: "Well, it was a two-year consideration that I came to the decision really over the last couple of months.
"And I was asking myself the original question and trying to answer, ''How and where and what can I do to be most useful to myself, to my family and to the most amount of people?'... The category of politics came up and it's a privileged one that I great consideration to."
The screen star, who shares three children with wife of nine years Camila Alves, went on: "But at this point in my life... I've got a 13-year-old, an 11-year-old, an 8-year-old. The life I'm living right now, the storytelling I want to keep doing. It's not the category for me at this point in my life."
Fallon enquired if McConaughey was "still not ruling out" a future run for office, to which he responded: "I'm not until I am."
On seeing Fallon's reaction to his answer, McConaughey laughed as he quipped: "Someone told me that was a very McConaughey answer the other day."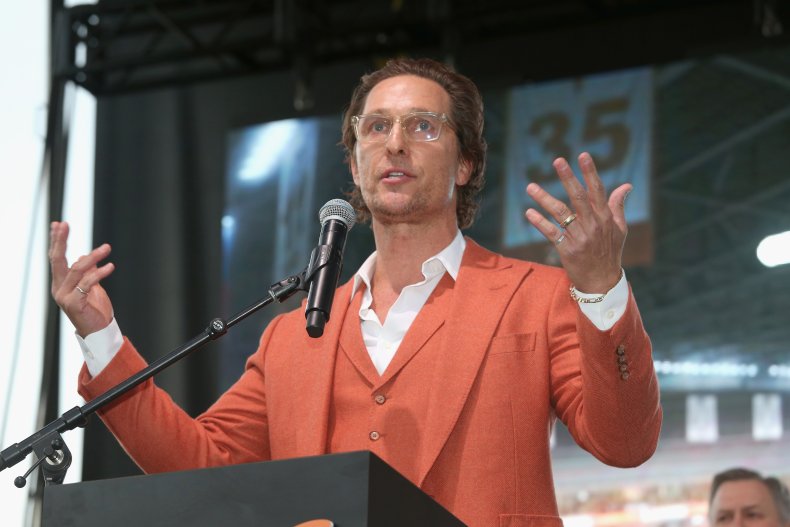 There had previously been much speculation over whether McConaughey would step in to challenge incumbent Governor Greg Abbott, with polls showing strong numbers in the actor's favor.
A poll November conducted by the Dallas Morning News and the University of Texas at Tyler, found that voters favored McConaughey over Abbott by 8 points and Beto O'Rourke by more than 20 points.
However, McConaughey revealed in his social media announcement that instead of running for office he intends to "work and invest the bounty I have" by supporting businesses, entrepreneurs, and foundations to help people in their lives.
"As a simple kid born in the little town of Uvalde, Texas, it never occurred to me that I would one day be considered for political leadership," he said. "It's a humbling and inspiring path to ponder. It is also a path that I'm choosing not to take at this moment."
In an interview on the Commune podcast with Jeff Krasno in July, McConaughey shared that he was embracing a "centrist" platform, rather than align himself with the Republican or Democrat parties, as he discussed the divisive state of politics.
"We're all much more centrist than we're led to believe we are," McConaughey said. "We have the numbers... We're running the ship. Now, there's a couple of militia pirate groups that are coming over on the far right and the far left and we're being told that they're the absolute boogeyman and we better be scared... Let's kick 'em off the boat. Don't let 'em board."
When asked by Krasno if he thought he was the person who could unite the American people, he said: "I don't think it's a policy that changes us. I truly believe in the capacity that each one of us individually have to be more responsible for ourselves. I understand why we don't sometimes. I understand why I don't sometimes—the sacrifices that can take."