Matthew McConaughey Vaccine Remarks Leave Medical Experts 'Extremely Disappointed'
Medical experts have expressed their disappointment at recent comments made by Matthew McConaughey regarding the COVID-19 vaccine.
The Texan movie star revealed this week that he is against mandating the coronavirus jab for children in remarks that have been met with criticism.
Although the Interstellar star, 52, confirmed he has gotten the vaccine, he said he is against giving it to his kids.
"I couldn't mandate having to vaccinate the younger kids. I still want to find out more information," McConaughey said at the New York Times DealBook summit on November 9.
His remarks came days after the U.S. Centers for Disease Control and Prevention approved the Pfizer Inc and BioNTech SE Covid-19 vaccines for use on children aged 5 to 11.
McConaughy has three children, aged 13, 11 and 8. Speaking to writer Andrew Ross Sorkin, he urged the importance of "personal choice" in this matter.
"I'm vaccinated," he said. "My wife's vaccinated. I didn't do it because someone told me I had to—[I] chose to do it."
"Do I think that there's any kind of scam or conspiracy theory? Hell no. We all got to get off that narrative. There's not a conspiracy theory on the vaccines," he said.
McConaughey clarified that does not intend to have his kids vaccinated against the virus "right now."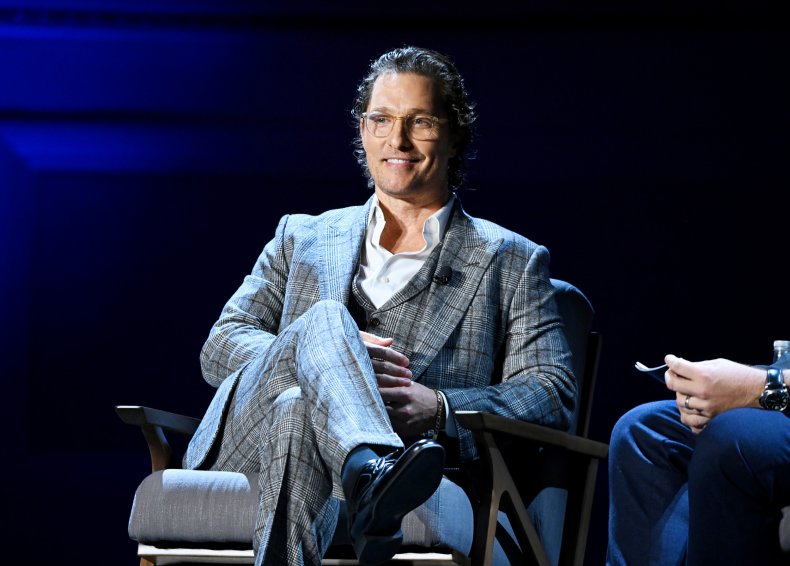 "Right now, I'm not vaccinating mine, I'll tell you that," he said.
McConaughey's comments have been met with disappointment by some medical experts.
"Not right, not right, not right," tweeted Joy Henningsen, a clinical assistant professor at The University of Alabama at Birmingham/
"Extremely disappointed to see this from @McConaughey," she added.
While pediatric doctor Alastair McAlpine added: "Right?! Especially after his turn in Dallas Buyers Club. So sad."
McConaughey won an Oscar for his performance in the 2013 film where he played Ron Woodroof, a real-life AIDS patient who smuggled unapproved pharmaceutical drugs into Texas when he found them effective at improving his symptoms.
The actor spoke out about the new Texas abortion law last month, labeling the restrictions "juvenile."
I'm not going to come out and tell you right now on this show, here's where I stand on abortion," he said on the New York Times-produced podcast, Sway.
"But this latest move by Texas? It's a little bit of— feels like a back-to-front sort of Roe v. Wade loophole that they're trying to get into. It's a—feels a little juvenile in its implementation to me."