Maximo Alvarez Wins Praise for RNC Speech About Fleeing Communism
A Cuban immigrant businessman whose family fled Fidel Castro's regime has been widely praised for a speech in which he told the Republican party faithful how his family's story was an example of the American dream which can only be protected by the GOP.
Maximo Alvarez, the founder of Sunshine Gasoline, told the Republican National Convention (RNC) how his father, who only had a sixth grade education, had fled totalitarianism, first from Spain, and then Cuba, before making a life for his family in the U.S.
"By the grace of God, I lived the American dream, the greatest blessing I ever had," he said.
"I'm speaking to you today because my family is done abandoning what we rightfully earned," Alvarez added, drawing a comparison between Democratic candidate Joe Biden and the communist regime he fled.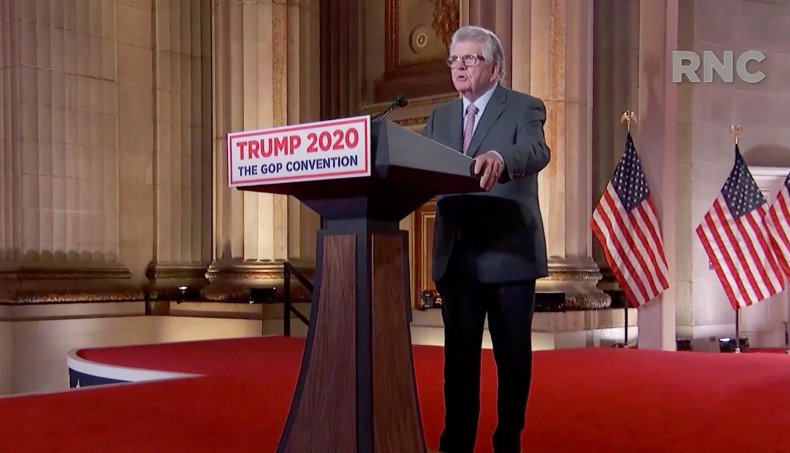 The Trump administration accuses Biden and running mate Kamala Harris of promoting far-left policies. Alvarez pushed this point, arguing that free health care, and defunding the police were "false promises" which "sound familiar" to what he had experienced in Cuba.
"I'm speaking to you today because I've seen people like this before. I've seen movements like this before. I've seen ideas like this before, and I'm here to tell you we cannot let them take over our country.
"I've heard the promises of Fidel Castro, and I can never forget all those who grew up around me, who looked like me, who suffered and starved and died because they believe those empty promises.
"They swallowed the communist poison pill," he added, before praising Trump as a "successful businessman, not your average career politician" as well as "our elected commander-in-chief who puts America first."
People who agreed with Alvarez's premise that supporting Biden was akin to supporting the tyranny of socialism, reacted strongly to the speech on Twitter.
Kelly Jane Torrance tweeted: "Maximo Alvarez should be the top trending name right now. This guy is GOOD. More powerful than any political boilerplate is the story of this immigrant from Cuba."
Former Manhattan U.S. Attorney, Preet Bahara tweeted: "Agree or not, Maximo Alvarez gives by far the most effective speech of the evening. And extra points for volume control."
Another tweeted: "Maximo Alvarez speech is a warning for every freedom-loving human communism and socialism will generate a lot of destruction and suffering."
Republican congressional candidate Jaimy Blanco, tweeted: "Maximo Alvarez is a true patriot."
Students for Trump tweeted: "Even though @AOC has us blocked, this is a video her and her comrades need to watch. You're a true hero, Maximo Alvarez."
Kyle Walker, from the right-wing news outlet Breitbart, said: "One of the greatest speeches of the evening. Thank you, Maximo Alvarez."
Arizona Rep. Debbie Lesko tweeted: "Moving story from Maximo Alvarez tonight at #RNC2020! We must stand up to socialism and protect our American way of life!"
Actor and singer Robert Davi tweeted to his 207,000 followers: "Amazing I was brought to tears by MAXIMO ALVAREZ as a grandson of Immigrants his words touched me deeply."
However some Democrats took issue with Alvarez's claims, such as broadcaster and Biden supporter Fernand R Amandi who tweeted that that he was able to come legally to the United States "thanks to the generosity of @JohnFKennedy and the Democratic Congress who passed JFK's Cuban Refugee Act of 1961."