Maxine Waters Accuses GOP of Using 'Get More Confrontational' Comment to Fundraise With KKK
Representative Maxine Waters denied she incited violence with her recent words in Minnesota and accused Republicans of capitalizing on her remarks to advance their fundraising efforts.
On Saturday, the California Democrat told reporters that she was going to "fight with all of the people who stand for justice" and that people need to "get more confrontational." At the time, she was in Brooklyn Center, Minnesota, where police shot and killed Daunte Wright, a 20-year-old Black man, last week. Republicans accused her of contributing to the unrest, including Sunday's shooting at two National Guardsmen, who were injured while on patrol in Minneapolis.
On Monday, Waters told news website theGrio she is "nonviolent" and said Republicans will jump on a single word or line to make it "fit their message and their cause" in denouncing Democrats.
"Any time they see an opportunity to seize on a word, so they do it, and they send a message to all of the white supremacists, the KKK, the Oath Keepers, the [Proud] Boys and all of that—how this is a time for [Republicans] to raise money on [Democrats'] backs," Waters said.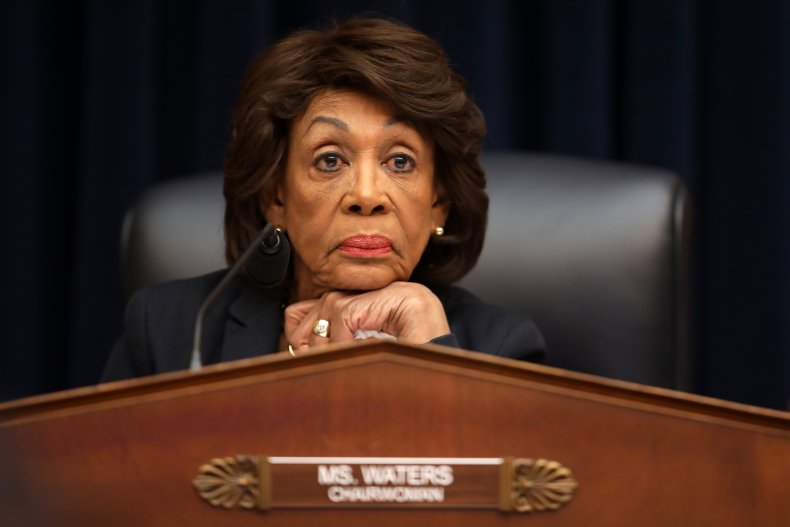 Meanwhile, GOP Representative Marjorie Taylor Greene of Georgia plans to introduce a resolution to expel Waters from Congress for "continual incitement of violence." Greene has criticized Waters in the past for comments that Greene thinks amounted to advocating for violence, but throwing her out of Congress will be a heavy lift.
For the measure to be successful, Greene, who was removed from her committee assignments earlier this year, would need to garner support from two-thirds of the House of Representatives. With the chamber's Democratic majority, it's unlikely that will happen, even if Republicans unite in their criticism.
"Democrats actively encouraging riots & violence," GOP Senator Ted Cruz of Texas tweeted on Sunday. "They want to tear us apart."
House Minority Leader Kevin McCarthy accused Waters of inciting violence in Brooklyn Center and said he will "bring action this week" if House Speaker Nancy Pelosi doesn't "act against this dangerous rhetoric."
Newsweek reached out to McCarthy for comment but did not receive a response in time for publication.
Waters, who's no stranger to Republican criticism, told theGrio it's time to continue the messaging that Republicans are the "enemy." She added that she's not "intimidated" and will "do what needs to be done."
Much of the criticism launched at Waters homed in on her use of the word confrontational. She clarified to theGrio that she meant confronting the justice system, current policing practices and speaking up.
"I'm talking about legislation," Waters said. "I'm talking about elected officials doing what needs to be done to control their budgets and to pass legislation."
As protesters continue to call for justice for Wright, Minneapolis and cities across the country are bracing for a verdict in the George Floyd case. Floyd died last May after Minneapolis police officer Derek Chauvin knelt on his neck for more than nine minutes during his arrest.
After weeks of witness and expert testimony, prosecutors and Chauvin's attorney delivered their closing arguments on Monday, and jurors could deliver their verdict this week. If convicted of the most severe murder charge, Chauvin faces up to 40 years in prison.
Waters told theGrio she is worried a not guilty verdict would help "cement the feeling that somehow justice does not work for us in America." She didn't specify what could happen but said, "I know that disappointment and hopelessness is not a good thing."