Mayor Eric Garcetti Floats $1,000 Universal Basic Income, Making L.A. the 12th U.S. Location to Try
Los Angeles Mayor Eric Garcetti has proposed giving a "universal basic income" of $1000 a month to 2,000 poor local families for one year. Similar proposals have been tried in at least 12 U.S. regions since 1968 and are also gaining interest among other U.S. mayors.
Garcetti's proposal would allocate $24 million of the city's budget towards a program called BIG LEAP, an acronym for Basic Income Guaranteed: L.A. Economic Assistance Pilot. The program would give 2,000 families below the federal poverty line monthly $1,000 checks for 12 months. The families could then spend the money however they please.
Garcetti said he hopes the program could provide a model for similar anti-poverty initiatives in other cities.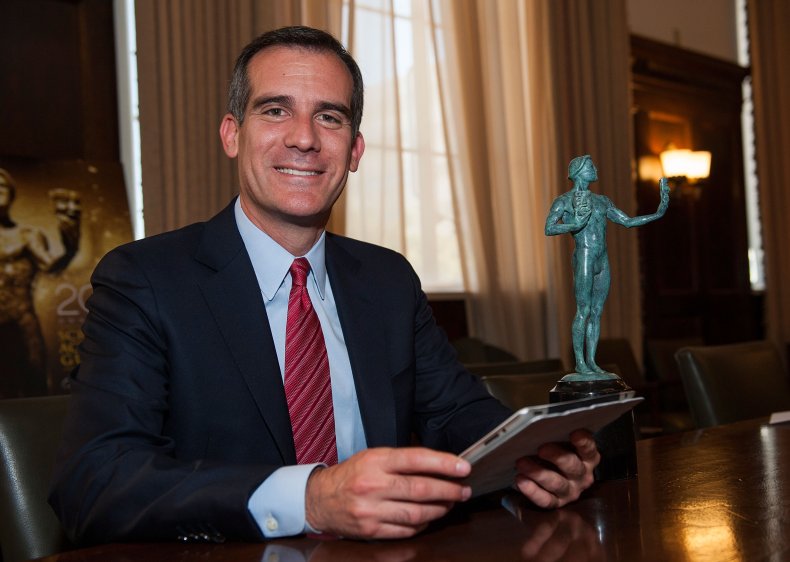 "We have to end America's addiction to poverty. For families who can't think past the next bill, the next shift or the next health problem that they have, we can give them the space to not only dream of a better life, but to actualize it," Garcetti told LAist, a local news site affiliated with Southern California Public Radio.
Similar programs are also being floated in at least four other L.A. county districts, according to the Los Angeles Times. The L.A. City Council will have to approve Garcetti's proposal before it becomes reality.
If approved, Garcetti's program would be at least the 12th time that a U.S. region has offered a basic income to its citizens.
Since 1982, Alaska has given its citizens an annual check ranging from $1,000 to $2,000. The money comes from the Alaska Permanent Fund, a state-owned investment fund financed by the state's oil revenues.
Since 1997, the Eastern Band of Cherokee Indians Casino Dividend in North Carolina has given every tribe member an annual check ranging from $4,000 to $6,000. The money comes from a casino that operates on tribal land.
From 1968 to 1974, various U.S. cities and regions have given "basic incomes" to approximately 7,500 people. The regions have included Denver, Colorado; Gary, Indiana; Seattle, Washington; Iowa; New Jersey; North Carolina; and Pennsylvania, according to Vox.
During his 2020 candidacy to become a Democratic president, Andrew Yang promoted the "Freedom Dividend"—a monthly $1,000 check that would be sent to each American adult.
In his first debate appearance, Yang pledged to send a monthly $1,000 check to 10 randomly selected families. He reportedly sent similar checks to families in Iowa and New Hampshire, as well as to one Twitter user to help educate people about universal basic incomes.
In February 2019, Michael Tubbs, the then-mayor of Stockton, California, launched Stockton Economic Empowerment Demonstration (SEED), which gave a monthly $500 check to 125 people who were at or below Stockton's median household income level. The money came from individuals and philanthropic foundations.
"I mean, in 99 percent of our counties in this country, a minimum wage, full-time job is not enough to pay for rent, for a two-bedroom apartment anywhere in this country," Tubbs told PBS News Hour.
A study of SEED found that it measurably improved participants' job prospects, financial stability and overall well-being, according to NPR.
Tubbs went on to create Mayors for Guaranteed Income, a coalition of 42 mayors who have supported trying similar programs in their own cities.
In late March, Oakland Mayor Libby Schaaf announced the launch of a "no strings" guaranteed income program that will give 600 low-income families $500 monthly payments for 18 months.
Newsweek contacted Garcetti's office for comment.