Mayra Flores: Attacked By Democrats 'Because I Was Born In Mexico'
Mayra Flores, the first Mexican-born woman elected to Congress, spoke to Newsweek about supporting the end of Roe v. Wade, responded to attacks from her November opponent, and addressed her past use of Q-Anon hashtags and retweeting of conspiracy theories about alleged 2020 election fraud.
Flores, who launched a successful insurgent candidacy in the 34th Congressional District special election race to fill the remainder of the term of Filemon Vela, who vacated the seat, tweeted that she thanked God for the Supreme Court decision ending federal abortion protection.
"If we want to see real change in bringing crime down, we have to raise a generation to respect life in the womb," she said at a press conference with House Republican Whip Steve Scalise.
Asked about Texas law, which allows exceptions for abortion if the life of the mother is threatened but not in the cases of rape and incest, Flores said her "heart goes out" to women whose lives are threatened by their pregnancy, adding that "no one would be against that" aspect of the law.
But she declined to be drawn into a conversation regarding the lack of rape and incest exceptions in Texas saying it was "not the situation now."
It was unclear if she was referring to Texas' trigger abortion ban not being in effect yet, which would go into effect 30 days after the Supreme Court issues its final judgment, which typically happens a month after the initial opinion, the Texas Tribune reported.
Flores did have plenty to say about her next opponent, however.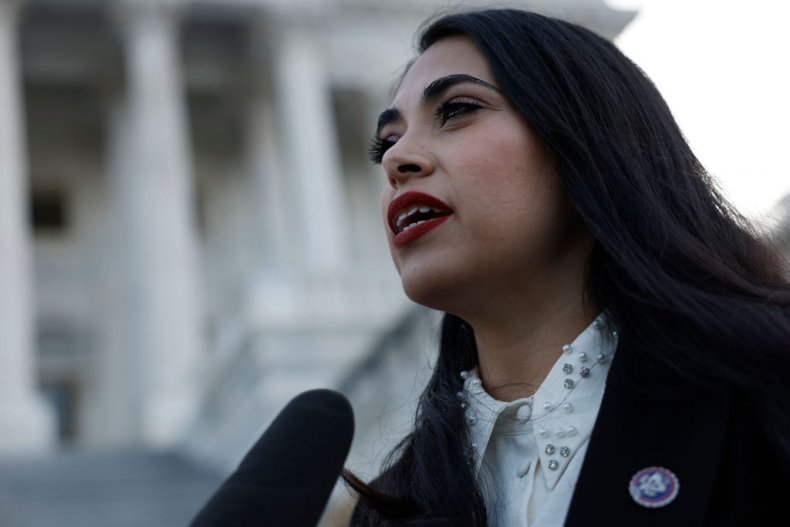 Having dispatched Democrat Dan Sanchez in the special election, in November she will face Representative Vicente Gonzalez, who is changing districts from TX-15 to the more favorable TX-34 district.
In an interview with Newsweek last week, he blasted Flores as "unqualified" and a "pawn" of the Republican Party, but in his most personal attacks he repeatedly referred to the fact that she is an immigrant, while casting himself as the real Texan in the race.
"I wasn't born in Mexico, I was born in South Texas, the son of a Korean war veteran," he said, before hitting Flores using language commonly employed by Republicans against immigration policies supported by Democrats.
"I didn't come here through chain migration, I didn't come through asylum, or amnesty, or whatever," he said.
Flores, who tweeted only that Gonzalez has "Mayra Flores Derangement Syndrome," said she was "blown away" by the attacks.
"I never thought I would be attacked by the Democrats because i was born in Mexico," she said. "These are the people claiming they're for immigrants, these are the people claiming they're for asylum, and for chain migration, and yet they're attacking me now because of where I'm from."
The National Republican Campaign Committee (NRCC) released a statement after the story ran, calling Gonzalez' comments "sexist and xenophobic attacks" launched because "he has no accomplishments to run on."
"Voters know Gonzalez and the Democrat Party are directly responsible for a never-ending border crisis, and the record high prices at the gas pump and grocery store," NRCC spokeswoman Torunn Sinclair said.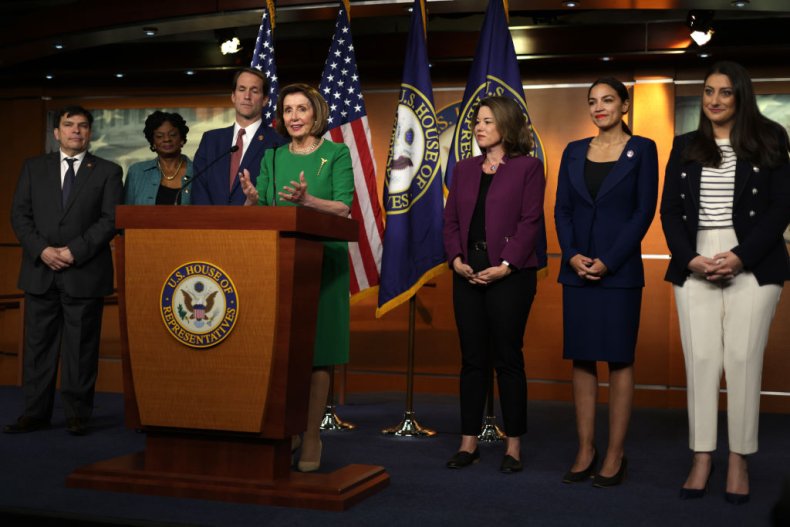 In a text message, Gonzalez told Newsweek, "I'm not attacking her for being born in Mexico. I celebrate immigrants in this country. We all come from immigrants unless we're Native Americans."
He did take issue, he said, with the fact that he's running against someone who was born in Mexico "and is now against other immigrants coming."
"While she's says she is for legal immigration, she has been less than honest about mentioning her family having the privilege of amnesty," he said, "and her being in this country through what Republicans like to call chain migration."
In her ads, Flores has repeatedly said her family emigrated to the U.S. from Mexico when she was 6 years old "the legal way."
But Gonzalez argues that now that she's "in the door" she want to "close it behind her" for others just like her.
"South Texas Latinos have fought for equality for generations," he said, "and it's hurtful when a new immigrant who has taken advantage of this struggle has no respect for the generations who laid the path way before her arrival."
Regarding immigration, Flores said, "I support dreamers, I support immigration reform, but it must include border security," and expressed support for immigrants coming through the legal immigration system, which she said must be improved.
"These people [Democrats] have always claimed to be for immigrants, but they're not," she said. "They just use that issue to get the Hispanic vote, but once they obtain our vote they forget about us."
Privately and publicly, Democrats have alternated between expressing confidence in Gonzalez's ability to win the district newly drawn by Republican-led redistricting and chiding the party for not investing more in winning the special election, which they fear gives Republicans continued momentum in south Texas.
While Biden won the 34th Congressional District by four points in 2020, he would have won the newly drawn district by 16 points. Both The Cook Political Report and Sabato's Crystal Ball now rate the race "lean Democratic," while Inside Elections says it is "likely Democratic."
Flores says she's unconcerned, because "unlike Democrats, Republicans are investing in south Texas," and while Gonzalez jumped districts for an easier race, that's not what he actually got.
"He thought it would be easier for him, but it got harder for him — not for me," she said.
Flores' rising profile within the party brings with it heightened scrutiny, not just on her comments as a new member of Congress, but on past statements and affiliations as well.
Asked by John Roberts on Fox News on Thursday about her past tweets during her time as chair of Hispanic outreach for the Republican Party in Hidalgo County, in which she used the #QAnon hashtag referring to the conspiracy theory that claims Satan-worshiping Democratic elites run a child sex ring and control politics and media, Flores bristled at the question, telling the anchors they should "stay focused" on what matters.
Newsweek asked Flores to respond to the Democratic Congressional Campaign Committee's (DCCC) research memo against her, which in addition to the Q-Anon accusations, claimed she believed the 2020 election was "stolen, illegitimate, and fraudulent," and that Biden is a criminal. It further stated she retweeted that Gonzalez's 2020 win was fraudulent, retweeted claims of election fraud in Arizona, Georgia, and Michigan, and retweeted claims that Black Lives Matter and Antifa "set up" the January 6 rioters.
"People are not concerned about this nonsense," Flores said, arguing that voters in her district and across the country are worried about the increase in gas prices, groceries, health care, and the border crisis.
"That's what I'm focused on," she added. "TX-34 is not waking up and thinking about that."
She did, however, confront claims that she doesn't see Biden as the legitimate president.
"President Biden, he is our president," she said, "and I consider him the worst president ever elected. The worst one — but he's our president."
Flores closed by saying that she knew her campaign was making waves when Democratic candidate for governor Beto O'Rourke rallied against her.
"It made me realize we're doing something different," she said. "I was born in Mexico, I know my culture, I'm bilingual, soy raza, I know my people better than anyone."
She hopes a general election win will show Democrats that voters in south Texas are done being taken for granted.
"If you want our vote, you're going to have to work hard, show up, no empty promises, no more of that," she said.
"We're going to teach them a lesson in November," Flores added. "The Democratic Party will never to take us for granted again. They'll learn that they don't own our vote."