McAuliffe Retains Slight Lead Over Youngkin in Polls 2 Weeks Ahead of Virginia Election
The gubernatorial race in Virginia remains close with just two weeks remaining until voters elect their next governor on November 2.
Statewide voter surveys conducted in recent weeks have shown a tightening race between Democrat Terry McAuliffe and Republican Glenn Youngkin, the leading candidates on the ballot. Both candidates have received endorsements from top members of their respective parties ahead of what some political strategists have said is likely to be an indicator of voting in the 2022 midterm elections.
Virginia, which does not allow its governor to serve consecutive terms in office, is one of two states holding a regularly scheduled gubernatorial election this fall. McAuliffe is a former governor who served in Virginia from 2014 to 2018, after which he was succeeded by sitting Governor Ralph Northam, a fellow Democrat.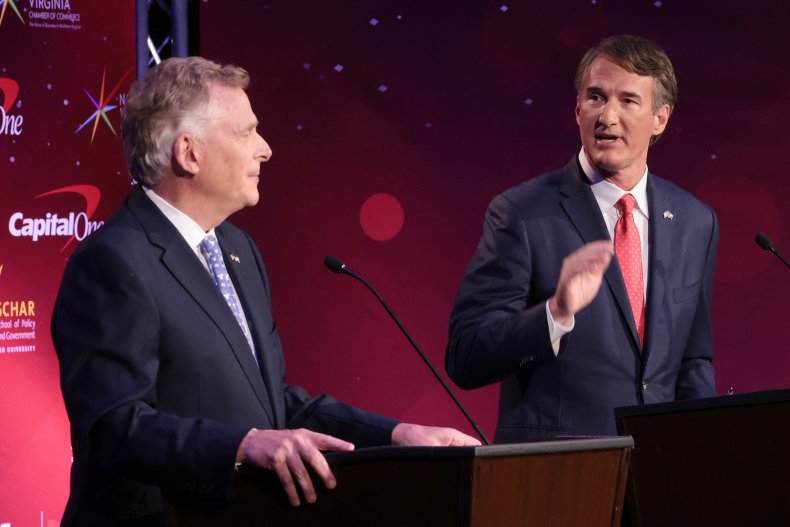 Youngkin joined the race after leaving the Carlyle Group, the global investment firm at which he worked for more than 20 years. Youngkin retired from his co-CEO position with the firm last year.
Former President Donald Trump first endorsed Youngkin in May and reiterated his support for Youngkin in the months that followed. Trump most recently spoke in support of Youngkin during a "Take Back Virginia" rally on October 13, an event that quickly became controversial due to ties that an American flag brought onstage had to Trump's January 6 rally in Washington, D.C. Youngkin did not attend the GOP rally last week and released a statement saying he "had no role" in the event.
McAuliffe's campaign has pointed to the controversial rally in fundraising efforts over the last week and reported a $2 million bump in funds raised since October 13. In addition to the push against Trump and his support for Youngkin, McAuliffe announced several high-profile Democrats who planned to campaign alongside him in Virginia in the time remaining before the election. Last week, first lady Jill Biden attended a McAuliffe campaign event, and both Atlanta Mayor Keisha Lance Bottoms and voting rights activist Stacey Abrams attended Souls to the Polls events in support of the Virginia Democrat over the weekend.
Later this week, Vice President Kamala Harris is scheduled to attend a campaign event with McAuliffe on Thursday. Former President Barack Obama is expected to travel to Richmond for another McAuliffe event on Saturday.
As the McAuliffe and Youngkin campaigns push to raise voter awareness and support ahead of the November 2 election, polling results released through Monday showed a close race. One poll released by Fox News last week that was conducted between October 10 and 13 showed McAuliffe with a 5-point lead over Youngkin among likely voters, with an earlier Fox News poll conducted near the end of September finding a 4-point McAuliffe lead among registered voters. Polls conducted last month by researchers with Public Policy Polling and Monmouth University reported divides among voters between 3 and 5 percent, with McAuliffe in the lead in both surveys.
While an Emerson College poll from mid-September found McAuliffe ahead of Youngkin by 4 points, a more recent survey Emerson College pollsters conducted earlier this month found the candidates nearly tied, an outcome similar to one reported in mid-October by pollsters with Trafalgar Group.
Polling averages compiled by RealClearPolitics showed McAuliffe with a 2.2 lead as of October 14. McAuliffe's lead was slightly greater in polling averages compiled by FiveThirtyEight, which found the Democrat with a 2.9 percent lead over Youngkin as of October 15.