McAuliffe's Polling Lead Narrows in Close Virginia Race 1 Week Out From Election
Democrat Terry McAuliffe's lead in the polls over Republican Glenn Youngkin has continued to narrow over the last week as Virginians prepare to select their next governor.
Only one week remains until Virginia's November 2 election, one of just two regularly scheduled gubernatorial elections taking place this fall. McAuliffe, who served as Virginia's governor once before, from 2014 to 2018, is running for a second term in office against Youngkin, who until mid-2020 worked as the co-CEO of the private equity firm the Carlyle Group.
While McAuliffe maintained a consistent lead over Youngkin in polls over the summer, three voter surveys conducted this month found the candidates tied, and other polls have indicated McAuliffe is ahead with 5 points or fewer separating him from Youngkin among likely voters.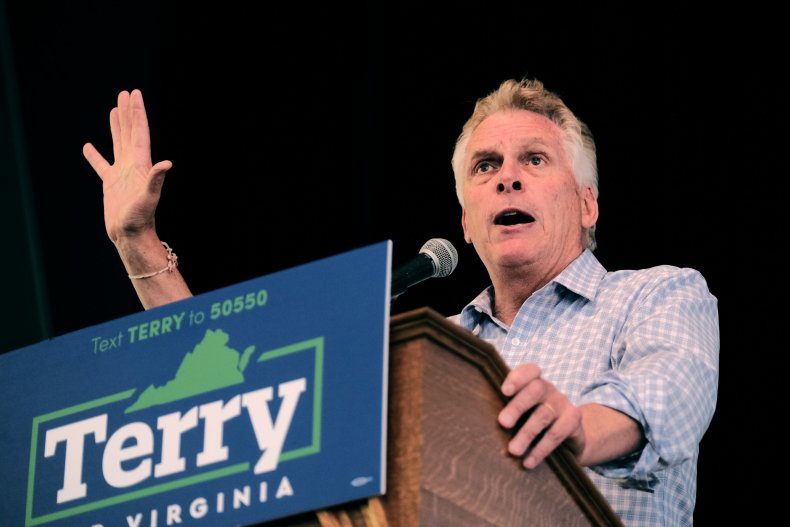 Last week, polling averages compiled by FiveThirtyEight estimated McAuliffe had a 2.2-point lead in the race two weeks out from Election Day. One week before, that polling average estimated McAuliffe's lead to be slightly greater at 2.9 points.
By Monday evening, McAuliffe's average polling lead narrowed further, with 1.9 points separating the election's top two candidates. Polling averages compiled by RealClearPolitics found McAuliffe's lead to be narrower still, with only 1.6 points separating him from Youngkin.
While most polls conducted among Virginia voters ahead of this fall's election placed McAuliffe in the lead, mid-October polls by Monmouth University, Cygnal and Emerson College found McAuliffe and Youngkin tied among respondents.
The Monmouth poll marked a dip for McAuliffe from its prior voter survey conducted in September, which found McAuliffe leading by about 5 points. Pollsters credited Youngkin's gains among voters to "a widening partisan gap in voter engagement and a shift in voters' issue priorities, particularly around schools and the pandemic."
Cygnal pollsters similarly pointed to the shift away from McAuliffe from both independent voters and parents of children in K-12 schools. Cygnal CEO Brent Buchanan also noted in a Monday press release outlining the poll's results that "more Democrats than Republicans are defecting to support the candidate of the other party" along the ballot in Virginia.
McAuliffe and Youngkin were 1 point apart in a poll conducted at the beginning of October by Emerson College, with an additional 2 percent of respondents telling pollsters they hadn't yet decided which candidate they would support. The results of a subsequent Emerson College poll released Monday found McAuliffe and Youngkin tied at 48 percent, with 1 percent of respondents indicating they would vote for Liberation candidate Princess Blanding and 3 percent of respondents identifying themselves as undecided.
Other polls conducted earlier in October by Data for Progress, Fox News and YouGov suggested McAuliffe was ahead of Youngkin by 3 to 5 points.
As of Sunday, more than 665,700 voters in Virginia had voted early in the election, according to state ballot return data obtained by the Virginia Public Access Project, a nonpartisan and nonprofit organization. State election officials reported a total of 5,945,556 registered voters as of October 1.