House GOP Leader Says Party May Never Win Election Again if Dems Sweep 2020
House Minority Leader Kevin McCarthy said he didn't think the GOP would have another opportunity to win an election if the party loses in November's presidential and congressional races.
The California representative told Fox News last night that Democrats would "change the rules of the game" if they were to take control of Congress and the Oval Office, including the way people vote.
Speaking to Fox News host Sean Hannity, Rep. McCarthy said: "You're right about this being an important election, but it's more important than you've watched in the past.
"Because if we do not win this election, I don't know we'll ever have an opportunity to win it again, because they will change the rules of the game. How we vote, they will change."
The House minority leader went on to claim that Democrats would expand the Supreme Court and add an extra two states to the U.S. if they were to win power.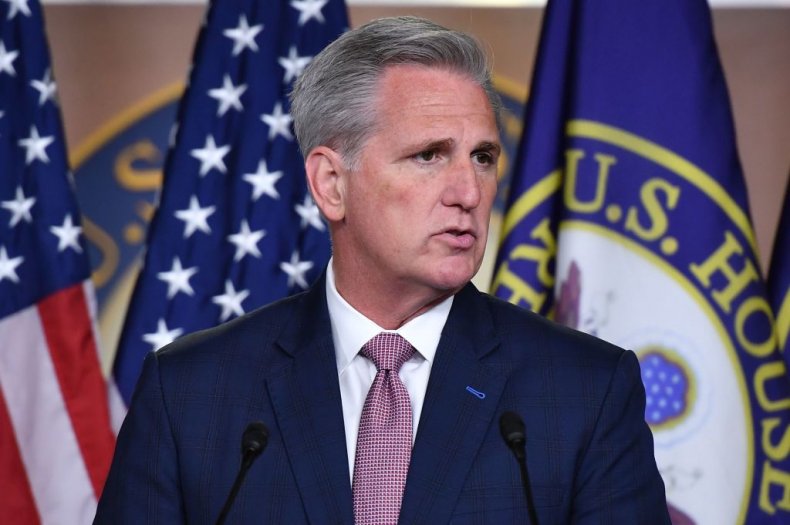 "We want to focus on bringing this country back, rebuilding it, restoring it, and renewing it," he added. "And that means law and order, and justice."
Earlier in the interview, McCarthy spoke about his plans to introduce legislation that would freeze federal funding for local authorities who fail to protect historical monuments.
"We have local officials who have responsibility for the rule of law," he said. "Why don't they have greater regards for the rule of law, instead of encouraging the mob to tear it down?"
After questioning why federal funding should go to cities and states failing to uphold the rule of law, the congressman added: "We'd withhold grants and others, encouragement to restore the rule of law back into this nation. That's what we're doing.
Newsweek has contacted McCarthy's office for comment, and will update this article with any response.
The House minority leader threatened to move to withhold federal funding from local authorities failing to protect monuments two weeks after President Donald Trump unveiled his own plans to protect statues.
Speaking at a July 4 weekend celebration at Mount Rushmore, the president told the crowd that he would be signing an executive order establishing the National Garden of American Heroes.
The planned federal park will house the statues of several prominent figures in U.S. history, including Presidents George Washington, Abraham Lincoln and Ronald Reagan.
According to the executive order, Interior Secretary David Bernhardt has been assigned to lead a statues task force that is expected to propose a location for the National Garden of American Heroes by the start of September.