President Donald Trump and South Dakota Gov. Kristi Noem rallied to the defense of historical statues on Friday night as they opened Fourth of July celebrations at Mount Rushmore.
The commander-in-chief used his stump speech at the event to announce that he would be signing an executive order creating the National Garden of American Heroes—an outdoor park that will be home to statues of prominent figures in U.S. history.
Trump also railed against "cancel culture" and "angry mobs" tearing down statues across the country as Gov. Noem called attempts to pull down monuments a "coordinated campaign" to remove references to America's founding.
Speaking at the Mount Rushmore event last night, Trump said: "I am signing an executive order to establish the National Garden of American Heroes. A vast outdoor park that will feature the statues of the greatest Americans to ever live."
Earlier in his speech, the president hit out at "angry mobs" trying to tear down statues of historical figures across the United States, saying "many of these people have no idea why they're doing this."
"They think the American people are weak, and soft, and submissive," Trump said. "But no, the American people are strong and proud, and they will not allow our country, and all of its values, history and culture to be taken from them."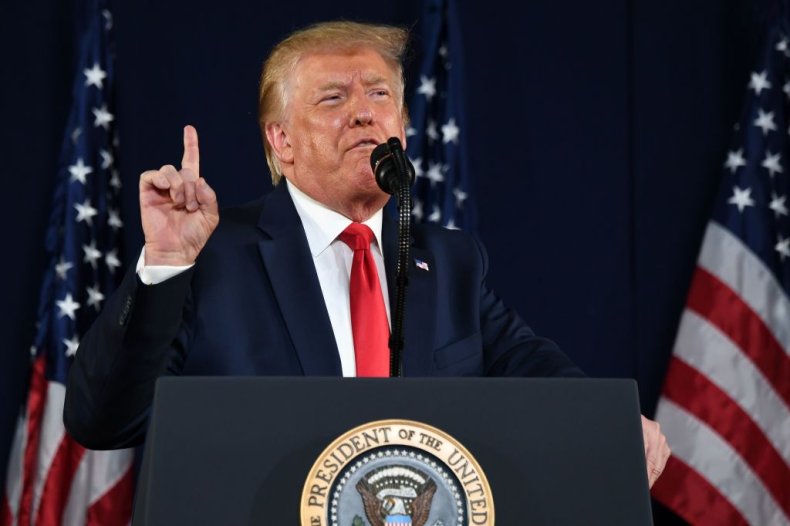 According to a White House copy of the executive order, a newly created statues task force led by Interior Secretary David Bernhardt will propose a location for the National Garden of American Heroes within the next 60 days.
The order also specifies that statues of Presidents Abraham Lincoln, Ronald Reagan and George Washington should be included among those featured in the new national park.
Over the past month, statues of George Washington have been toppled and defaced by protesters angered by the first U.S. president's ownership of more than 100 slaves at his Mount Vernon plantation.
Speaking about the toppling of statues last night, Gov. Noem said: "Over the past several weeks, we have been witnessing a very troubling situation unfold. In real time, we are watching an organized, coordinated campaign to remove and eliminate all references to our nation's founding, and many other points in our history.
"Rather than looking to the past to help improve our future, some are trying to wipe away the lessons of history. Lessons that we should be teaching to our children, and to our grandchildren. This approach focuses exclusively on our forefathers' flaws. But it fails to capitalize on the opportunity to learn from their virtues."
The governor added that statues were being deliberately removed to "discredit America's founding principals" so the country could be remade. "To attempt to cancel the founding generation is to attempt to cancel our own freedoms," she said.
Trump unveiled his plans to house historical statues in a new national garden a little more than a week after he vowed to punish memorial vandals with 10-year prison sentences after they targeted a statue of former President Andrew Jackson.
"Numerous people arrested in D.C. for the disgraceful vandalism, in Lafayette Park, of the magnificent Statue of Andrew Jackson, in addition to the exterior defacing of St. John's Church across the street," he tweeted.
"10 years in prison under the Veteran's Memorial Preservation Act. Beware!"
The president also signed an executive order in late June that noted "a penalty of up to 10 years' imprisonment for the willful injury of Federal property" was authorized under the U.S. Code.